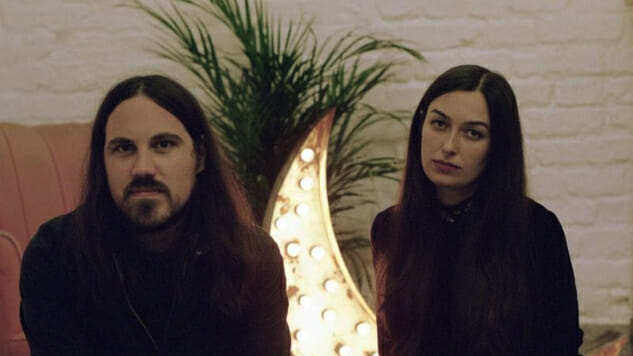 Year-end list season is so close we can almost taste it, but we're not there quite yet. Now with the Thanksgiving holiday in the rear-view mirror and with the volume of music releases continuing to thin out, we look back on some of the best new music from the past week. We heard great new tracks from Cults, Moving Panoramas and Thyla, witnessed killer live sessions from Sun June and Pale Tongue and compiled some argument-inducing lists—The 10 Most Bizarre Tour Pairings, The 10 Best Babymoon Albums and The 10 Best Musician Episodes of Hot Ones. Take a gander below at Paste's weekly music roundup, as curated by the Paste Music Staff.
BEST ALBUMS
Art Brut: Wham! Bang! Pow! Let's Rock Out!
All Art Brut's frontman Eddie Argos wants is to reassure you. He wants you to know that no matter how bleak things look, no matter how bereft your life appears, whether you've been through a bad break-up or you're on bedrest, everything's going to be alright. He even says so on "Hooray!", the opening song from the band's first album in seven years, Wham! Bang! Pow! Let's Rock Out!, a title that promises nothing but pure, unadulterated good times and delivers on that promise. "Everything's gonna be alright!" Argos hollers over the crack of Charlie Layton's snare drum, the buzz of Toby MacFarlaine's and Ian Catskilkin's guitars, the thick hum of Freddy Feedback's bass. If Wham! Bang! Pow! Let's Rock Out! is a ramble, it's an infectious ramble, too much fun not to rock out to; you'll pick out bits and pieces of The Mr. T Experience, Descendents and Ted Leo in the record's texture, but then again, you may be too busy bobbing your head along to care about such paltry things as influence. The very title is a goddamn invitation. Don't hold Art Brut's joie de vivre against them; we need it as much as they live it. —Andy Crump
BEST TRACKS
Thyla: "Blue"
Brighton, U.K., quartet Thyla have been catching fire with their unique dream-pop and post-punk fusion, and a string of standout singles, "Pristine Dream," "I Was Biting," "Blame" and "Tell Each Other Lies." This week, they've just shared another new one in the form of "Blue." Produced by Macks Faulkron and mixed by Alex Newport (At The Drive-In, The Mars Volta), "Blue" is marked by Millie Duthie's sparkling vocals and transfixing presence, which linger over searing guitars that fluctuate from gentle dreamy bliss to fiery, head-banging lawlessness. "Blue" is another track that cements Thyla's potential and showcases their sweet spot—engrossing post-punk finesse and ethereal dream-pop divinity. —Lizzie Manno
Cults: "Not Impossible"
Cults have released Offering B-Sides & Remixes, a companion release to 2017's Offering, complete with three previously unreleased songs, as well as a remix of "Recovery" by John Fryer. "Not Impossible," the spacey lead single, is a far cry from the energetic pop songs that Cults made their name on, but it has a cosmic churn that wouldn't feel that out of place among the band's more recent work. —Justin Kamp
Moving Panoramas: "Baby Blues"
Austin-based dream-rock band Moving Panoramas have shared "Baby Blues," the first single from their forthcoming sophomore album In Two, out Feb. 22, 2019, via Modern Outsider. The track is a breezy, summery jam, made all the more light and airy by its carefree video. Directed by singer Leslie Sisson, the video finds the band prank-warring by sea and by land. The group seem enamored by the concept of "two"—it's in the name of their album, which is their second, with a release date of 2/22—and "Baby Blues" seems to present the motif as a symbol of both progress and stasis. Moving Panoramas have had some lineup changes, and while Sisson's dreamy vocals and the propellant jams of their previous work are still the focus, the subject matter seems to be oriented toward how certain things change, and how certain things stay the same. "Here we are / another year / same time, same spot," Sisson sings. —Justin Kamp
BEST PERFORMANCES
Sun June
Silky, folky indie-pop band Sun June stopped by the Daytrotter Studio to perform tracks from their debut album Years, which came out earlier this year via Keeled Scales.
Pale Tongue
Lawrence, Kansas noise-psych rockers Pale Tongue made the trip to Davenport, Iowa to record a Daytrotter session after the release of their self-titled debut EP, which came out last month.
FEATURES
A babymoon is defined as the "period of time following the birth of a baby during which the new parents can focus on establishing a bond with their child." So, then, what is a babymoon album? For the sake of this piece, we're defining it as a record made by an artist who, at the time of the album's production and/or penning, had recently become a parent. I, the author of this list, am certainly not a parent. I cannot fully grasp the unshakeable love a mother or father has for their children. But, I do know that becoming a parent changes everything, and, for an artist, those changes can apply to their music, too. Parenthood might give an artist not only a new perspective on life, but also on music and what it means to make it. We rounded up some of the best babymoon albums ever made, dressed them in their Sunday best and loaded 'em up in the minivan for your listening pleasure. Now, presenting a list you can enjoy both while pushing a stroller and while sitting at home with your dog—just because these records were made by parents doesn't mean you have to be a parent to listen. —Ellen Johnson & Paste Staff
The 10 Best Musician Episodes of Hot Ones
First We Feast's YouTube series Hot Ones draws millions of eyeballs, and its subversion of the typical celebrity interview as well as its integration of competition and foodie culture are what make the show so gripping. The show's host and producer, Sean Evans, interviews celebrities over a meal of spicy chicken wings. It sounds like a pretty simple concept, but the kicker is that each of the 10 chicken wings placed in front of Evans and his guest get increasingly spicier as the show goes on, making for some intense, natural and, oftentimes, hilarious reactions. While each guest's mouth is flaming with a level of heat that's incredibly hard to tame, they try to prod through and answer Evans' surprisingly well-researched and thought-provoking questions as well as they can. Some of the show's most interesting and hilarious episodes have included musicians like Interpol's Paul Banks and Wu-Tang Clan's RZA, more recent guests like Lil Yachty and Anderson .Paak as well as DJ Khaled, who recorded a now-infamous episode. As big fans of Hot Ones, we at Paste decided to rank our 10 favorite musician episodes of this borderline-dangerous, hot sauce-laced chat show. Some of these musicians fared better than others—in fact, DJ Khaled and Lil Yachty don't quite make it through all 10 wings—but each episode is explosively entertaining and a much-welcomed departure from typical bloated, gossipy celebrity video interviews.—Lizzie Manno & Paste Staff
The 10 Most Bizarre Tour Pairings

Artists who embark on large tours often have the luxury of picking their own opening acts. Sometimes this means choosing someone they love with no consideration for genre or audience. Other times, the promoters of large tours will choose instead, often picking anyone who they see as commercially viable. Especially back when rock and roll was the most dominant form of music and still part of the zeitgeist, there were some crazy combinations of opening acts and headliners. In the minds of promoters, as long as the band had guitars strapped around their shoulders, who cared what they sounded like, right? Just put a rock band in front of an audience and surely they'll love it. As it turns out, that wasn't always the case, sometimes leading to confrontation or feelings of indifference between the opening act and audience. Fast forward to 2018 when most people listen to all kinds of music. Now seems like a better time than ever to have a rapper open for a garage rock band or a folk singer open for a thrash metal band. We decided to count down 10 classic and modern tour pairings that—regardless of whether the crowd enjoyed it or loathed it—sound like ill-advised, perhaps drunken ideas. —Lizzie Manno & Ellen Johnson
ATL Collective Uses Classic Albums to Strengthen Atlanta's Music Scene

For the last decade, the organization known as ATL Collective has been bringing Atlanta musicians together around a shared love of classic albums. What started in 2009 as some ideas scrolled on a napkin and an opportunity to put on live music above a coffee shop turned into an Atlanta live music institution. ATL Collective's main attraction is a popular local concert series in which Atlanta musicians interpret and perform iconic albums live in full. ATL Collective wanted to help unite musicians in the city with a concept that was inclusive and collaborative rather than elitist and competitive. In the early days, they hosted monthly DIY pop-up shows in Atlanta's Old Fourth Ward. The concept allows people to uncover the talent of both up-and-coming and veteran Atlanta musicians while enjoying music that's already familiar to them. To put their success into context, they've covered 93 albums across 15 different venues with almost 25,000 combined attendees throughout their almost 10-year history, according to their website. As successful as ATL Collective has been in driving home their mission, Dalton explains the organization has moved into its next phase—making the transition from thriving small business to a non-profit, and they're currently raising money to fund their current and future endeavours. —Lizzie Manno