Listen to One Last Thom Yorke Suspiria Single Before the Full Score Drops Tomorrow
"Unmade" is the fifth single off the forthcoming album
Images via Greg Williams, XL Recordings
Music
News
Thom Yorke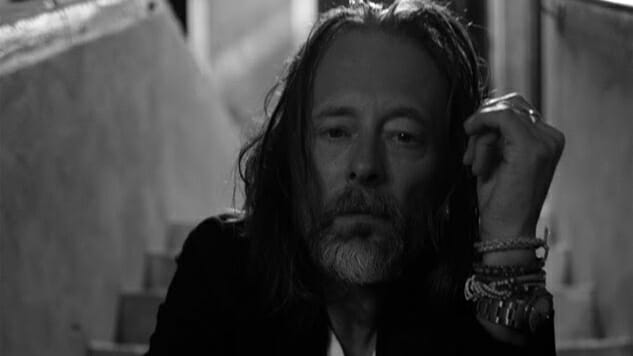 Thom Yorke has shared "Unmade," the fifth and final single off his Suspiria score, which drops tomorrow, Oct. 26, via XL Recordings.
"Unmade" conjoins the two paths Yorke's score has taken thus far. It's a gentle piano ballad for most of its runtime, but it's bookended by uneasy groans and churning synth figures, hinting neatly at the turmoil bubbling beneath the dance academy in the film.
In our coverage of Yorke's previous Suspiria singles, we've mostly neglected to mention the absolutely stunning music videos that have accompanied each song. The videos, animated by Ruff Mercy, are ghostly things, rendered in striking pink and blue palettes that often merely hint at shapes and movement.
"Unmade" combines the silhouettes of dancing maidens with the relentless flowing of a river, layering both forms of movement on top of each other in a sort of double-exposure collage that finds beauty and danger in all things kinetic. It feels at times like watching a ritual in the moonlight, and at other times like a meditation on a stream half-frozen in the winter.
Watch the video for "Unmade" below and find a 1995 Radiohead performance from the Paste archives further down.