Listen to Tracy Chapman's Powerful Performance of "Fast Car" on This Day in 1988
Photos by Bryan Bedder/Getty
Music
Features
Tracy Chapman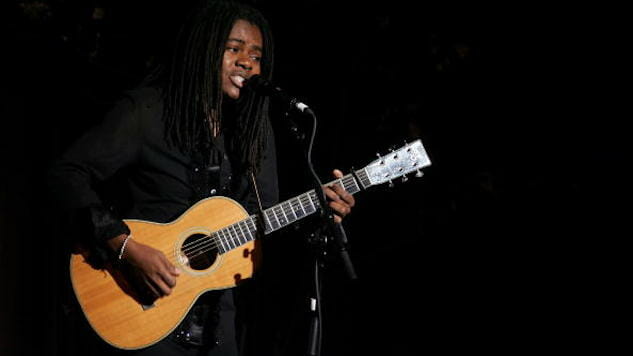 Thirty years ago, singer-songwriter Tracy Chapman released her self-titled debut album. Six months later, she was touring the world, leaving audiences enthralled with her intimate stories and fierce messages of equality. A year later, she procured three Grammy awards, including the one for Best New Artist. At just 24, Chapman had already found herself a powerful performer, sharp lyricist and decorated musician.
On this day in 1988, the same year as her album's release, Chapman performed a set at the Estadio River Plate stadium in Buenos Aires, Argentina, as part of the Concerts for Human Rights Foundation World Tour, which scattered a host of musicians including Bruce Springsteen, Sting, Peter Gabriel and Chapman across the globe in an effort to raise awareness for human rights and political prisoners worldwide. Chapman's Argentina show was the tour's last, and she performed stunning, stripped-down takes on hits from Tracy Chapman, including her most famous emotional tune, "Fast Car."
For most of the set, it's just Chapman and her guitar on stage. She starts the show with "Across the Lines," her powerful plea for racial equality. Then, Branford Marsalis joins her on saxophone for the gentle ballad "Baby Can I Hold You" before Chapman switches back to solo for "Why?," "Behind The Wall" and, to crowd's expressed delight, "Fast Car," her heart-wrenching tale of family and poverty (you'll want tissues at the ready). She closes the show with the album's opening anthem, "Talkin' Bout A Revolution." Chapman's soulful voice commands the performance, as noted in Wolfgang's liner notes:
Throughout this set, Chapman's stunningly captivating voice is front and center. Whether her lyrics are hopeful or chilling (often both within a single song), this material has a depth and substance well beyond her years. Chapman's socially conscious songwriting would have a significant impact on countless songwriters in the forthcoming decade, including Sarah McLachlan, Paula Cole and Jewel. Of this tour, Chapman is quoted as saying, "It was the chance of a lifetime to have performed in the places we performed in, and, on top of that, to have it all mean something too." This determination to shine a light on important issues would continue to fuel Chapman's work to the present day and justify her as one of the most resonating songwriters of her generation.
Listen to the entirety of Chapman's powerful 1988 performance below via the Paste vault.