Twin Peaks Tease Unreleased Music in Video Diary, Will Release Something in Seven Days
Photo by Ian Laidlaw
Music
News
Twin Peaks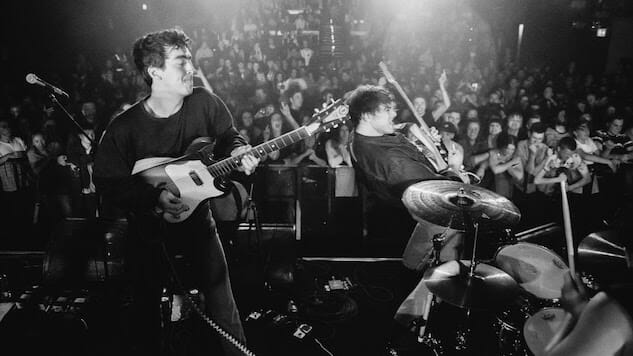 Chicago-based indie-rock outfit Twin Peaks have released a video diary teasing short snippets of the band's forthcoming music.
Using footage of the band from a February 2019 studio session at Monnow Valley in Wales, the video features a piano-driven melody, drowsy strumming, a phantom slide guitar and something that sounds like a theremin being toyed with, and concludes with a curt "coming soon."
"Coming soon" might mean seven days, to be exact—in an Instagram post uploaded earlier Wednesday afternoon, the band captioned a clip from the full video with "7 days … " Despite the seven-day deadline, no further details of the band's forthcoming music—not a release date, nor a tracklist—were mentioned, but there's a trumpet in the video, if that means anything.
What we do know, however, is that the album is done (according to an Instagram post the band uploaded in March), and the band plans on debuting new music on their upcoming North American and European tour later this fall.
Check back in a week to see what the band has up its collective sleeve in anticipation of the album. In the meantime, check out the band's video diary, Instagram post and 2014 Daytrotter Session below. While you're at it, feel free to revisit the first single from the newly formed Twin Peaks/Post Animal supergroup Column here.