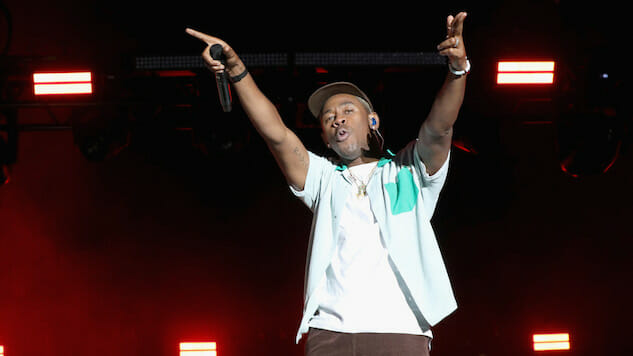 Tyler, The Creator and DJ Khaled were in fierce battle last week for the Billboard 200 throne. But the victor is clear.
Tyler, The Creator's new full-length IGOR has debuted at No. 1, snagging the artist his first No. 1 album.
IGOR beat out DJ Khaled's Father of Ashad as Khaled fought for his third chart-topping album. The battle began from the moment the albums were released on the same day on May 17.
Tyler also made history with IGOR as the first solo rapper to debut at No. 1 for an album he entirely produced and arranged on his own, according to Hip Hop By the Numbers.
Tyler, The Creator created history today with IGOR

He's the first solo rapper in history to have a No. 1 album he produced and arranged by himself, no co-production or co-producer credits at all

69 rappers have gone No. 1 on the Billboard 200. No-one has done this before

— Hip Hop By The Numbers (@HipHopNumbers) May 27, 2019
Tyler took to Twitter in response to his No. 1 win, expressing his gratitude for everyone involved in the process, as well as his fans, and his excitement that his work had paid off while even shedding a tear.
— Tyler, The Creator (@tylerthecreator) May 27, 2019
honestly didnt think people would enjoy this album based on alot of thing, so again, thank you, i mean it

— Tyler, The Creator (@tylerthecreator) May 27, 2019
alot alot of effort put into this. not that that should dictate if people like it or not but im happy all that time and attention paid off

— Tyler, The Creator (@tylerthecreator) May 27, 2019
IGOR debuted with 165,000 album sales, while Father of Ashad followed with 136,000. IGOR's "equivalent" sales included 74,000 traditional albums and 122.9 million equivalent album units from streaming, per the New York Times.
While IGOR is his first album to top the list, Tyler, The Creator is no stranger to the Top 10: This is his fifth full-length to land on it. He first broke onto the list with his 2011 debut Goblin, which hit No. 5. But he didn't stop there. In 2013, Wolf hit No. 3, and 2015's Cherry Bomb placed at No. 4. In 2017, Flower Boy debuted at No. 2, just barely losing the No. 1 title to Lana Del Rey's Lust for Life.
Read Paste's review of IGOR here.