Watch the Breathtaking Video for AJJ's New Single, "Goodbye, Oh Goodbye"
Image via YouTube
Music
Video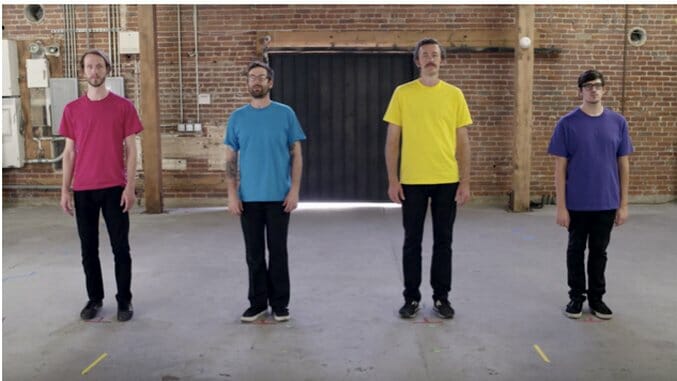 First, you may think these four guys dressed in bright colors are part of a children's show, like The Wiggles. And look, they're doing some dancing. (If you call side-stepping and nodding dancing—we do.)
But then you look closer. These are aging, tattooed millennials. And wait, they're singing about revolting and skipping church.
Oh, it's just AJJ—that makes more sense. The artists formerly known as Andrew Jackson Jihad have released their latest masterpiece of a music video, "Goodbye, Oh Goodbye," a single off their forthcoming album, The Bible 2, out Aug. 19.
The video, directed by future award-winner Joe Stakun, was supposedly shot in a single take, but with all of its elaborate props, heavy lifting and advanced choreography, it seems somebody's pulling our legs. Not to mention that lead singer Sean Bonnettee says it took six months to plan each minute detail for "Goodbye, Oh Goodbye." We can believe it.
Watch the groundbreaking video above, and enjoy Paste Cloud audio of Andrew Jackson Jihad's 2011 Daytrotter session below.