Weezer Is Now Selling T-Shirts Inspired by That SNL Sketch
"Weezer: Ride or Die," the shirt reads
Image via NBC/YouTube
Music
News
Weezer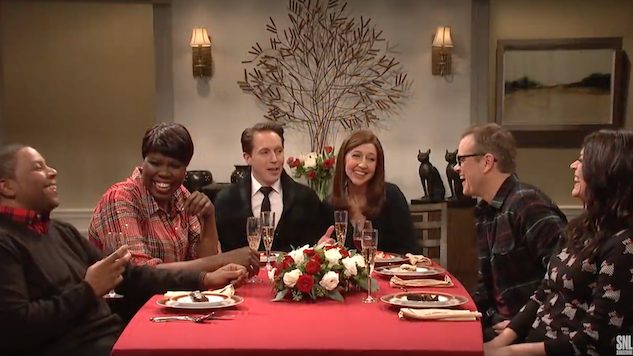 Weezer is now selling T-shirts inspired by the hilarious Saturday Night Live sketch about the band that aired during the show's Christmas episode this past weekend.
Focusing on the "purists" versus "ride or die" Weezer fan debate, the sketch is centered around a neighborly dinner during which Leslie Jones and Matt Damon's characters get into a heated debate over what Weezer's best music really is—their first two albums (Blue, Pinkerton) or their newer music, including the recently announced The Black Album.
Upon hearing of the sketch, vocalist Rivers Cuomo took to Twitter in delight:
THEY HAD A WHOLE ASS SKIT ABOUT WEEZER AND ME ON SATURDAY NIGHT LIVE AND IM ACTUALLY CRYING AAAGGGGHHHHHHH

— Rivers Cuomo (@RiversCuomo) December 16, 2018
Now, the band is selling T-shirts featuring Damon's argument—that true fans are "ride or die"—in a bundle with the The Black Album digital pre-order. In the listing, the shirt is described as "Matt Damon aka Todd approved" so it's perfectly clear where the inspiration for the new merch came from.
Can we all just agree that Weezer is the best band of all time?

ride or die https://t.co/o04Bw0LVWHpic.twitter.com/OJwfxQB5Z8

— weezer (@Weezer) December 17, 2018
Weezer's The Black Album is scheduled for release on March 1, 2019, with singles "Zombie Bastards" and "Can't Knock The Hustle" available now.
You can watch the video and check out Paste's essay on SNL's Weezer sketch here to find one Paste editor's stance on the argument ("Weezer's first album was okay and everything since has been garbage") and revisit the sketch itself below.