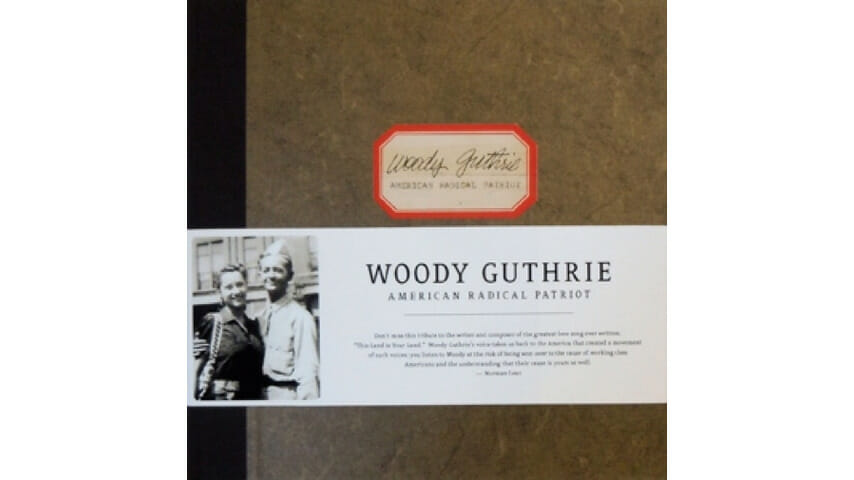 If I had my way, every one of the millions of people who fell in love with Mumford & Sons' newest album, Babel, would get the urge to go a little deeper and figure out why it touched them and kindled something they could perhaps feel, but not quite grasp. It's a journey that would take them past The Avett Brothers and Deer Tick and right through Wilco, Bob Dylan and The Band to somewhere more essential and deep-rooted than any other music has ever traveled to. It's a journey that could only end with Woody Guthrie.
It was just over a hundred years ago that Woody Guthrie was born, but that doesn't necessarily mean much. The world has changed so quickly in the last decade or so that listening to Woody's croaky old flint-and-dust voice and choppy guitar is like dialing into something as ancient as Moses or Gilgamesh, and it's got to be said that his music may be just as valuable as anything any of those prophets ever said or put down on old stone tablets. And that's not really hyperbole. The 150 or so songs that are collected in American Radical Patriot are every bit as evocative of the time and culture they grew out of as the stories of Isaiah and Jacob were for the people of the desert thousands of years ago. Like those Biblical parables, Woody's songs have taken on the quality of myth and Guthrie himself has become elevated in the public imagination to a figure far larger than life. As the great American novelist John Steinbeck wrote of Guthrie, "Woody is just Woody. Thousands of people do not know he has any other name. He is just a voice and a guitar. He sings the songs of a people and I suspect that he is, in a way, that people. Harsh voiced and nasal, his guitar hanging like a tire iron on a rusty rim, there is nothing sweet about Woody, and there is nothing sweet about the songs he sings. But there is something more important for those who will listen. There is the will of a people to endure and fight against oppression."
That's it in a nutshell. No artist—not Dylan, Joe Strummer, Michael Franti, Bob Marley, Billy Bragg or Phil Ochs—has ever expressed a deeper will to fight against oppression and the rights of "the little guy" than Woody Guthrie. For people accustomed to Auto- Tune and digital recordings, hearing Woody's music can come as a blistering shock. There's nothing pretty about his presentation, and taken together, his output is as raw and rough, offhandedly sentimental and shit-disturbing as any music ever recorded. Hearing Woody can be like being hit by a tidal wave, but if you can ride out the staccato emotions and backwoods idealism, it's an experience like none other. It can be a leap of faith, but if you give yourself time, in the same way that you forget Citizen Kane is a black-and-white movie and start enjoying the story, surrendering to Woody Guthrie's spell will reveal a world that you may only have dimly expected ever really existed. At one level, then, the challengingly titled American Radical Patriot is a call to memory and a reminder of a national legacy that has nothing to do with Tea Party politics, money or corporate greed. It's a reminder of when people risked everything to stand up and be counted.
American Radical Patriot is a newly compiled six-CD and one-DVD set that collects all of the work Woody Guthrie did on government commission during the course of his long career. These include dozens of wonderful, off-the-cuff versions of his most famous songs recorded for the Library of Congress that are presented with delightful rambling monologues that tell the stories behind the songs. The material he wrote for The Bonneville Power Administration in the late 1930s to promote economic recovery and sell power is featured, and even though Woody took an oath that this music would be "free of politics," songs like "Pastures of Plenty," "Hard Travelin" and "End of My Line" still touch a nerve as some of the most heartfelt songs of toil and struggle ever written. And, if you thought the struggle for public healthcare was a new issue, take a listen through to the dozen songs and stories about VD; Woody was hired to write Juke Box Songs to Fight Syphillis in 1949. Ageless ditties like "VD Avenue," "A Seaman's Letter" and "A Child Of VD" are quite astounding in their candor and really must be heard to be believed. Also included is a bonus 78 RPM vinyl record that features Bob Dylan singing "VD City" from a 1961 hotel recording on one side and a 1951 home recording of Woody singing "The Biggest Thing That Man Has Ever Done" on the other.
The packaging and presentation of American Radical Patriot deserves special mention. The CDs and DVD are housed in an attractive hardcover binding that replicates a vintage photo album that fits nicely on a bookshelf. The slipcase book also includes an informative essay and photographs that give context to each of the recordings and stories. For those who want to know more about Woody, a downloadable 250-page biography is included that can be read as an ebook or printed on demand. Taken as a whole, American Radical Patriot is the most comprehensive and in-depth single packaging of Woody Guthrie's work ever released, with more than one-third of the material featured seeing publication for the first time. It is an astounding work of scholarship, remastering and design aesthetics that belongs in every serious music fan's library.
With over 2000 songs to his credit and notebooks full of unpublished lyrics that continue to be turned into new music by artists like Billy Bragg, Michael Franti, Wilco, Jim James and more, to say nothing of unpublished novels like the recently discovered House of Earth, Woody Guthrie's artistry may be the single most important contribution that America has given to the world's evolving culture. In the same way experts have often expressed disbelief that one man could have written all of Shakespeare's 29 plays—they seem too perfect, deep and all-encompassing to be the work of a single soul—t's hard to reconcile that someone who once walked amongst us could have written "This Land is Your Land," "Deportees" and "I Ain't Got No Home." They are songs that are as indelible as our DNA and seem as if they've always been with us.
Simply put, there is not another body of music like Woody Guthrie's. American Radical Patriot is a treasure that's flat-out perfect. Music doesn't get any better than this.