Wye Oak Share Searing New Track "Fortune," Announce Full-Band Tour
Images via Kendall Atwater, Merge Records
Music
News
Wye Oak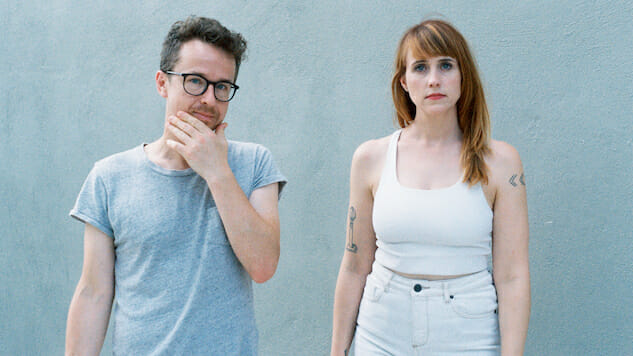 Wye Oak's Jenn Wasner and Andy Stack have made three genre-bending electronic-folk albums now from across state lines. Since 2012, the two have lived in different cities—Wasner in Durham, N.C., and Stack in Marfa, Texas—convening only in short bursts in their home studios to bring together Shriek (2014), Tween (2016) and The Louder I Call, The Faster It Runs (2018). Stack now lives in Durham, and Wye Oak took to the studio unconstrained this summer for the first time in seven years. Today (Nov. 12), they've offered up a first taste of these sessions with "Fortune," and announced a unique full-band tour set for next spring.
The difference is undeniable on their newest track: If most of the material on The Louder I Call was something like a wisp of smoke—diffuse and hazy, difficult to hold onto—"Fortune" feels like a steadily building flame, with a rawness and immediacy that recalls the duo's 2011 record Civilian. "Fortune" takes up the constancy of change, swirling between soothing, calmly plucked guitar and churning, propulsive chaos that veers into wailing distortion. "Life is change. Change is loss," says Wasner of the track. "This song is about how hard it is to let go, and the feeling of celebrating and mourning it all at once."
Wye Oak's special full-band tour called JOIN is set for the spring of 2020, with a set list that will include cuts from Wasner and Stack's solo projects, Flock Of Dimes and Joyero, respectively. Listen to "Fortune," check out Wye Oak's 2010 Paste Studio performance and see their full slate of tour dates below.
Wye Oak 2020 Tour Dates:
February
27 – Asheville, N.C. @ The Mothlight
28 – Durham, N.C. @ Baldwin Auditorium
29 – Philadelphia, Pa. @ Johnny Brenda's
March
01 – Baltimore, Md. @ 2640 Space
03 – Cambridge, Mass. @ The Sinclair
04 – Brooklyn, N.Y. @ Music Hall of Williamsburg
05 – Richmond, Va. @ The Broadberry
20 – Seattle, Wash. @ The Crocodile
21 – Portland, Ore. @ Mississippi Studios
23 – San Francisco, Calif. @ The Independent
24 – Los Angeles, Calif. @ Masonic Lodge at Hollywood Forever Cemetery
25 – Los Angeles, Calif. @ Masonic Lodge at Hollywood Forever Cemetery