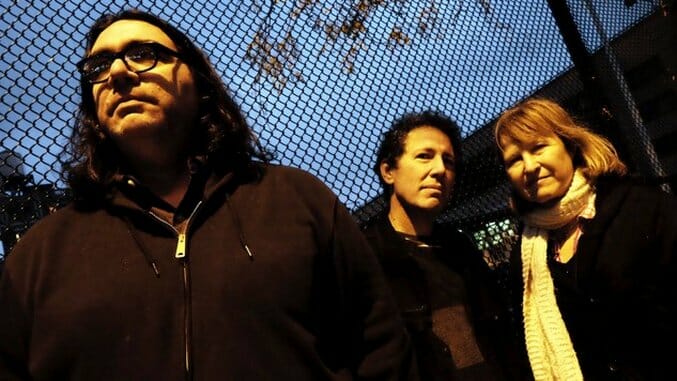 Daily Dose is your daily source for the song you absolutely, positively need to hear every day. Curated by the Paste Music Team.
There's A Riot Going On—you know it, we know it and so do Yo La Tengo, who are releasing their first proper LP since 2013 in a little over two weeks, on March 16. The latest single from the album is "For You Too," a transcendent act of noise-rock introspection.
Yo La Tengo's new single is the most entrancing taste of their new record yet. The scintillating guitar line, soft synth drone and deceptively propulsive percussion combine to create an inviting, yet layered soundscape, while Ira Kaplan delivers near-whispered lyrics that are brimming with heart-swelling affection: "For you / whenever there's hurt / and when things are uncertain / Maybe I could be that guy / I'd like to try," he sings. Songs like this are why Daily Dose exists.
"For You Too" follows "You Are Here," "Shades of Blue," "She May, She Might" and "Out of the Pool," all four of which were released alongside There's A Riot Going On's initial announcement.
Yo La Tengo will tour the world in support of their new LP, making U.S. stops in the Midwest, East Coast and South before heading across the pond in late April. They return to the States in late May for a West Coast run ahead of a handful of European festival sets in July and August.
Stream "For You Too" below (or via your streaming service of choice here) along with Yo La Tengo's 2013 Daytrotter Session, revisit the band's previous foursome of There's A Riot Going On singles here and find their tour dates further down below.
Yo La Tengo Tour Dates:
March
28 – Minneapolis, Minn. @ First Avenue
29 – Chicago, Ill. @ Thalia Hall
30 – Chicago, Ill. @ Thalia Hall
31 – Toronto, Ontario @ Phoenix
April
02 – Burlington, Vt. @ Higher Ground
03 – Boston, Mass. @ Paradise
04 – Washington, D.C. @ 9:30 Club
06 – Brooklyn, N.Y. @ Brooklyn Steel
07 – Philadelphia, Pa. @ Union Transfer
08 – Charlottesville, Va. @ Jefferson
10 – Carrboro, N.C. @ Cat's Cradle
11 – Carrboro, N.C @ Cat's Cradle
12 – Atlanta, Ga. @ Terminal West
13 – Nashville, Tenn. @ Basement East
14 – Nashville, Tenn. @ Basement East
28 – Dublin, Ireland @ Olympia
29 – Glasgow, U.K. @ SWG3
30 – Manchester, U.K. @ Academy
May
01 – Birmingham, U.K. @ Town Hall
03 – Leeds, U.K. @ Church Leeds
04 – London, U.K. @ Royal Festival Hall
06 – Amsterdam, Netherlands @ Paradiso
07 – Berlin, Germany @ Heimathafen
08 – Cologne, Germany @ Gloria Theatre
09 – Munich, Germany @ Muncher Kammerspiele
11 – Zagreb, Croatia @ Pogon Jedinstvo
12 – Belgrade, Serbia @ Dom Omladine
13 – Budapest, Hungary @ A38 Ship
15 – Milan, Italy @ Fabrique
16 – Fribourg, Switzerland @ Fri-Son
17 – Schorndorf, Germany @ Manufaktur
19 – Paris, France @ Le Caberet Sauvage
20 – Brussels, Belgium @ Ancienne Belgique
31 – Seattle, Wash. @ Neptune Theater
June
01 – Seattle, Wash. @ Neptune Theater
02 – Portland, Ore. @ Wonder Ballroom
03 – Portland, Ore. @ Wonder Ballroom
05 – San Francisco, Calif. @ Fillmore Theater
06 – San Francisco, Calif. @ Fillmore Theater
08 – Los Angeles, Calif. @ Teragram Ballroom
09 – Los Angeles, Calif. @ Teragram Ballroom
July
12 – Madrid, Spain @ Mad Cool Festival
13 – Oeiras, Portugal @ NOS Live
August
30-9/2 – Salisbury, U.K. @ End Of The Road Festival