Rio 2016 Proved that Racism and Sexism Are Still Very Much Our Problem
Photo courtesy Twitter.com/@NBCDFW
Olympics
Features
Rio 2016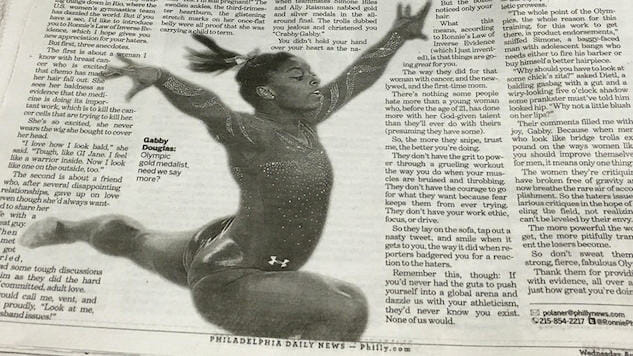 The Philadelphia Daily News ran an article praising Gabby Douglas for rising above the unfair—and oftentimes racist—criticism surrounding her during the Olympics. The problem? The article included a photo of Simone Biles. Naturally, a lot of people noticed, leading editor Michael Days to apologize for the mistake.
Confusing two of the greatest gymnasts in the world because they both happen to be black was a particularly outrageous gaffe, but coverage of the Rio Olympics has been full of such casual slips of racism and sexism. For every incident of casually sexist or racist coverage though, there has been an equally strong pushback, particularly from commentators on social media and from the athletes themselves. Neither the public viewers nor the athletes are satisfied with the antiquated coverage and commentary of the Olympics. Those watching Rio 2016 demanded something better from the major news outlets covering the Games.
When Simone Manuel tied for a gold medal in the women's 100m freestyle with Canada's Penny Oleksiak, she became the first African-American woman to win an individual gold medal in swimming. Manuel's gold medal is even more significant considering swimming's racist history and the ongoing lack of black swimmers. And yet, the San Jose Mercury News celebrated Manuel's accomplishment with the headline, "Phelps shares historic night with African American." The publication later apologized and updated the headline to include Manuel's name.
The Mercury's racist headline and subsequent retraction represents a pattern: mainstream media glosses over the accomplishments of minority or female athletes to praise white men, athletes and social media take them to task. BBC presenter John Inverdale erroneously congratulated Andy Murray for being the first person to win two gold medals in tennis after he won his second consecutive men's singles title. Actually, the Williams sisters have eight gold medals between them, Murray reminded Inverdale.
NBC came under fire for attributing Hungarian swimmer Katinka Hosszu's gold medal to her husband and coach, calling him "the guy responsible" for her win. As Chinese swimmer He Zi claimed her silver medal, her boyfriend, fellow Chinese swimmer Qin Xai, proposed to her. BBC called the engagement "an even bigger prize." Updated copy for the article now more neutrally refers to it as "another prize." After winning a bronze medal in trap shooting, Corey Cogdell-Unrein was identified by the Chicago Tribune as "wife of Bears lineman Mitch Unrein."
And female athletes don't even need to be married to a man for their achievements to be couched in terms of the accomplishments of men around them. Katie Ledecky emerged as one of the biggest stars of Rio, but her accomplishments led many to praise her by comparing her to male swimmers. This time it was NBC's Rowdy Gaines who said, "A lot of people say she swims like a man. She doesn't swim like a man – she swims like Katie Ledecky"—proving that at least one person at NBC is awake to the current times. Simone Biles pointed out the obvious when she declared, "I'm not the next Usain Bolt or Michael Phelps. I'm the first Simone Biles." But the fact that she made headlines at all proves that it's still radical for her to demand that her accomplishments be recognized in their own right, not through the lens of a male athlete.
Are outlets like the Mercury News or the BBC consciously pushing a racist or sexist agenda? Are they hell-bent on raising the accomplishments of Phelps and Murray above everyone else? No, of course not. They're just so used to people like Phelps and Murray being at the center of the story that they don't stop to see Biles and Manuel making history right in front of them. But much of their audience is way of ahead of them.
This isn't to say female athletes and athletes of color aren't still vulnerable to attacks on social media. Despite her many accomplishments, Douglas has unfortunately been a lightning rod for criticism throughout the Games. And that criticism has almost always been gendered and racialized. Not smiling enough? Not acceptable for a woman. Hair not behaving "correctly"? Definitely not okay for a black woman. She is far from the first athlete to not put her hand on her chest during the national anthem, and she's certainly not the only gymnast to sport a messy ponytail, and yet she's the one labeled "#CrabbyGabby" on social media.
But no Olympic headline captured today's anxieties around race and privilege the way "LochteGate" did. The Ryan Lochte robbery story has grown increasingly muddled, but it's the optics of the story rather than the real truth that catapulted it to an international news sensation. It seemed as though Lochte, a white, wealthy man from a first world country, had used Brazil's reputation for violence and crime as a way to get himself off the hook for a night of debauchery. The court of public opinion wasted no time in taking Lochte to task for his blatant display of white privilege and American hubris, with many feeling particularly incensed that Lochte was not held to same standard of behavior as Douglas, who was heavily reproached for literally just standing there. It seemed too as though he'd get away with it, as white men in a place of privilege usually do. Lochte apologized, but it didn't seem to work this time around: he's already lost many of his major sponsors.
Lochte might embark on a quest for redemption and make a comeback yet, but at the very least, the narrative shifted slightly at the Rio Olympics. Audiences and athletes are eager for an Olympics where female athletes and athletes of color receive the same praise white, male athletes have enjoyed for decades. Maybe they'll get it right for Tokyo 2020.