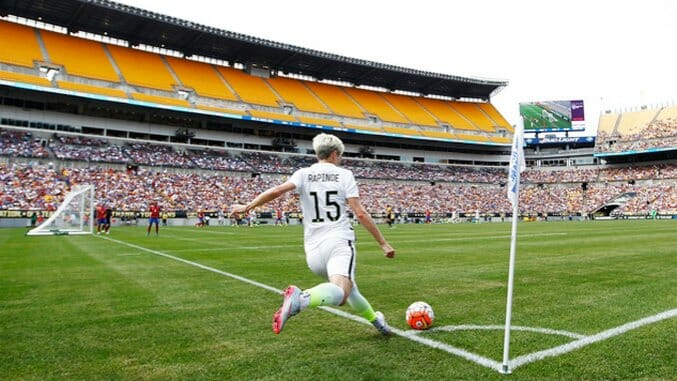 There was a point yesterday afternoon, late, as I was watching beach volleyball, archery, and women's gymnastics simultaneously, when it hit me that I love the Olympics so much that I will probably suffer withdrawal symptoms when they end. I'm definitely going to shake and sweat for at least a week, and I won't want any bright lights near me. The summer Olympics are my drug, and I only get high for two weeks every four years. But man, what a glorious two weeks.
The hardcore Olympic guide vets know how these guides go, but for you newbies, this is how we roll:
1. Using both NBC's various TV channels and their excellent live streaming site, I will show you how to watch the Olympics with an unmatched level of obsession and fanaticism. Note that every event listed on a TV network can also be streamed live, though the opposite is not true.
2. The focus is on catching every event where a medal is at stake, regardless of sport, and every team sport match featuring America. Follow me, and you'll miss nothing.
3. Everything you see below is LIVE. We may be many things, but we are not tape-delay punks.
For a handy one-stop schedule of each event for the full two weeks, I made this spreadsheet to aid in your quest. Refer to it as needed.
We've made it a week, so let's keep the mojo flowing. On to Friday!
Friday
8:00 a.m. — Archery — Men's Round of 16 — NBCSN
Brady Ellison has been absolutely cruising for the Americans, and he faces his countryman Zach Garrett in this round. If he wins there, it won't be long until he runs into the South Koreans who defeated the U.S. in the team finals. High drama, and there's also this: Archery is magic.
9:00 a.m. — Equestrian — Team Dressage Finals — Computer
I can only assume this is an event where either the riders dress the horses, or the horses attempt to dress the riders. Either way, sounds funny.
9:32 a.m. — Rowing — Women's Lightweight Double Sculls Finals — Computer
Shouldn't America be better at rowing? It seems like a petty complaint, considering how well we're doing in Rio, but it puzzles me that we don't have more people who can kick ass at rowing a boat. We have a lot of coast line, and 300+ million people. How the hell are places like Croatia and Poland dominating us?
9:45 a.m. — Rowing — Men's Lightweight Double Sculls Finals — Computer
Seriously, in 14 rowing events, there is exactly one where an American team is favored to win gold—women's eight. We need to start taking kids from their parents at young ages and sending them to national academies. Right?
10:00 a.m. — Shooting — Men's 50m Rifle Prone — Computer
They should have a "supine" event. Or at least one where the competitor has to be asleep, and then wake up really quickly to shoot a group of approaching bandits, like they had to do in the old west.
10:06 a.m. — Rowing — Women's Coxless Pair Finals — Computer
A pair from Great Britain named "Helen Glover" and "Heather Stanning" are favored, and those are some classically plain English names. Meanwhile, one of the New Zealand rowers is named "Genevieve Behrent." New Zealand is a way cooler country.
10:10 a.m. — Track — Women's 10,000m Finals — NBC
Whoa, our first track event is here! It's always a little sad to me toward the end of the first week when swimming transitions to track & field, but time passes, seasons change, and everyone must die. Speaking of which, I'm pretty sure I would die if I tried to run 10,000 meters at the pace they set. I always wonder with these events if I could take a random 100-meter sample from their run and beat them in a full-out sprint, understanding that I'd be done after while they had to pace themselves for the full 10,000. I bet I'd still lose.
10:24 a.m. — Rowing — Men's Coxless Four Finals — Computer
Hey, America could actually win here!
10:40 a.m. — Men's Water Polo — U.S. vs. Montenegro — NBC
Must-win. I would be pessimistic here, but somehow the men's volleyball team beat Brazil after a crappy start last night, and even though those are two different sports, I don't care—the narrative for men's American sports in Rio, which I'm making up right now, is COMING BACK FROM THE DEAD.
11:00 a.m. — Tennis — Men's QFs, Women's Semis, Men's Doubles Finals — Bravo
Andy Murray faces the last American, Steve Johnson, at 11:00 sharp, and at 2:00 p.m. Madison Keys—also the last American, in the women's draw—takes on Angelique Kerber. Later, the American doubles team of Jack Sock and Johnson play for Olympic bronze in men's doubles. The gold medal men's doubles match goes down at 3:30, and features my hero Rafa Nadal on the Spanish team.
12:00 p.m. — Women's Soccer — U.S. vs. Sweden (QF) — NBCSN
Okay, here we f'ing go. This is when the team sports start to get really fun. The U.S. made it through the group stages without a loss, but Colombia managed a 2-2 draw that gave American fans pause. There's no panic, for sure, but we're now in the fluke zone where a bad result or an indifferent match could be disastrous. I love that this match is at noon, by the way—a perfect window with no other major events, and a great way to spend the lunch hour(s).
1:30 p.m. — Track — Men's 20km Walk — Computer
Oh, come on. This is like having a "floating" event in swimming. Why not just do Olympic endurance standing?
2:00 p.m. — Women's Volleyball — U.S. vs. Italy — NBC
The undefeated Americans look to keep the good times rolling in their second-to-last group stage match. A big showdown with China looms on Sunday, but Italy has yet to win.
2:00 p.m. — Archery — Men's Quarterfinals — Computer
This was the funniest tweet about archery:
This Olympian's mom is running CNN now. pic.twitter.com/acE0hHyn3Y

— Ben Collins (@oneunderscore__) August 10, 2016
I mean, uncanny, right?
2:30 p.m. — Women's Basketball — U.S. vs. Canada — NBCSN
Arguably the most boring event in any Olympics, ever. Just give us the gold and let everyone go home so they don't get Zika.
2:30 p.m. — Shooting — Women's Skeet Finals — MSNBC
I don't know the difference between skeet and trap, and I'm not sure even the most seasoned shooter has any clue. To quote Spinal Tap, it's one of those mysteries best left unsolved.
2:30 p.m. — Weightlifting — Women's 75kg Finals — Computer
A North Korean is favored here, and that's the most I can tell you.
2:42 p.m. — Trampoline — Women's Finals — NBC
It's easy to make fun of trampoline, and I'll for it, but this is actually kind of amazing to watch. They go very, very high. There are just two days of trampoline, so what the hell, catch a few minutes of it. Especially tomorrow, when the men's favorite from China is named "Dong Dong."
3:11 p.m. — Archery — Men's Semifinals/Finals — MSNBC
Ellison may not look like Leo DiCaprio, but he's basically the real-life version of Daryl from The Walking Dead to me, except Ellison is badass enough that he wouldn't be best friends with that weirdo Carol. Also, I like to think he would have gotten pissed off and killed Dale early on, which would have been awesome.
5:00 p.m. — Cycling (Track) — Women's Team Sprint Finals — Computer
I hereby vow to watch at least one track cycling event before these Olympics are over.
5:30 p.m. — Fencing — Men's Team Foil Finals — Computer
Foil! This is the one where you can hit a dude's toe and it counts! That's the extent of my fencing knowledge, though I do wonder if there's a nasty fencing condition called "Foil Toe." I'm just going to assume the answer is yes.
5:34 p.m. — Cycling (Track) — Men's Team Pursuit Finals — Computer
I have already promptly forgotten my vow from two entries above.
6:00 p.m. — Men's Basketball — U.S. vs. Serbia — NBCSN
Everyone thinks men's basketball is interesting because Australia played us kinda close the other day, but—spoiler alert—it's not. It's just that the Americans are indifferent enough to have a "bad" game that still ends up in a relatively easy win. The only interesting thing about the men's basketball tournament is that the whole team is staying on a yacht. That's it.
6:00 p.m. — Weightlifting — Men's 85kg Finals — Computer
When it comes to writing about weightlifting, there is nothing left in my soul.
9:00 p.m. — Field — Women's Shot Put Finals — Computer
The throwing sports might be the hardest to make exciting…the drama of watching an object fall a little farther than another object just doesn't cut the mustard for me. The javelin is better, though, because this could always happen. (The dude was okay, so I'm allowed to joke about, I think.) The discus only ever nails someone in Greek mythology.
9:03 p.m. — Swimming — Women's 200m Backstroke Finals — NBC
The Aussies control this one. Emily Seebohm has arguably the coolest last name in the whole Olympics.
9:12 p.m. — Swimming — Men's 100m Fly Finals — NBC
Michael Phelps is the king of kings, and I consider him my father. If he can win this event for his insane 23rd gold medal, they should just name the Olympics after him. Are you guys excited for the 2020 Phelps Games in Tokyo?
9:20 p.m. — Swimming — Women's 800m Freestyle Finals — NBC
Ledecky is so good at this event that she's actually already won gold, and is patiently waiting for the other competitors to finish.
9:44 p.m. — Swimming — Men's 50m Freestyle Finals — NBC
Still have a soft spot in my heart for the Ivan Drago of this event, Alexander Popov, who won gold at Barcelona and Atlanta. All the Olympic videos are disabled from embedding, but check out this weird old Russian video of him setting the world record. He stays under water forever!
11:00 p.m. — Women's Beach Volleyball — Walsh-Jennings/Ross vs. Italy (QF)
The prelims are over, and it's time for the knockout stages. Walsh-Jennings and Ross were amazing in the group, going 3-0, but the heartbreaking part of beach volleyball is that it only takes one match for everything to go down the drain. But Walsh-Jennings has won three straight golds (all with Misty May-Treanor), and Ross made the gold medal match in London, so there's every reason to expect this will be a great start to another medal run. Solid way to end the night.
The weekend is here! You have nothing to do for 48 hours but devote yourself heart and soul to the Olympics, so drink a gallon of Nyquil, sleep, and be ready to give it your all tomorrow.
(Note: Don't drink a gallon of Nyquil.)