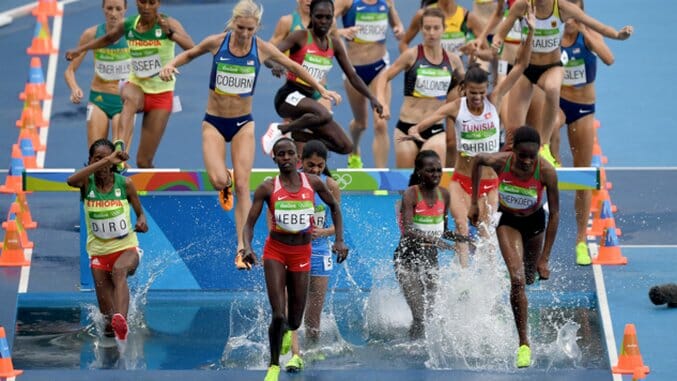 Ready for a controversial opinion? Swimming is better than track and field, and consequently the first week of any given summer Olympics is better than the second week, especially as far as prime-time TV is concerned. The only advantage week two has over week one is that the team sports are in the knockout rounds rather than the group stages, but those matches usually happen during the day. Also, once the U.S. gets knocked out, I lose interest in sports like field hockey or soccer, so it's a tenuous advantage at best. The best you can say about week two primetime is that the best events—the 100m and 200m sprints, for instance—are up there with the great moments in the entire Olympics. Beyond that, only basketball could lift up week two, and Olympic basketball kinda sucks now.
Luckily, we're still loaded up with great events throughout the day. Before we get to today's guide, here's what we're about:
1. Using both NBC's various TV channels and their excellent live streaming site, I will show you how to watch the Olympics with an unmatched level of obsession and fanaticism. Note that every event listed on a TV network can also be streamed live, though the opposite is not true.
2. The focus is on catching every event where a medal is at stake, regardless of sport, and every team sport match featuring America. Follow me, and you'll miss nothing.
3. Everything you see below is LIVE. We may be many things, but we are not tape-delay punks.
For a handy one-stop schedule of each event for the full two weeks, I made this spreadsheet to aid in your quest. Refer to it as needed.
Wednesday
9:00 a.m. — Handball — Brazil vs. France (QF) — Computer
It's just a quarterfinal match, but handball is such a fun, entertaining sport that I'm encouraging you to watch in this open morning window. The sport itself has a vaguely familiar feeling, and you'll find yourself wondering why it's not big in America, since it seems to be a hybrid of sports we love—football, basketball, soccer, hockey. Then you'll say, "oh yeah, why would any American athlete possibly take up this sport when they could excel at the other?" and you'll realize why we'll always suck at handball. Still, it's well worth your time every four years. Here, France are the gold medal favorites.
9:00 a.m. — Equestrian — Jumping Team Finals — Computer
10:50 a.m. — Track — Men's Steeplechase Finals — NBC
It took me 20 minutes to convince my wife that yes, this event features humans doing exactly what the horses do in a steeplechase, which is climbing over walls and running through water. I think it seemed undignified to her, in some way, like watching a human being wear a saddle and get tied up to a hitching post.
11:30 a.m. — Badminton — Mixed Doubles Gold Medal Match — USA
Does badminton really deserve mixed doubles? I mean, that's a bit presumptuous. How is this different from having a extra-small trampoline event, or a rhythmic gymnastics relay. It's a step too far.
12:00 p.m. — Men's Soccer — Brazil vs. Honduras (SF) — NBCSN
I would say it's high time to watch some Brazilian soccer, wouldn't you? I'm no soccer scientist, but I would have to say that it's going to be damn hard for any team to beat them on home soil—especially the U-23 players of the Olympics who presumably have less international experience.
12:05 p.m. — Sailing — Women's 470 Finals — Computer
1:00 p.m. — Men's Volleyball — U.S. vs. Poland (QF) — NBC
I really have no idea what to expect from the men's volleyball team, but I do know this—they've won three straight matches, including a shocker of a victory over Brazil in the group rounds. I hope I don't jinx them, but I'm starting to become a volleyballiever.
1:05 p.m. — Sailing — Men's 470 Finals — Computer
3:00 p.m. — Men's Soccer — Nigeria vs. Germany (SF) — NBCSN
Cool people are rooting for a Brazil-Germany final, but extra-cool hipster people are rooting for Nigeria here, and can probably even name some of their players.
3:30 p.m. — Boxing — Men's Welterweight Finals — Computer
This is Uzbekistan vs. Kazakhstan. That has to be an insane rivalry, right? Or do they both just hate the Russians?
3:30 p.m. — Women's Water Polo — U.S. vs. Hungary (SF) — NBC
We beat the Hungarians 11-6 in the group stages, so there's good reason for confidence here. Two more wins, and the women defend their London gold.
4:05 p.m. — Wrestling — Women's Freestyle 48kg Finals — Computer
4:50 p.m. — Wrestling — Women's Freestyle 58kg Finals — Computer
5:35 p.m. — Wrestling — Women's Freestyle 69kg Finals — Computer
5:45 p.m. — Men's Basketball — U.S. vs. Argentina (QF) — NBCSN
The Americans have looked listless and unprepared so far, and are basically in a lose-lose situation now. If they win the game, they were supposed to, and nobody will really care. If they lose, it's hugely embarrassing and Coach K will leave the team on a really sour note. In a larger sense, that's the problem with a "dream team." It's almost always boring, until it's not, in which case it's a national humiliation. Bring back the college kids!
6:30 p.m. — Table Tennis — Men's Team Gold Medal Match — Computer
China has had a surprisingly disappointing Olympics, but these events are still their bread-and-butter.
8:15 p.m. — Field — Women's Long Jump Finals — Computer
Always go with the computer for the leaping/jumping/throwing/pole-based events, because NBC doesn't think you want to see more than the bare minimum. And these are actually really fun.
9:00 p.m. — Women's Beach Volleball — Walsh-Jennings/Ross vs. Brazil, Bronze Medal Match — NBC
I don't want to talk about this.
9:00/9:15 p.m. — Taekwondo — Women's 49kg/Men's 58kg Finals — Computer
Hey, taekwondo's here! I was afraid that after judo we wouldn't have an arbitrary martial discipline that nobody would understand!
9:30 p.m. — Track — Women's 200m Finals — NBC
Sprinting events are exciting, but over so fast. So much like life. (American Tori Bowie will be taking on the wonderfully named Dutchwoman Dafne Schippers for gold.)
9:55 p..m. — Track — Women's 100m Hurdles Finals — NBC
The worst part about hurdles is that the runners are so keyed in to a certain rhythm that if they hit one hurdle, they're almost certain to hit every hurdle thereafter, and it gets progressively worse. There's a metaphor here—we're always paying for the mistakes of our past, or something. Or just, watch out for dangerous hurdles. (U.S. could go gold-silver here with Brianna Rollins and Kristi Castlin.)
11:00 p.m. — Women's Beach Volleyball — Gold Medal Match — NBC
YES. I HAVE BEEN WAITING FOUR YEARS FOR THIS MATCH. IF AMERICA DOESN'T WIN, WE RIOT. WOOOOOOO;ALSDJFL;AJ@#RASDFASDFL;JASF1!!#$!!!!!
That's what I wrote before I watched last night's semifinal, effectively jinxing Walsh-Jennings and Ross. I'm so sorry. Germany vs. Brazil should still be kinda fun.
See you tomorrow.