Trump Says He Will Issue an Executive Order to End His Own Policy of Family Separation (But Does Not Provide Specifics of the Plan)
Photo by John Moore/Getty
Politics
News
American Concentration Camps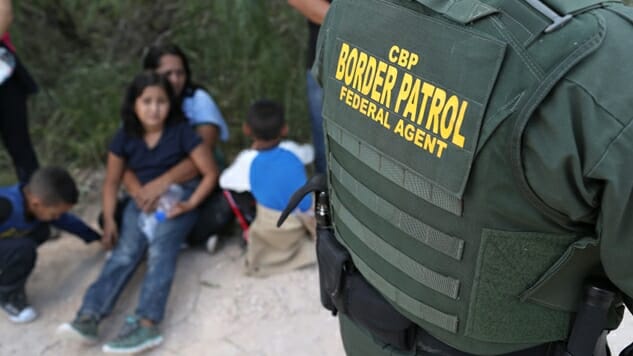 Before we begin with Trump's new decree, I want to highlight this portion of yesterday's AP report that Trump is embracing the fight over immigration:
Several White House aides, led by adviser Stephen Miller, have encouraged the president to make immigration a defining issue for the midterms. And Trump has told advisers he believes he looks strong on the matter, suggesting that it could be a winning culture war issue much like his attacks on NFL players who take a knee for the national anthem.
This is the context that locking children up in cages and creating baby prisons is taking place within: it's popular amongst Republicans and no one else.
Quinnipiac poll: Americans oppose the family separation policy for undocumented immigrants 66-27%.

Republicans support it 55-35%. pic.twitter.com/ElrOCbiIUc

— Sahil Kapur (@sahilkapur) June 18, 2018
So keep that in mind when you hear about Trump's supposed concern over this issue. If this horror didn't make Republicans politically unpalatable amongst independents, they would certainly continue it unabated. Per the New York Times:
President Trump is preparing to issue an executive order as soon as Wednesday that ends the separation of families at the border by indefinitely detaining parents and children together, according to a person familiar with the White House plans.
Stories of children being taken from their parents and images of teenagers in cage-like detention facilities have exploded into a full-blown political crisis for Mr. Trump and Republican lawmakers, who are desperate for a response to critics who have called the practice "inhumane" and "evil."
Trump doesn't need to issue an executive order to end this, and we shouldn't assume that what is being drawn up will actually address the issue.
He doesn't need an executive order to end the separation policy, which was promulgated by his subordinates. Fair bet that the executive order will contain new shenanigans, likely mandating long term family internment contrary to the Flores settlement.

— southpaw (@nycsouthpaw) June 20, 2018
For days, Trump has said only Congress can fix the separations issue while falsely blaming Democrats. Kirstjen Nielsen has said it is not an administration policy. But now Trump is signing an executive order to change the administration's policy.

— Josh Dawsey (@jdawsey1) June 20, 2018
This ordeal is proof that Trump will literally do anything that Republicans support, and Republicans will support anything that Trump does. This is why Republican Senator Bob Corker used the word "cult" to describe his concerns with his party.
Jacob Weindling is a staff writer for Paste politics. Follow him on Twitter at @Jakeweindling.