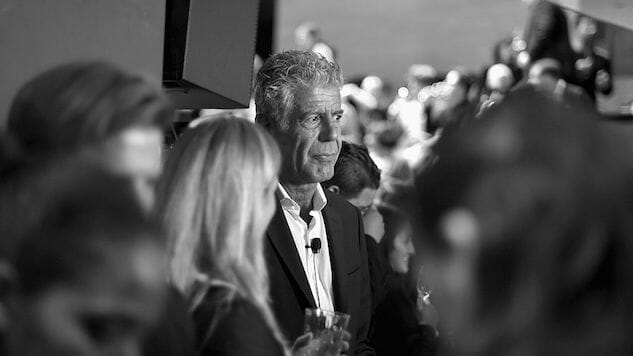 In May, David Leavitt tweeted a despicable joke about the suicide bombing at an Ariana Grande concert and Anthony Bourdain rightfully torched him on Twitter for it. Leavitt chose to get his revenge today in the most repugnant and insensitive way—in the immediate aftermath of Bourdain's death, mind you—by insulting the late chef, TV host and author.
Selfishly taking your own life and hurting your friends and family makes you the steaming, gaping asshole Anthony Bourdain. pic.twitter.com/hBOxQ1W32e

— David Leavitt (@David_Leavitt) June 8, 2018
The tweet came just hours after Bourdain, 61, was found dead in his hotel room in France this morning, where he had traveled to film new episodes of his award-winning show Parts Unknown. His cause of death was reported as suicide.
Leavitt went on to double down on his tweet, going so far as to condemn every person who commits suicide:
If you're religious, then you believe there's a special place in hell or purgatory for people like Anthony Bourdain who take their own lives.

— David Leavitt (@David_Leavitt) June 8, 2018
Leavitt's comments were especially monstrous considering the fact that suicide is on the rise in the U.S.—according to the U.S. Centers for Disease Control and Prevention, suicide rates have increased by 25 percent nationwide in the two-decade period ending in 2016.
Leavitt, verified Twitter user and self-proclaimed successful freelancer writer, has a track record of insulting recently deceased people. In May of 2017, he opted to crack cruel jokes about the shooting at the Ariana Grande concert in Manchester, England that killed 22 people. He tweeted, "MULTIPLE CONFIRMED FATALITIES at Manchester Arena. The last time I listened to Ariana Grande I almost died too." Following the firestorm of backlash over Leavitt's tweet, he tweeted an apology, writing, "Sorry 4 offending. Didn't realize the magnitude of the tragedy. I always make stupid jokes about whatevers trending. Condolences 2 families."
We tip our hats to Bourdain, a great man, chef, writer and icon who knew that Leavitt was truly an asshole and wasn't afraid to say it.