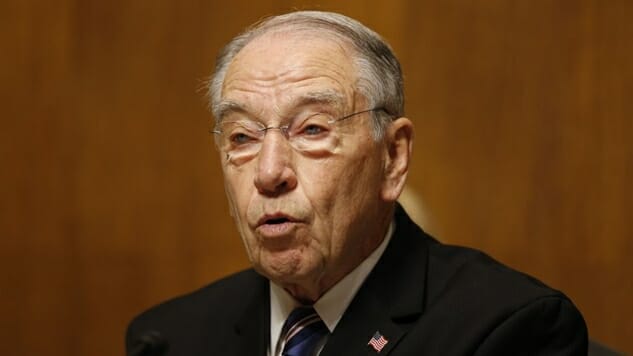 MSNBC's Chris Hayes described Chuck Grassley's opening remarks perfectly.
This is exactly what I was talking about last night: the entire posture is this eye-rolling, exasperated, overly performed "we're-bending-over-backwards-to-accommodate-you, now spit it out" shtick. It's gross.

— Chris Hayes (@chrislhayes) September 27, 2018
Grassley spent the entire first 15 minutes of the hearing reading from a prepared statement that attempted to tie Dr. Ford's allegations to some amorphous kind of Democratic obstruction. He used his time to defend Brett Kavanaugh by saying he denied these allegations, yet didn't give Dr. Ford's words the same weight. He then went on to complain about how Christine Ford wouldn't testify in private, and laid blame at her feet for the farce of a hearing that he was conducting. He also didn't even introduce her (for someone who spent so much time talking about the importance of process, it was pretty illuminating how he missed this bit of formal senate process). This was practically a campaign commercial highlighting how the Republican Party stands opposed to women's rights. He belittled the idea of an FBI investigation into Christine Ford's allegations, yet in 1991, he believed the opposite.
Grassley in 1991 acknowledged the value of an FBI investigation into sexual assault allegations against a Supreme Court nominee. Today he claims FBI investigations are useless. Complete and total hypocrisy. #KavanaughHearingspic.twitter.com/hiLAmXE6NF

— Keith Boykin (@keithboykin) September 27, 2018
Grassley quotes Biden on the FBI report during the Hill hearings dismissing FBI's investigation. During those same hearings, Grassley cited the FBI work for the committee to make a report. Hatch, another current committee member, called the FBI report "the very right thing to do" pic.twitter.com/PW2Z8zjGOA

— andrew kaczynski (@KFILE) September 27, 2018
Grassley also equated the pain that Dr. Ford is experiencing with Brett Kavanaugh's. This is so gross.
"Both Dr. Ford and Judge Kavanaugh have been through a terrible couple of weeks. They and their families have received vile threats … I want to apologize to you both for the way you've been treated." – Sen. @ChuckGrassleypic.twitter.com/vXee3Uk0G0

— CSPAN (@cspan) September 27, 2018
We haven't even begun Dr. Ford's testimony yet, and it is already clear from Chuck Grassley's "old man yells at cloud" rant that she will not get a fair shake today. This is going to be awful and my heart goes out to every woman who will be watching an entire political party downplay sexual assault. As always, Trump is the GOP, the GOP is Trump. There is no functional difference between the two. Make sure you're registered to vote, so you can make these GOP septuagenarians understand this November that there are consequences to their abhorrent actions.
Jacob Weindling is a staff writer for Paste politics. Follow him on Twitter at @Jakeweindling.