Tabloid Magnate David Pecker's Ties to Trump Helped Catch the Ear of Saudi Prince
Photo by Francois Durand/Getty
Politics
News
David Pecker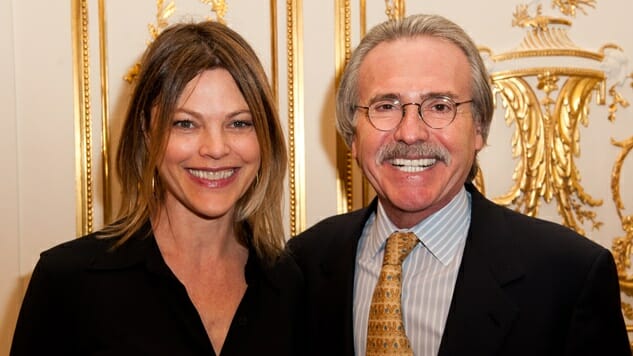 While Donald Trump has been heavily critical of mainstream media outlets for many years, he has no issue rubbing shoulders with those in the field who are willing to use their pulpit to prop him up in the eyes of the American public. One of the most prominent of those supportive figures is American Media Inc. chairman David Packer, and a report from the New York Times details Packer's relationship with the president and how it benefits his attempts to establish business ties within Saudi Arabia.
The two have been close since the '90s, when Packer's National Enquirer became one of numerous publications covering a reemerging Trump following the failure of his Atlantic City casinos. The relationship persisted through the next 20 years, with Packer using his publication to shield and shower praise upon Trump, especially once his 2016 presidential campaign picked up steam. Packer continually attacked Trump's political rivals and critics in The Enquirer during the campaign, and published stories in support of the "deep state" conspiracy theories used by Trump supporters to dismiss credible news stories and push damaging and misinformed policies through the halls of government. Trump became the first presidential candidate the publication ever endorsed.
The most notorious of Packer's acts was the suppression of former Playboy model Karen McDougal's claim of having an extramarital affair with Trump. AMI purchased her story for $150,000 and sat on it, a tactic commonly referred to as "catch and kill." McDougal recently filed a lawsuit alleging that Trump's attorney, Michael Cohen, was secretly involved in AMI's purchase and subsequent burial of her story. Both Cohen and AMI denied the allegations.
It worked, though, as Packer met with Trump in the Oval Office last July, bringing French businessman and business conduit for Saudi Crown Prince Mohammad bin Salman Kacy Grine and other associates. The group went out to dinner following the meeting, where they discussed Middle East and the recent French elections. Two months later, Packer was in Saudi Arabia, attempting to establish business connections with the Saudis and lauding his plans to expand his events business, which includes the Mr. Olympia bodybuilding competition, into the nation.
Packer would further ingratiate himself to the Saudi Crown Prince just ahead of his current U.S. tour. Prior to Salman's arrival, AMI produced a 97-page magazine titled "The New Kingdom" that pretty much acted as a promotional item for Saudi Arabia and the Crown Prince, highlighting his pursuits against corruption within the Saudi government and omitting any reference to "The Magic Kingdom's" human rights concerns, military activities or the sweeping amount of arrests of Saudi royals last fall.
200,000 copies of the magazine were distributed in major outlets, such as Walmart, and allowed AMI to "capitalize" on Salman's rising profile while furthering growing financial ties between the Saudi and U.S. government. Both nations have expressed interesting in cross-border investment, with a $20 billion pledge from the Saudi government being put into a fund with the intent to invest it in American infrastructure projects. The nation is also planning to purchase American-made missiles and military equipment.
Packer's utilization of his connection to the president is fortuitous as AMI has suffered financially over the past decade, including a bankruptcy filing in 2010 in which the company reported $1 billion in debts. The company was bought by two private equity firms in 2014. AMI stated the company is currently "in an incredibly stable financial position," though it has gone through a series of restructurings over the past decade and Pecker confirmed that he did not have the money needed to join Harvey Weinstein in an attempt to purchase Rolling Stone last fall.
Those with knowledge of Packer's dealings with the Saudis say that, by January of 2018, they were being done in an attempt to secure financial backing from the Saudis for AMI's purchase of Time magazine. AMI refuted the claim, but Packer has shown interest in acquiring the magazine since 2013, when the president tweeted that Packer "would be a brilliant choice as CEO of TIME Magazine." AMI's chief contact officer, Dylan Howard, expressed to that Packer's interest in Time was inline with the motivations of any other businessman: "Any media executive worth his or her salt must look at any acquisition opportunity in today's media climate." Not every businessman has the kind of global political access that Packer has cultivated, however.
The White House did not respond to the NYT's request for comment.