Trump Complained About "Flipping" this Morning, A Few Hours Later, His Longtime Ally Reportedly Flipped On Him
Photo by Francois Durand/Getty
Politics
Features
David Pecker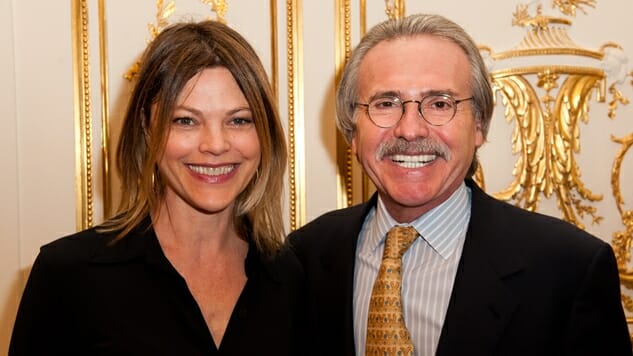 .@TIME Magazine should definitely pick David Pecker to run things over there – he'd make it exciting and win awards!

— Donald J. Trump (@realDonaldTrump) July 9, 2013
To clue you in to the gravity of the situation, here is the title of Gabriel Sherman's new report in Vanity Fair:
"Holy Shit, I Thought Pecker Would Be the Last One to Turn": Trump's National Enquirer Allies Are the Latest to Defect
That quote from a Trump friend comes in response to a Wall Street Journal report that landed a few hours after Trump ranted on Fox & Friends about how "flipping" in criminal cases "almost oughta be outlawed."
Trump: I know all about flipping. It should almost be illegal. pic.twitter.com/jCZhwN7XxP

— Josh Marshall (@joshtpm) August 23, 2018
David Pecker, the chief executive of the company that publishes the National Enquirer, was granted immunity by federal prosecutors for providing information about Michael Cohen and Donald Trump in the criminal investigation into hush-money payments for two women during the 2016 presidential campaign, according to people familiar with the matter.
In exchange for immunity, Mr. Pecker, CEO of American Media, Inc., has met with prosecutors and shared details about payments Mr. Cohen arranged in an effort to silence two women who alleged sexual encounters with Mr. Trump, including Mr. Trump's knowledge of the deals, some of the people said. Prosecutors have indicated that Mr. Pecker won't be criminally charged for his participation in the deals, the people said.
Mr. Pecker has previously said he is a longtime friend of Messrs. Trump and Cohen.
Between the dual guilty plea and conviction of Michael Cohen and Paul Manafort this week, and now this hilariously ironic and perfectly-timed heel turn, it sure feels like our reality is being scripted. David Pecker "flipping" on Trump is a big, big deal. He owned the media company which squashed the Karen McDougal payment, and if he was granted immunity, we can safely assume that there is much more of Trump's dirty laundry hidden in his closet. As I wrote this morning in my theory of where the Trump investigations are headed, Trump's biggest problems have been his self-inflicted wounds, and there is no reason to believe they won't continue into the future. Again, he confessed to a crime yesterday on Fox News in response to the Cohen guilty plea.
Trump on the hush money payments: "They didn't come out of the campaign. They came from me." (via Fox) pic.twitter.com/IlXm9R4b0M

— Kyle Griffin (@kylegriffin1) August 22, 2018
Things are going to get a lot darker and a lot dumber, folks. We have reached the tip of the idiot iceberg.
Jacob Weindling is a staff writer for Paste politics. Follow him on Twitter at @Jakeweindling.