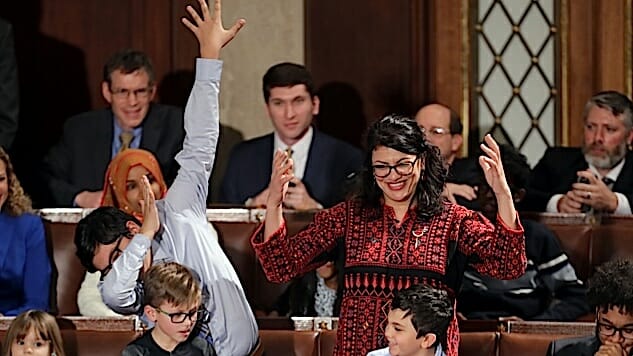 In November, alongside Ilhan Omar, Rashida Tlaib became one of the first two Muslim women ever elected to the House of Representatives and the first ever Palestinian-American. She makes up what might be the most progressive freshman class in congressional history, and like Alexandria Ocasio-Cortez, she's a member of the Democratic Socialists of America. And on Thursday night, she showed that she's not afraid to speak her mind on the issue of Donald Trump, and to speak it without self-censoring. Watch her eschew any understatement in front of a crowd of supporters the night after she was sworn in:
the crowd goes NUTS the moment Rep. Rashida Tlaib says: "We're gonna go in there and we're gonna impeach the motherfucker."

via @LevineJonathan

— J.D. Durkin (@jiveDurkey) January 4, 2019
"People love you and you win," she told the crowd. "And when your son looks at you and says, 'Momma, look, you won. Bullies don't win.' And I said, 'Baby, they don't. Because we're going to go in there and we're going to impeach the m****."
As you might expect, Trump wasn't long in responding, albeit without mentioning Tlaib specifically:
As I have stated many times, if the Democrats take over the House or Senate, there will be disruption to the Financial Markets. We won the Senate, they won the House. Things will settle down. They only want to impeach me because they know they can't win in 2020, too much success!

— Donald J. Trump (@realDonaldTrump) January 4, 2019
How do you impeach a president who has won perhaps the greatest election of all time, done nothing wrong (no Collusion with Russia, it was the Dems that Colluded), had the most successful first two years of any president, and is the most popular Republican in party history 93%?

— Donald J. Trump (@realDonaldTrump) January 4, 2019
The Democratic chair of the House Judiciary Committee, who would be in charge of any potential impeachment hearings, was also not impressed:
"I don't really like that kind of language. But more to the point, I disagree with what she said. It is too early to talk about that intelligently," Nadler, whose committee would oversee any impeachment effort, said on CNN on Friday morning.
"We have to follow the facts; we have to get the facts," he added. "That's why it is important to protect the Mueller investigation. That's why it's important to do our own inquiry. … We'll see where the facts lead — and maybe that will lead to impeachment. Maybe it won't, but it's much too early."
For her part, Tlaib isn't backing down. Her office released a statement affirming that she was "elected to shake up Washington, not continue the status quo. Donald Trump is completely unfit to serve as President. The Congresswoman absolutely believes he needs to be impeached. She ran and won by making this very clear to the voters in her district."
In fact, Tlaib recently co-authored an op-ed calling for impeachment, so her stance should not come as a big surprise, even though her language might.