More Americans Blame Trump, GOP for Government Shutdown but He's Still Trying to Spin it
Photo by Olivier Douliery-Pool/Getty
Politics
News
Donald Trump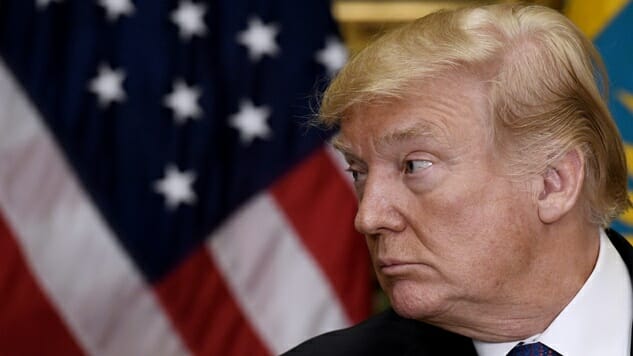 We are mere hours away from a possible government shutdown, but President Trump is not letting that unpleasant reality slow down his political spin machine. Earlier today, the president took to Twitter to decry Democratic opponents to the short-term spending bill being voted on today by the Senate, imploring voters to deliver larger Republican legislative majorities in midterm elections later this year.
Government Funding Bill past last night in the House of Representatives. Now Democrats are needed if it is to pass in the Senate – but they want illegal immigration and weak borders. Shutdown coming? We need more Republican victories in 2018!

— Donald J. Trump (@realDonaldTrump) January 19, 2018
Someone should tell Trump that his request is somewhat falling on deaf ears. According to a new Washington Post poll, more Americans blame Trump and the GOP for the impending government shutdown than the Democrats whom the president is trying to vilify. The poll shows that 48 percent blame Trump and the Republicans, while only 28 percent blame the Democrats. The same result holds true among a majority of demographic groups.
New WaPo poll:

The gov't might have to shut down. Who do you think is mainly responsible for this situation?

Among registered voters:

Trump/Rs 47
Dems 30

Among independents:

Trump/Rs 46
Dems 25

Moderates:

Trump/Rs 49
Dems 24https://t.co/QXq8u3l1PV

— Greg Sargent (@ThePlumLineGS) January 19, 2018
While the president is sure to dismiss the poll as yet another example of the American people's dissent toward his administration, his attempt to rewrite the national narrative ahead of an election that is projected to see significant Democratic victories seems increasingly more futile. It also isn't helping an already-stressed Senate reach an agreement to prevent that government shutdown he's trying to utilize.
According to Politico, the Senate struggled to agree on adjourning for the evening on Thursday night. The people charged with trying to stave off a government shutdown are having trouble deciding whether to take a break. Needless to say, faith that a bipartisan agreement will be reached ahead of the midnight deadline continues to decrease.
At least we know who to blame, even if the president doesn't.