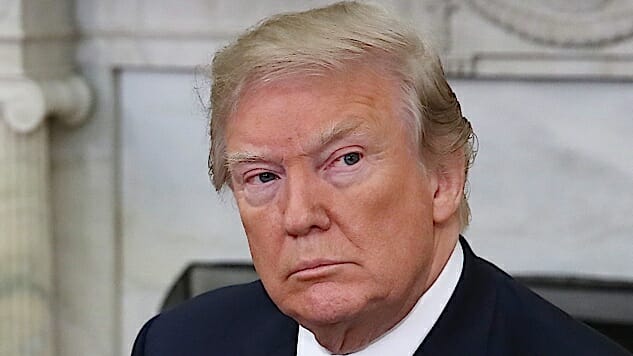 Per Axios, the recent scrutiny surrounding Trump's lawyer has the commander-in-chief experiencing what one source called "dark moods." Mike Allen writes:
The big picture: Cohen, unlike Ivanka or the other kids, is the only person on earth intertwined in Trump's professional, political, personal, legal and family life — the man with secrets few others hold. And, thanks to a court ruling yesterday, many of those secrets, reportedly recorded and emailed, are — or soon will be —in the hands of federal investigators.
One piece of collateral damage from that decision came out yesterday, when it was revealed (hilariously) that Sean Hannity was Cohen's client. But the really heavy fire could be yet to come. Cohen, 51, had his office raided by the F.B.I. in what amounted to a search for information on payments he allegedly made to Stormy Daniels and Karen McDougal in an attempt to buy their silence following affairs with Donald Trump. As Allen notes, the information obtained from that raid, which was approved by Deputy Attorney General Rod Rosenstein, is likely about to become very public, with catastrophic potential for Trump himself. Allen calls Cohen "a potential Rosetta stone to Trump's final decade in private life," and if that treasure trove makes its way into the public eye, it will, at a minimum, be quite embarrassing for Trump.
"People at the Trump Organization don't even really know everything he does," a former Trump campaign official told Axios. "It's all side deals and off-the-books stuff. Trump doesn't even fully know; he knows some but not everything."
And finally, the money quote from another source: "POTUS' worries about Cohen are reflected in his dark moods."
Whether we like it or not, we're about to learn a lot more about our president, and it's going to be weird.