Trump Watched the Super Bowl With Founder of the "Spa" Where Pats Owner Bob Kraft Got Busted
Photo by Chip Somodevilla/Getty
Politics
News
Donald Trump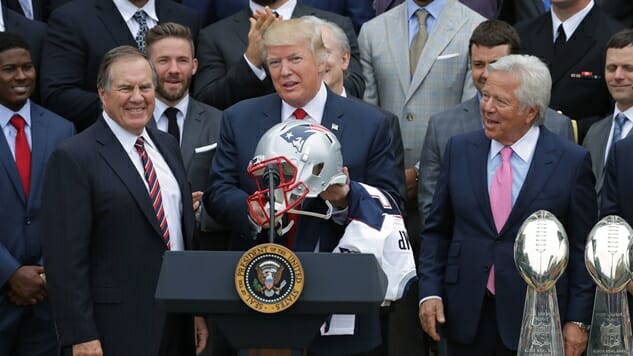 New England Patriots owner Robert Kraft was busted as part of a larger sex trafficking sting last month, and he was charged with misdemeanor solicitation of prostitution. Kraft is a well-known friend of Donald Trump, and the two faces of Kraft's New England Patriots have both genuflected towards the president. Tom Brady famously had a MAGA hat posted prominently in his locker (at the same time Colin Kaepernick was getting blackballed out of the NFL), and Bill Belichick wrote a bootlicking note to Trump congratulating him on his victory in 2016. The Kaepernick saga demonstrated that major decision-makers throughout the NFL largely inhabit MAGA-land, but the Patriots are undoubtedly the team of Trump, and today The Miami Herald revealed another Trump-Patriots connection:
Sometime during the party at Trump's West Palm Beach country club, the president turned in his chair to look over his right shoulder, smiling for a photo with two women at a table behind him.
The woman who snapped the blurry Super Bowl selfie with the president was Li Yang, 45, a self-made entrepreneur from China who started a chain of Asian day spas in South Florida. Over the years, these establishments — many of which operate under the name Tokyo Day Spas — have gained a reputation for offering sexual services.
Nineteen days after Trump and Yang posed together while rooting for the Patriots, authorities would charge Kraft with soliciting prostitution at a spa in Jupiter that Yang had founded more than a decade earlier.
The possibilities are endless.
Jacob Weindling is a staff writer for Paste politics. Follow him on Twitter at @Jakeweindling.