Pete Buttigieg Leaps to Third Place Among Democratic Candidates in Iowa Poll
Photo by Alex Wong/Getty
Politics
News
Pete Buttigieg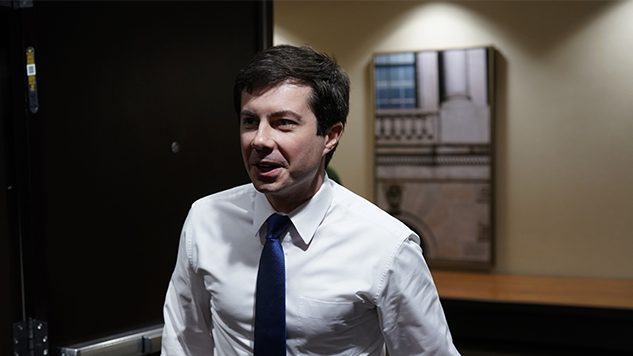 Pete Buttigieg, the mayor of South Bend, Ind., and a rising political star, has jumped to third place in Emerson Polling's second Iowa survey. Former President Joe Biden is still the most favored Democratic hopeful with 25 percent and Sen. Bernie Sanders (I-Vt.) is right behind him with 24 percent. At 10 percent, Sen. Kamala Harris (D-Calif.) is just trailing Buttigieg's 11 percent, making her the only other candidate in double digits in Iowa.
The poll, which was carried out between March 21-24, surveyed 249 Iowans and has a margin of error of 6.2 percent. Buttigieg's leap in popularity is especially impressive considering that in Emerson's January Iowa poll, he had just 0 percent. While Buttigieg still a long-shot for the Democratic ticket and hasn't officially announced his candidacy, this is a promising trajectory for the Afghanistan war vet. One demographic especially responsive to the Midwestern mayor is 18- to 29-year-olds, with 22 percent supporting him. That number puts Buttigieg in second place in that particular age bracket, just behind Sanders leading the way at 44 percent.
"If Buttigieg is able to maintain his momentum, his candidacy appears to be pulling from the same demographic of young voters as Sanders, and that could become a problem for Sanders," notes Spencer Kimball, Director of the Emerson Poll.
As for other groups, those who supported Hillary Clinton in the 2016 Iowa caucus most favor Biden at 29 percent, then Sanders at 17 percent. Both Sen. Elizabeth Warren (D.-Mass.) and Buttigieg are polling at 15 percent among former Clinton supporters.
This is just the beginning of the marathon, folks (the Iowa caucus isn't until Feb. 3, 2020), but for the moment, Buttigieg has surged ahead to near the front of the pack.