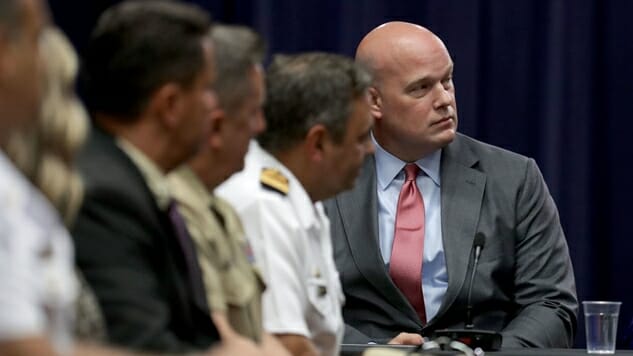 Once Donald Trump Jr. released his "I love crime with the Russian government!" e-mails, the issue of "collusion" between the Trump campaign and Russia was completely resolved. Intent to collude was proven beyond a shadow of a doubt by the president's most favored son, and the only question remaining was whether both the Trump camp and the Kremlin made good on their stated intentions. While "collusion" on the Trump campaign is far more nuanced than what you typically see on MSNBC, as the special counsel is also probing influence operations launched by the UAE, Israel and Saudi Arabia, it's undeniable that Russia has a much larger and more unique role than any other country that Robert Mueller is investigating—and it makes sense that they should.
"In terms of high-end product influx into the United States, Russians make up a pretty disproportionate cross-section of a lot of our assets; say in Dubai, and certainly with our project in SoHo and anywhere in New York. We see a lot of money pouring in from Russia."
— Donald Trump Jr. to a travel industry publication in 2008.
The story of Donald Trump goes like this:
1. Gifted a fortune by his father over years of shady tax dodging schemes and outright fraud
2. Bought hotels and condominiums in the 1980s
3. Bought casinos in the 1980s
4. Bankrupted casinos in the 1990s
5. Launched a bunch of weird brands like GoTrump.com (travel site), Trump jets, steaks and vodka (the last of which was marketed specifically towards Russians) in the 1990s and early 2000s
6. The Apprentice in the 2000s and 2010s
7. The Presidency
Trump filed for four casino bankruptcies in 1991 and 1992, Trump Hotels and Casinos filed for bankruptcy again in 2004 and Trump Entertainment Resorts declared bankruptcy in 2009. What the hell happened in between #4 and #5 in Trump's timeline to make #5 possible while still holding on to much of his unbankrupted property?
I have one theory.
"In terms of high-end product influx into the United States, Russians make up a pretty disproportionate cross-section of a lot of our assets; say in Dubai, and certainly with our project in SoHo and anywhere in New York. We see a lot of money pouring in from Russia."
No one in his right mind would have become a creditor to a man who demonstrated that he wasn't able to keep a literal rigged game profitable on six separate occasions. Who the hell lent Trump all that money in the second half of the 1990s and early 2000s? No way it was any of the usual lenders on Wall Street. They rig the game, they don't invest millions in people who don't know how to do it.
The obvious answer is that President Trump had it burrowed away thanks to Fred Trump's industrial-grade tax dodging scheme. However, the rigorous investigation into Trump's finances by the New York Times revealed that Donald did have plenty stuffed under the mattress thanks to Daddy Trump, but it wasn't all liquid. The Times detailed a few struggles on the part of Trump to get a lot of cash very quickly, and of his father subsequently snuffing the attempts out. So where did Donald get the, say, $35 million to purchase his New Jersey golf club in between his 4th and 5th bankruptcies?
"In terms of high-end product influx into the United States, Russians make up a pretty disproportionate cross-section of a lot of our assets; say in Dubai, and certainly with our project in SoHo and anywhere in New York. We see a lot of money pouring in from Russia."
What I Mean By "Full-Circle"
Historically, the Kremlin has used many tools to influence the West, two big ones being capitalism and white supremacy. By legally purchasing a ton of properties in Trump's portfolio, the Kremlin gains serious sway over him. Without Putin's cash, Trump would have less cash. "Collusion" is really just that simple. Trump clearly had a business relationship with those in and around the Kremlin for decades—per his own words. Putin doesn't need to tell Trump anything for Trump to know when, where and how high to jump. Their interests are already aligned. In poker, the term for what I'm getting at is "pot-committed," where you have spent so much of your money on one hand that it almost doesn't matter what your cards are at that point, you've forced yourself to go all-in to defend what you've already invested.
Which brings me to the other side of this equation: Trump and modern conservatism (and modern conservatism's allyship with Kremlin internet forces). Like Trump's relationship with the Russians, it's not about genuine fealty to one another—but pure symbiotic capitalism. Rush Limbaugh doesn't love Trump any more than he loved Michelle Bachmann, but he's more loyal to Trump than he was to Bachmann because Trump gained more power than Bachmann did. Trump and the Rush Limbaughs of the world are both financially dependent upon each other (given how toxic Trump's brand has become, his political base now doubles as his best customers), and because the language of the world is the language of the market, it doesn't matter that right-wing red meat like immigration hardliners lost big in the midterm elections, because pushing caravan-type stories is good for business in their shared universe (and perhaps the mainstream media's universe, because otherwise, why would they allow themselves to get played by Trump again and again and again?).
This will not be the last we hear of Trump's fear-mongering. It will get worse. People will get hurt. The fight for civil rights never ended in a nation built on the graves of the natives and the backs of slaves.
Our battle over white supremacy has always been the perfect firestorm that the Kremlin aims to stoke (and they love to troll us by comparing their fight against us to the civil rights movement). Our chaos is to Russia's benefit, as it lessens our influence in Europe—the Kremlin's main concern (outside maintaining popular support so as to stave off revolution).
Conservative media is dependent on their customers feeling under siege from a society they feel alienated from. Instead of practicing, you know, journalism—and explaining a legitimately confounding world that changed faster than any in recorded history to a group of mostly older people who practically grew up on a different planet than the one in which they currently reside—conservative media inflamed their customers' existing biases, and convinced them that unless they only watch Fox News and buy Ben Shapiro's brain pills, they will succumb to the liberal water coming out of their faucet that's turning the frogs gay. You may laugh at that ridiculous allusion to Infowars, but look at our new Attorney General.
At an evangelical forum in Iowa in 2014, Matt Whitaker said he would only support judges who have a 'Biblical' view of justice, specifically New Testament, which would bar Jewish, Hindu, Muslims or atheists from the bench. https://t.co/HrxLxVYF5o

— Trip Gabriel (@tripgabriel) November 8, 2018
New from me: Matthew Whitaker, Sessions replacement called the appointment of Bob Mueller "ridiculous" & "a little fishy."

He said prosecuting Manafort could have been outside the scope of the special counsel and Trump didn't obstruct justice w/Comey.https://t.co/UYPUZL5G4z

— andrew kaczynski (@KFILE) November 8, 2018
Senior Justice Department officials have viewed Mr. Whitaker with intense suspicion. His is seen by department officials as a partisan and a White House spy. https://t.co/pIFkFmHm4K

— Adam Goldman (@adamgoldmanNYT) November 8, 2018
Trump needs conservatism not just because it has been a good business investment for him (he's probably lost money on most of his properties since gaining the presidency, but his D.C. hotel has made money hand over fist thanks to local GOP flacks getting drunk at the bar), but because Trump is a pathetic whiny narcissist who doubles as the ideal consumer for conservative media.
There is no meaningful difference between conservative media and the Republican Party anymore. Gateway Pundit—who will no-doubt be having a chat with the FBI about its attempt to smear Robert Mueller—has a seat at White House press briefings. Sean Hannity campaigns on-stage with Trump. Trump live-tweets Jeanine Pirro's late-night rants and then calls in to Fox & Friends the next morning. Conservative media and conservatism are one and the same now, and it has finally bled into our justice system. For those who raise an eyebrow at my use of "unconstitutional" in the title to describe Matthew Whitaker's appointment to Attorney General, not only did Kellyanne Conway's (lawyer) husband write an op-ed in the New York Times expressing that belief, but the man who legally justified George W. Bush's torture regime—John Yoo—also believes that Whitaker's appointment is unconstitutional.
Fox regular who called for "a cleansing" of the FBI and DOJ is advising Trump on a replacement attorney general https://t.co/CGCnZFd92Z

— Brendan Karet (@bad_takes) November 8, 2018
We are ruled by a president whose businesses were built with the aid of a lot of different mob money, and he has maintained a relationship with some of the Kremlin's favored criminals (and their more legitimate bosses) dating back to the fall of the Berlin Wall—per his own "writing" in The Art of the Deal. The president is also diametrically aligned with white supremacists, who are being inflamed on social media by elite Kremlin shitposting forces. These right-wing extremists have basically subsumed Fox News, meaning that the Kremlin's influence operation has come full-circle—beginning with taking root among the white supremacist "alt-right," whose agenda now bubbles up to the top through cable TV and into the president's mushbrain—all reinforced by the underlying fact that "In terms of high-end product influx into the United States, Russians make up a pretty disproportionate cross-section of a lot of our assets; say in Dubai, and certainly with our project in SoHo and anywhere in New York. We see a lot of money pouring in from Russia."
Now, our new Attorney General has basically been lifted directly out of a conservative media fever dream, and according to The Washington Post, he will not sign off on Mueller trying to subpoena Trump. Matthew Whitaker was pushing right-wing agitprop before he became the most powerful lawman in America, and it seems as if he got the job precisely because of his work to de-legitimize the Russia investigation.
BREAKING: Here's audio we found of Matthew Whitaker: "I guess what they (the left) is trying to slate is that somehow Russia and the Trump campaign, you know sort of conspired to influence the election. It's CRAZY!" #WhitakerMustRecusepic.twitter.com/QHmIgqGsJC

— Scott Dworkin (@funder) November 8, 2018
Not to mention, Whitaker has at least dabbled in buffoonery and outright fraud similar to the brain pills, etc…which permeate throughout right-wing media.
In this Aug 2015 email, Trump's new AG Matthew Whitaker threatens a victim of the patents scam firm that was paying Whitaker as an adviser. The firm was sued by the US govt and ordered by a court to pay $26m just 6 months ago. https://t.co/ooXGt1krVqpic.twitter.com/2y7zt4f7eP

— Jon Swaine (@jonswaine) November 7, 2018
We have a president who came into office indebted to the Kremlin—which was stoking the fire of white supremacy in America long before Trump was born. The president is allied with white supremacists, and he is being investigated for potential collusion with the Kremlin, which is using an army of bots and trolls to aid the spread of white supremacy online. The far-right has infiltrated traditional right-wing media all the way up to the top of the primetime lineup—a primetime lineup which is leading a crusade to discredit the Russia investigation, creating ripple effects online like the QAnon conspiracy theory (which holds that Trump and Mueller are actually working together to take down a massive pedophilia ring run by Hollywood and the Democrats).
To top it off, an absolute nobody of a right-wing political operative just became the highest lawman in the country thanks to his effort to spread right-wing Russia narratives into the mainstream, and he has been tasked by the president to to oversee Robert Mueller's investigation.
This is what I mean by "full-circle." The American right has created a capitalistic incentive system that is more allied with meddling Kremlin foreign policy than American domestic policy, and by finally installing one of their own at the top of the Department of Justice, they have gained a victory unlike any in our nation's history.
Jacob Weindling is a staff writer for Paste politics. Follow him on Twitter at @Jakeweindling.