Dumbest Timeline: Sean Hannity Advised People Under Mueller's Investigation to Commit Crimes
Photo by Theo Wargo/Getty
Politics
Features
Sean Hannity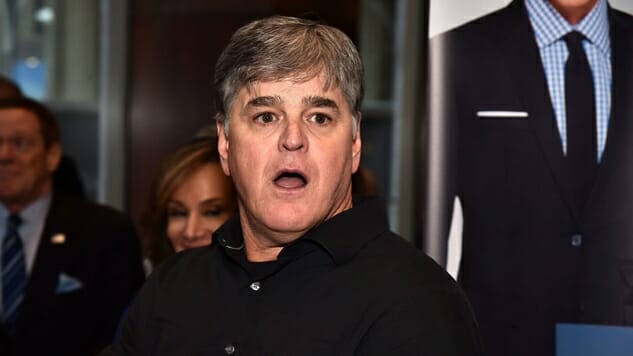 There are so many amazing things about this insane clip from America's chief conspiracy hairpiece. The lack of understanding about how technology works, screaming "HILLARY CLINTON!!" every time he runs into trouble—all culminating with the man who is a de facto senior adviser to the president telling those wrapped up in the investigation around the president to destroy evidence—a crime that carries up to 20 years in prison.
Hey remember when Assange DM'd Hannity asking him to reach out on an encrypted app?

Tonight Hannity is freaking out about Mueller searching encrypted apps and "advised" all Mueller witnesses to "bash" their phones "into itsy bitsy pieces" pic.twitter.com/cZhaUqVNQk

— Andrew Lawrence (@ndrew_lawrence) June 7, 2018
Hannity went on to clarify that this was "bad advice," which is probably the most honest thing he's ever said, but in true Hannity fashion, he still used his next sentence to encourage targets of the investigation to destroy evidence "because Hillary."
This whole mess is a perfect example of how pathetic the life of a troll like Sean Hannity is. Without Hillary Clinton or Barack Obama, he has nothing and is nothing. His entire livelihood depends on their existence, so he can make up insane conspiracy theories and use his complete and utter lunacy as justification for his side to commit crimes. If Hillary, Obama, Chuck Schumer and Nancy Pelosi all took off on a rocketship to Mars tomorrow, the entire right-wing media ecosystem would implode overnight. These people hate Hillary Clinton more than they love anything else in their miserable lives. I'll leave you with a conspiracy theory advanced by one of my favorite follows on Twitter that gets less conspiratorial with each unhinged rant by Sean Hannity.
Hannity started in on the Wikileaks tweets at the same time as Don Jr. but before it was mainstream. And now he knows he's caught.

— Kilgore Trout (@KT_So_It_Goes) November 13, 2017
And Hannity has behaved like a paranoid lunatic in regards to wiretapping & other surveillance, like he's driven by far more than rank partisan hackery

— Kilgore Trout (@KT_So_It_Goes) November 13, 2017
But good lord Don Jr. was just forwarding the fucking emails to everyone he knew, of course he'd send it to Hannity

— Kilgore Trout (@KT_So_It_Goes) November 13, 2017
And it's the type of dirtying up that would permanently lock Hannity into servile obedience but that I-know-a-secret dynamic is a two-way street so it would also get him exclusive Trump access

— Kilgore Trout (@KT_So_It_Goes) November 13, 2017
To close: this is an evidence-free theory stitched together with stuff that can definitely be explained other ways. I sure could be wrong. But: hmmmmmm

— Kilgore Trout (@KT_So_It_Goes) November 13, 2017
Jacob Weindling is a staff writer for Paste politics. Follow him on Twitter at @Jakeweindling.