U.S. Planning to Withdraw from U.N. Human Rights Council
Photos by Drew Angerer/Getty, Eduardo Munoz Alvarez/Getty
Politics
News
United Nations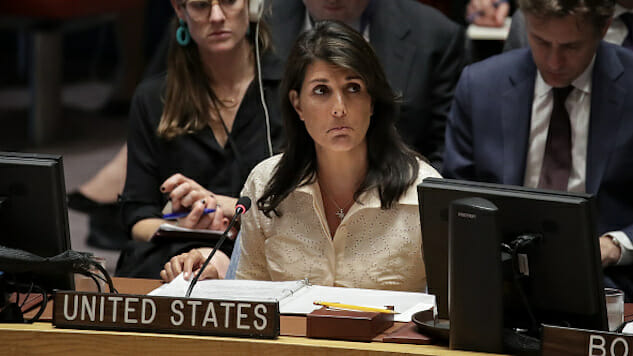 Caught in a fury of criticism surrounding its current zero-tolerance immigration policy (you know, the one where children are being illegally ripped from their parents' arms at the border and stored at internment camps), the Trump administration is having a particularly blunderous week. On Tuesday, word began swirling that the administration is planning to pull the United States from the United Nations Human Rights Council—as early as today—a move that will surely not help in relieving the White House of its ongoing chaos.
Bloomberg reports that U.S. Ambassador to the U.N. Nikki Haley and Secretary of State Mike Pompeo will make the announcement official at 5 p.m. Tuesday from the State Department in Washington, D.C. The impending withdrawal stems from the administration's long-held distaste for the cohort's supposed anti-Israel slant, CNN reports.
The decision also follows recent pleas on behalf of the U.S. and Haley for the removal of countries from the council that could be seen as human rights violators themselves, in addition to requested reform on the treatment of Israel. So the U.S.'s departure isn't entirely a surprise: Haley warned at a meeting last year that the U.S. would cut ties with the council if substantial changes weren't soon installed.
When the Geneva-based council was created in 2006, John Bolton, then the American ambassador to the U.N. and currently the U.S. National Security Advisor, opposed its inception.
The administration's announcement also follows the Human Rights Council's most recent meeting, during which the U.N.'s high commissioner called the Trump administration's policy of detaining children at the border "unconscionable." On that note, at least, the U.N. and U.S. are somewhat on the same page: A nationwide protest against the administration's policy is scheduled for June 30.