Late summer is a special time for US-dwelling fans of European soccer teams. Thanks to the lure of the greenback and the need for pre-season tune-ups, the biggest teams from across the pond love to visit our shores and pit their wits against both Major League Soccer's finest, and each other. Yes, it's a cash grab, but we can't help watching. Here are 10 games to circle on your calendar this summer:
FC Dallas vs. Aston Villa, FC Dallas Stadium, Frisco, Texas, July 23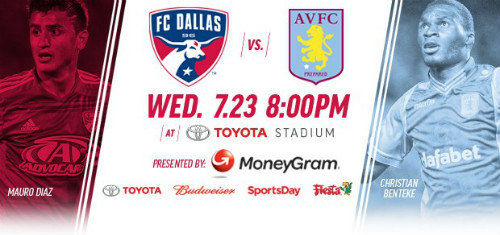 For American fans, Aston Villa is best known as the club side where USMNT goalie Brad Guzan plies his trade. But the Birmingham-based team is a young, often-entertaining squad with flashes of brilliance and equal flashes of buffoonery. They're doing a Texas two-step this summer, spending nearly a week in the Metroplex before a match against the Houston Dynamo on July 26. No word yet on how Texans will navigate names like Gabriel Agbonlahor and Fabian Delph-though Antonio Luna should be easy enough, they can do like Villa fans and Anglify it to Tony Moon.
Manchester City vs. Sporting KC, Sporting Park, Kansas City, July 23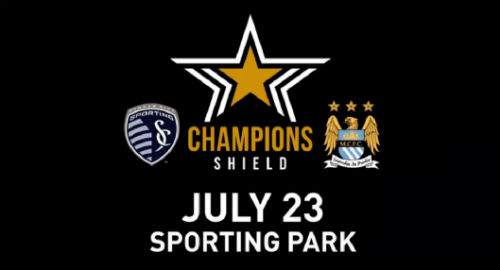 It's the Premier League champions versus the MLS champions. Even with key players having gone deep into the World Cup, City will feature key first-teamers like the mercurial Samir Nasri, the Mercury-on-the-flanks Jesus Navas, and the methodical striker Alvaro Negredo in a loaded lineup. Worth watching to see how USMNTers Graham Zusi and Matt Besler—both linked with moves to Europe, both expressing a desire to stay in Sporting Blue (and sometimes argyle)—fare against Premier League opposition.
AS Roma vs. Manchester United, Mile High, Denver, July 26



An early look at what Louis Van Gaal has planned for Manchester United. Where and how will he deploy Wayne Rooney, Nani and Juan Mata? Is Luke Shaw worth all that money? And which players will be conspicuous by their absence? United will face a Roma squad that recently added Ashley Cole (that rare Englishman seeking some foreign adventure) to a lineup that will include the inextinguishable genius of Francesco Totti—approaching 40, but will seemingly only give up the #10 jersey when they pry his cold, dead fingers from it.
Inter Milan vs. Real Madrid, Berkeley, California Memorial Stadium, July 26



Longtime Serie A powerhouse Inter has added two defensive marble pillars, Nemanja Vidic and Yann M'Vila, to its multinational roster, and they'll face a Real Madrid team that, oddly enough, won't feature a first-choice forward. Cristiano Ronaldo, who typically loves these American tours, needs some extra time to get right. So look for Isco, who is as magical with the ball at his feet than his more famous teammate, to lead a Real Madrid team that recultivates talent like a hydra grows new heads.
New York Red Bulls vs. Arsenal, Red Bull Arena, Harrison, New Jersey, July 26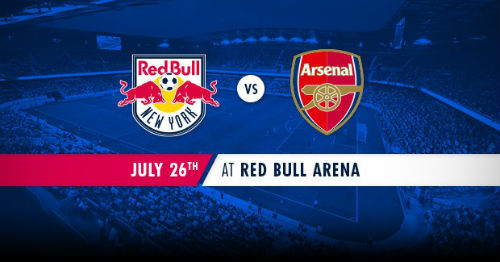 The built-in storyline here is that Arsenal hero Thierry Henry, now with the New York Red Bulls and toward the close of his career, faces the team he led in its decade-ago era of glory. This game also brings Arsenal Stateside for the time in a quarter-century—it's been so long that Arsene Wenger wasn't even managing the team back then. FA Cup hero Aaron Ramsey, adept at long gallops from midfield and decapitating goals volleyed from behind the 18, will join veterans like the Leo-haired Mikel Arteta, the still-sometimes-spry Tomas Rosicky, and the feisty, yellow card magnet Mathieu Flamini, will all be representing the Gunners.
San Jose Earthquakes vs. Atletico Madrid, Candlestick Park, San Francisco, July 27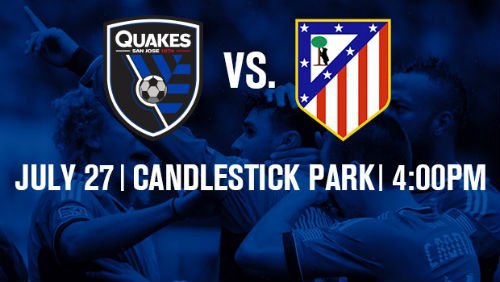 Not to be left out of the overseas party that the International Champions Cup is providing, Atletico Madrid—who came mere minutes from winning the Champions League final this year—will travel to the Bay Area to meet the Earthquakes in Candlestick Park. Though Chelsea's snapped up some key Atletico players over the summer, midfield sparkplugs Koke and Arda Turan still feature and new addition Mario Mandzukic is expected to flourish in Atletico's system as he fills Diego Costa's shoes. The Earthquakes have their own goal-scoring machine in Chris Wondolowski, who scored at will in international play over the past year until a certain painful Round of 16 match.
Manchester City vs. AC Milan, Heinz Field, Pittsburgh, July 27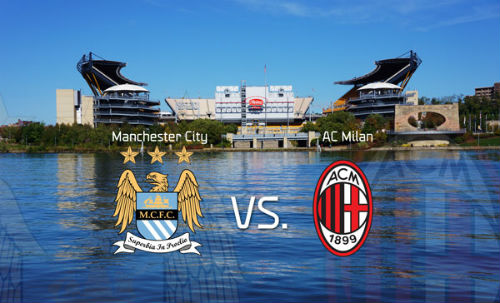 Mario Balotelli is making the trip to the U.S.—in fact, he made waves this past week in New York, posing for a photo in front of an Arsenal logo, which led to some of the silliest transfer gossip this silly season. Balotelli, of course, famously featured for Manchester City before extracurricular activity helped nudge him back to Italy. He'll lead AC Milan (his club for now) against a loaded City side including Alvaro Negredo, Samir Nasri, and Jesus Navas.
Manchester City vs. Liverpool, Yankee Stadium, New York City, July 30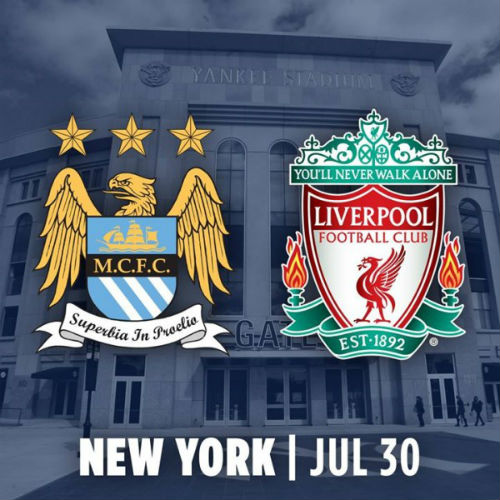 Of the International Champions Cup matches featuring Liverpool, this Premier League showdown between last year's first and second place teams will prove the most compelling. Liverpool is, of course, a team in serious transition right now, having cashed in on an insatiable Luis Suarez and looking to spend the truckload of transfer money Barcelona provided them. The Reds are anchored by the ageless Steven Gerrard and the impressive Philippe Coutinho, who was inexplicably not one of the top 23 Brazilians picked for this year's World Cup squad.
Manchester United vs. Real Madrid, Michigan Stadium, Ann Arbor, Michigan, August 2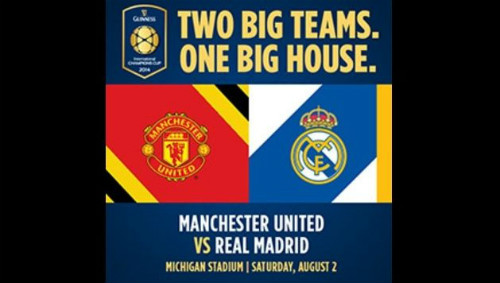 The current record attendance for a soccer game in the US is 101,799, when Brazil played France at the Rose Bowl in the men's soccer gold medal game at the 1984 Olympics. Record for a club game in the US is 93,317, when that great Pep Guardiola Barcelona team played LA Galaxy in 2009, also at the Rose Bowl. Both records are about to be smashed. Because tickets for Manchester United vs. Real Madrid at Michigan Stadium, aka The Big House because it holds 109,901, were all snapped up within 24 hours of going on sale.
MLS All-Stars vs. Bayern Munich, Providence Park, Portland, Oregon, August 6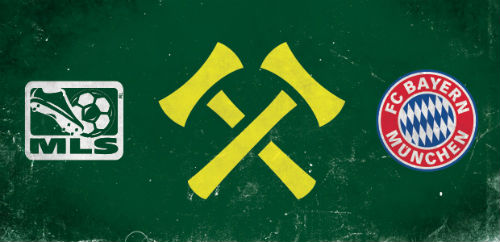 Some MLS fans wonder why, in 2014, the league is still holding on to its annual ritual of seeing how its best players match up against a club team from one of the top European teams. Others are excited to see Major League Soccer's finest go up against a team like Bayern Munich. Both groups will be watching this game, and here's why: With the core of Bayern Munich on post-World Cup victory vacation, we'll get to ask the question: how deep is this Bayern team. Given that new signee Robert Lewandowski and Ballon D'Or finalist Franck Ribery are expected to marquee for Bayern, the answer is, "Pretty deep, thanks." Lewandowski also prompts an additional question that no one wants to answer: "What would Bayern be able to accomplish with one of the top five strikers in the world playing in front of the world's best midfield corps?" Bayern will tussle against the core of the U.S. team (including Clint Dempsey, Michael Bradley, Graham Zusi, and Kyle Beckermann) that did all soccer-watching Americans proud last month, and we should get another glimpse of 19-year-old USMNT starlet Julian Green, who is on the Bayern roster for this game.