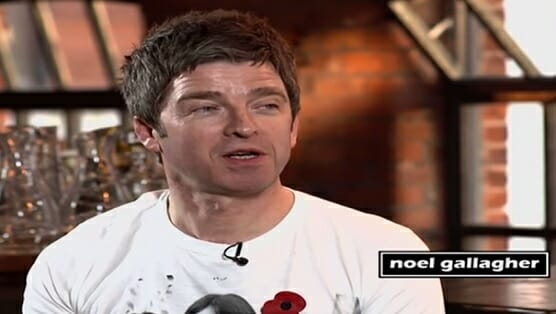 Before this past Sunday's Manchester derby, lifelong Manchester City fan and former Oasis guitarist/songwriter Noel Gallagher sat down with former Manchester United player Gary Neville. Gallagher is notoriously cranky but also utterly hilarious, a reputation he more than lives up to in this interview.
Topics covered include the the transformation of Manchester City from "loveable loser" to one of the highest spending teams in all of Europe and the debate about the "soul" of a team versus the "glory" of winning trophies. Noel is all about the trophies but
mentions fellow Man City fan Ricky Hatton having a preference for the old days.
Neville also asks Gallagher for his thoughts on Manchester United, leading to a question about which of the derby rival players Noel would take on his Man City team.
"I would take the goalie (David De Gea)," says Gallagher.
"But what about your English goalkeeper (Joe Hart)?" asks Neville.
"I wouldn't take him (De Gea) over (Hart). I would take him. He could carry Joe's kit around or something like that."
Noel Gallagher never disappoints. Miserable or not, he's always entertaining.
I would love to see a weekly segment of him giving his thoughts on Man City to the NBC Sports pregame crew. Or, better yet, his thoughts on Manchester United …