The Philadelphia Union Are Hiring A "Chief Tattoo Officer" And It's Exactly What You Think It Is
Photo by Jeff Zelevansky/Getty
Soccer
News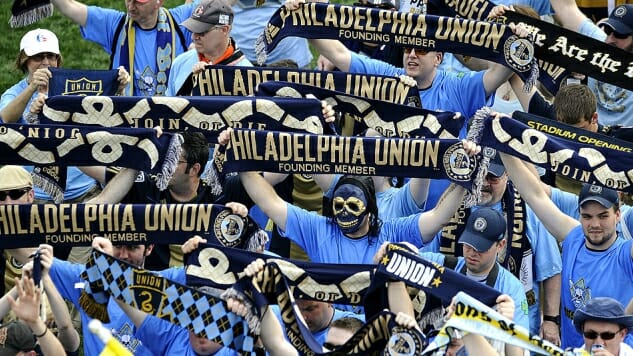 MLS teams have found they have to get a little creative in order to build ties with their supporter base and develop the club's brand and identity. The Chicago Fire have an in-house DJ. Timber Joey is seemingly on permanent retainer in Portland.
But then there's this.
I'm too old for this. pic.twitter.com/PmoMyRtJyJ

— Maxi Rodriguez (@FutbolIntellect) February 13, 2017
To answer the question you're undoubtedly too embarrassed to even ask— yes, that job posting is real. The Philadelphia Union are really looking to hire a Chief Tattoo Officer.
The club are soliciting applications from tattoo artists in Pennsylvania, New Jersey, and Delaware for what appears to be a permanent staff role. Artists must own their own shop or have an ongoing relationship with a pre-existing shop (and be able to secure a recommendation from the owner). Studios can also apply on a collective basis. The successful applicant(s) will ply their trade for Union players and staff members.
From the official job listing:
"Tattoos are a vital part of sport, fan and supporter culture. Just as tattoos are for life, fans choose a club to passionately support for life. As our club grows, players and staff are joining the Union from geographies outside of Philadelphia. Given their love for tattoos and unfamiliarity with their new city, they often look for guidance in seeking a new, local artist. As a result, The Philadelphia Union are seeking their first resident tattoo artist (or full shop of artists). Our CTO, Chief Tattoo Officer, will be responsible for providing services to players and front office staff. Occasionally, fan events will also be held with the CTO for the most loyal fans who want a tattoo to represent their passion for their favorite soccer club, the Union."
Doug Vosik, the Union's VP of marketing, talked up the new position in a statement.
"Our hiring process begins immediately. We are looking for a partner with a wide variety of talents and skills, and someone who can offer a broad range including American traditional, as well as Japanese, realism, new school and more. This is an exciting initiative for all of us here at Philadelphia Union as we look to provide a revolutionary service for our players and front office, particularly those new to the area"
Vosik has apparently called dibs on the first staff member to go under the needle once an artist is hired.
No word yet on whether Minnesota United plan on hiring an in-house lutefisk chef for their inaugural season in MLS.