USMNT Defender Geoff Cameron Thinks Trump's Muslim Ban Is A Great Idea [UPDATED]
Photo by Lynne Cameron/Getty
Soccer
News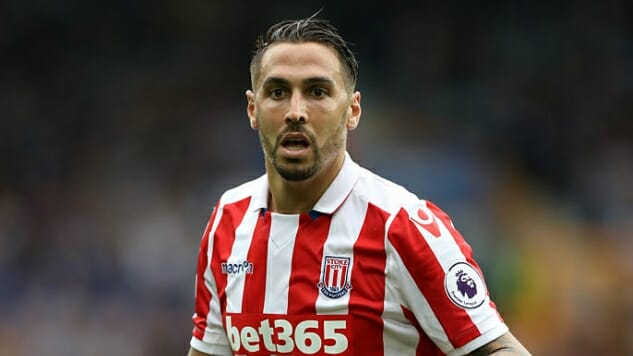 This post has been updated to include Geoff Cameron's response.
Early in the week we wrote about USMNT captain Michael Bradley's comments regarding Donald Trump's executive order banning people from seven Muslim-majority countries from entering the United States. The comments were made to Sports Illustrated in the run-up to the USA's friendly against Serbia, with Bradley clarifying some of his on-record remarks on social media hours later. The Toronto FC midfielder said he felt "sad and embarrassed" by the sweeping new policy.
"When Trump was elected, I only hoped that the President Trump would be different that the campaigner Trump. That the xenophobic, misogynistic and narcissistic rhetoric would be replaced with a more humble and measured approach to leading our country. I was wrong."
Throughout the week, other USMNT players spoke out in solidarity with their captain and in opposition with the Muslim Ban. Philadelphia Union winger Alejandro Bedoya made it clear he stands behind his skipper.
"I support Michael, and we have a great group. This team is the epitome of diversity in America and what America's all about. So I stand by my captain."
New York Red Bulls defender Sacha Kljestan also came out in support of Bradley and tied the issue to his own background as a first-generation immigrant, with his father having snuck into the United States to escape war-torn Serbia..
"I agree 100 percent with what Michael said. I think he took a strong stand and the right stand. Even today, I play against Serbia, the country of my father, who came to the US illegally himself and built himself a life here. America is the land of opportunity, and I don't think we're the type of country that should shut our borders to anybody. I think we should welcome everybody here to our soil to live the American dream."
Other USMNT squad members spoke out in kind. Portland Timbers midfielder Darlington Nagbe talked to reporters about his own experiences as a refugee. Atlanta United defender Greg Garza talked about his wife, a Brazilian immigrant in possession of a green card (something which did not protect migrants from the seven countries named in the Muslim Ban). Even head coach Bruce Arena condemned the new policy, calling the ban "sad" and emphasized soccer's status as a global sport. There seemed to be a broad consensus that Trump's new EO was both bad policy and at odds with core American values.
Stoke City defender Geoff Cameron spoke to Sports Illustrated and seemed to tie support for the Muslim Ban to support for the President. "I believe it's important to support our President whether he was your candidate or not," Cameron said, seeming to forget that he once said he would refuse to so much as shake Hillary Clinton's hand.
As for the merits of the Muslim Ban itself, Cameron thinks it's a bold move in the right direction.
"I am pleased he is making security of all Americans one of his top priorities. Our enemies have stated— and in Europe they have proven— they will take advantage of lax immigration procedures for the purposes of staging attacks. A temporary pause on immigration for the purpose of evaluating and improving vetting procedures makes sense. The United States is one of the most generous and compassionate nations. Our ability to care for and support countries and refugees in need resides in our own sense of security. If we don't feel safe, how can we protect others?"
The USA Today article referenced previously also noted that Cameron often finds himself at odds with his teammates. He reportedly gets into quite a few arguments with Bedoya over the phone or via Facetime, some of which end with one party angrily hanging up on the other. That has to be great for morale.
The Muslim Ban has had wide-reaching negative effects on hundreds of thousands of people, many of whom had lived in this country for years and had jobs and families they were suddenly forcibly separated from. The long-term damage to the economy is also a very real and so-far unaddressed concern. The ban has been especially hard on those who already had visas, which were all summarily canceled this week. The ban has already ruined lives and damaged America's character and reputation around the world. It's unclear whether Cameron is simply unaware of the effects of the Muslim Ban on innocent people who simply wanted the freedom and opportunity to build better lives for themselves and their families, or if he just doesn't care.
UPDATE:
Over the weekend, Mr. Cameron reached out to me and Paste Magazine's EIC Josh Jackson with a response to this article. We have updated the piece with his comments below.
*****
This story is a misrepresentation of me, puts words in my mouth – words that have not been quoted, and pulled from other articles that also don't quote me. You have taken that one step further to shape your story in a manner that villainizes me and tries to position me as someone who brings down team "morale."
First, in my comments to Grant Wahl (Sports Illustrated), I never said I support a "Muslim ban," rather a "temporary pause on immigration for the purpose of evaluating and improving vetting procedures." Your headline does not at all reflect my comment nor my actual beliefs.
Next, while I may have opinions and a point of view that differs from some of my teammates, including Alejandro Bedoya, who happens to be not only my teammate but best friend, this does not at all mean that I have a negative impact on team "morale." Yes, Alejandro and I have discussions about politics occasionally and yes, we'll engage in debates that brings to light differing opinions, however, we maintain a solid and respectful friendship.
Isn't this what the U.S. national team rally cry is all about? "One nation. One team."
Regardless of differing opinions, regardless of where we came from, where we play, the religions we practice, we are all teammates that represent the United States and all that it stands for. We all wear that badge with pride. I know I certainly do.
Finally, the piece states "It's unclear whether Cameron is simply unaware of the effects of the Muslim Ban on innocent people who simply wanted the freedom and opportunity to build better lives for themselves and their families, or if he just doesn't care." This again positions me in a negative light and is a defamation of character. Again, nowhere did I say I support a "Muslim ban" and nowhere did I ever suggest that I don't understand the values of immigration and what America was built on or that I don't care about people and their families seeking to build better lives for themselves. I actually do take the time and care to learn and don't make blind comments without knowing background, history and supporting facts.
I am disappointed by your 'reporting.' If you want to report accurately, then you should have contacted me and seek to cover the truth as opposed to cobbling a story together that, when it comes to the way you position me, has virtually no truth to it.
I have friends and family from all walks of life – of different faiths, ethnicities and countries. To suggest that I don't care about humanity is a gross misrepresentation of me and all that I believe and stand for.