WATCH: Relive Toronto FC's Stunning Performance En Route To The MLS Cup Final
Photo by Vaughn Ridley/Getty
Soccer
Video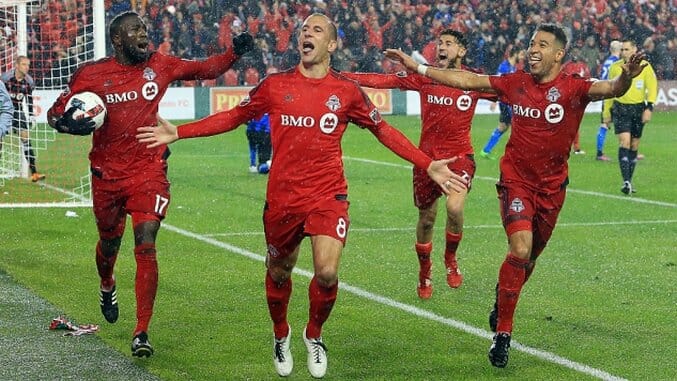 Was this the best MLS game ever? Not to indulge in hyperbole— even though MLS fandom endlessly traffics in it— but it's hard to imagine another clash in recent memory that was such an emotional rollercoaster.
Toronto hosted the second leg of the MLS Eastern Conference Championship last night. They headed into the game down 3-2 on aggregate; not an insurmountable challenge, but no MLS team had come back in a two-leg playoff tie having lost the first leg.
And when Dom Oduro opened the scoring for Montreal in the 24th minute and added to their aggregate lead, Toronto fans had every reason to fear the worst.
And then… it's hard to even describe. Watch the video, if you missed last night's game (or if you did but you want to make the moment last a little longer). The two Toronto goals in extra time are special, but I personally like the header that squeaked inside the near post right before halftime.
Toronto are heading to their first MLS Cup Final and will host Seattle on December 10th.