"Less is more" might not seem like a business-savvy model, but some fashion designers are adopting it, enticing shoppers with clothes that transcend seasons. Classic cuts and high-quality fabrics contribute to the longevity of these garments from companies that place an emphasis on origin, the environment and transparent supply chains.
Tired of having two wardrobes—one for sultry weather and another for the shivering seasons? Elizabeth Pape creates wearable, luxe designs under her namesake label Elizabeth Suzann that are equally perfect in blazing June or blustering January. The line was born out of a dislike for excess and an affinity for attention to detail. She cuts and sews all garments in her Nashville design studio, using only natural fiber cloth. Elizabeth's pieces prove that understated style doesn't have to be drab.
She engineers garments like the Stevie Tie Top with versatility in mind. Wear it loosely tied in the front for a gypsy look, or tie it in the back to create a demure high-neck style. The Stevie blouse can be worn with or over just about anything, making it a go-to for any event.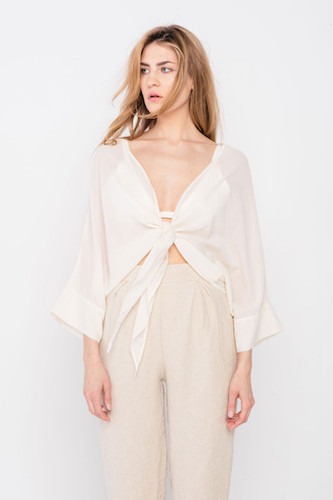 Photo via Elizabeth Suzann
The majority of the Reformation line is designed and manufactured right at the company's factory headquarters in downtown Los Angeles, a method that's in sharp contrast to the fast-fashion cycle. The team at Reformation sources sustainable fabrics and incorporates best practices throughout its supply chain to make beautiful styles at a fraction of the environmental impact of conventional fashion.
Reformation's collection is chock full of gorgeous, go-to pieces including the Lelani Jumpsuit, which features an open back, halter neck and a relaxed fit, and the Alessa Bodysuit, which highlights an on-trend open shoulder. New to the line, and perfect for the summertime wedding season, is the Julieta, a floor-length dress with a V neckline and ruffle-front detail, available in both prints and solids.
Alabama Chanin produces well-designed hand-sewn garments that last. The company's locally sewn garments and goods reflect a commitment to sustainability and tradition. Favorites like the Antheia Skirt will set you back a hefty $3,240—but these are lifetime pieces, featuring hand embroidery and beading. Alabama Chanin's School of Making offers workshops on a variety of topics including design basics, the physics of sewing and fit and pattern alterations.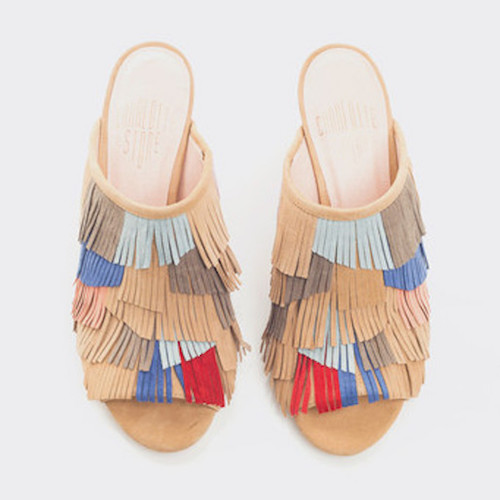 Photo via Amour Vert
Amour Vert, French for "green love," sews up soft, versatile wares that are proof of the passion behind founders Christoph Frehsee and Linda Balti. The American-made label celebrates non-toxic dyes, contemporary fashion and enduring style. The company also offers up unique accessories like multi-colored fringed mules from California-based designer Charlotte Stone and sunny shades from Carla Colour, whose frames are finished in Brooklyn.
The founders of Imogene W's classic mid-rise jean.
Take one look at ace&jig and you'll know know that it is a brand centered around a love of textiles. Several times a year, its owners travel to India where they work one-on-one with weavers to create authentic fabrics. The Harper Dress, hand-painted by Adrienne Antonson—designer of the clothing label STATE a one-of-a-kind statement piece that will outlast trends.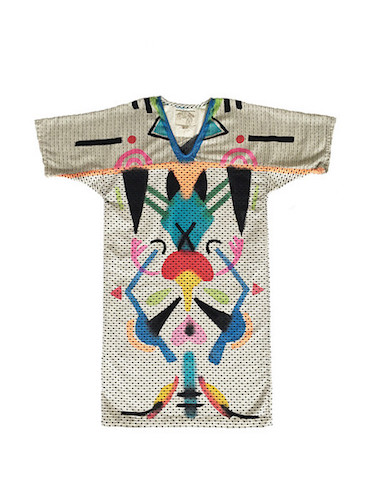 Photo via ace&jig
Emil Erwin is a luxury leathergoods brand that focuses on functional, classic designs. From sumptuous leather wallets to stylish crossbody bags and rugged briefcases, each piece is designed and meticulously handcrafted, prepped and ready for use for a lifetime.
With garments like these on the market, and additional brands to choose from such as Everlane, Alternative Apparel, Style Saint and Zady, savvy consumers can feel great about creating a timeless, fashion-forward wardrobe that honors craftsmanship and sustainability. And designers can thrive in their trades.
Emily Davidson Nemoy is a freelance writer based in Nashville, Tenn. When she's not at her computer or on her yoga mat, she can be found at live music venues happily spending her excess cash on concert tickets.