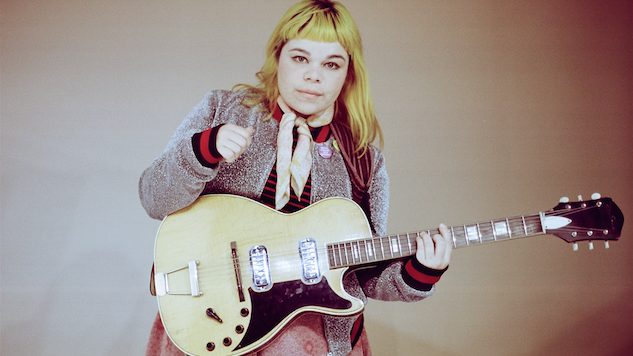 Oklahoma native Samantha Crain has been making music for over a decade. While most artists would have been pegged into a particular genre by now, her powerful vocals and eclectic sounds have continued to defy expectations. Last month, Crain released her new album You Had Me At Goodbye, further showcasing her unique sound.
Paste recently talked with Crain about using her dad's closet for early style inspiration, The Outsiders and being a chameleon. Catch her on tour in both the United States and Europe through May.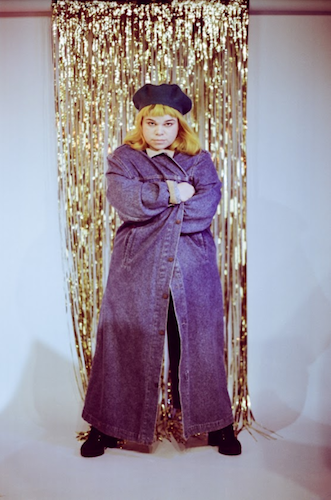 Paste: When did you first paying more attention to style or fashion?
Samantha Crain: As a short and curvier/athletic girl in middle school, I always had limited choices in trendy clothing that fit or looked good so I tried to dress myself according to how I felt by digging through '70s sweaters in my dad's closet and suit jackets, neckties and t-shirts at the Goodwill. I felt very androgynous at the time and was definitely dressing that way. That was the first time I felt that I could express myself via clothes.
Paste: Do you feel that you dress more for yourself or for others?
Crain: I dress for myself almost 100 percent of the time. I'm either dressing to move myself into a state of mind or representing my current state of mind.
Paste: Do you dress any differently on stage than you do in your day-to-day life?
Crain:Not particularly, other than shoes. I can bear some very uncomfortable shoes on stage for a short amount of time that I wouldn't last 5 minutes in walking around day to day. My makeup gets a bit heavier on stage, but other than that, anything I'd wear on stage, I'd wear at a bar in Oklahoma on Saturday night.
Paste: What is your biggest style inspiration?
Crain: Katharine Hepburn, Brian Molko, Tilda Swinton, Bjork, Sonia Rykiel, Neil Young…
Paste: In your opinion, what movie, TV show, music video, etc. had the best or most iconic style?
Crain: The Outsiders. I remember really resonating as a young kid, and even today, with the mixture of midwestern farm wear, greaser rockabilly style and preppy girlishness.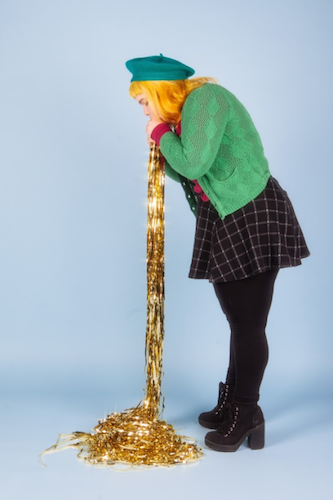 Paste: What's the biggest fashion mistake you've ever made?
Crain: Wearing a plaid shirt with everything to convey some sort of humbleness. It was like an automatic apology for anything else I was wearing. It's the clothing equivalent for the female shrinking action of "I'm sorry for taking up space." It was boring and reluctant.
Paste: In general, how do you approach the visuals that you use with your music, such as music videos or album art?
Crain: It has been a slow progress towards self expression. I feel the older I get, the more confidence I gain in being able to fully realize some of my visual ideas. Clothing-wise, for photo shoots, I try and stick with bold colors with statement pieces like a trench coat or shiny dress. I want it to be eye-catching and memorable but also unique and jolting. As far as music videos, I just want to look like whatever character I'm playing in the video, so it can be all over the map. I'm fine with not having any particular identity regarding art. Being a chameleon is fine with me.
Paste: Why do you think music and fashion are so intertwined?
Crain: Because art is almost always either self-expression or a coping mechanism! Clothes can either be a form of expressing how you feel or can be a tool to change the way you feel or control how you feel. Writing and performing music usually only comes from one of those two places as well. If you can multiply the effects by engaging in both certain fashion choices and certain musical choices, why wouldn't you try and get your desired outcome faster or with more success?
Paste: What's something you've never been bold enough to wear?
Crain: Anything leather, other than a jacket. Leather pants, leather shorts, leather anything, just makes me feel a little too aggressive for my own good. I'm already a pretty dominant person, so I think the leather just compounds it so much that it makes me feel uncomfortably threatening.
Paste: Why do you think fashion is important?
Crain: Because it forces people to think about people beyond their appearance and, at the same time, think about why they declare themselves in the way they do. Plus it's fun and it keeps the world from being homogeneous and mundane.