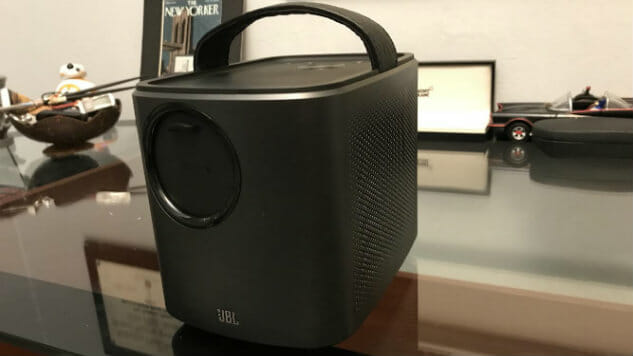 Over the past few years, Anker has pretty much upended the consumer tech market with its capable line of affordable batteries and mid-tier gadgets — but now the company is setting its sights on some bigger and more expensive markets. One of the company's first big swings at the giants? The Nebula Mars Portable Cinema.
Anker has been branching out with sub-brands to help hone its offerings, with everything from a line of headphones (Zolo), to a smart home offshoot (Eufy). The latest line, Nebula, looks to be tackling the high-end market with its first project, the handy, portable Mars projector. For a first product from this line, it certainly sets a tone — and like most things Anker—it's pretty darn good.
Priced at a very reasonable $599 on Amazon, the Mars is aiming to be the perfect projector for pretty much everyone. And for the most part, it succeeds.
The Specs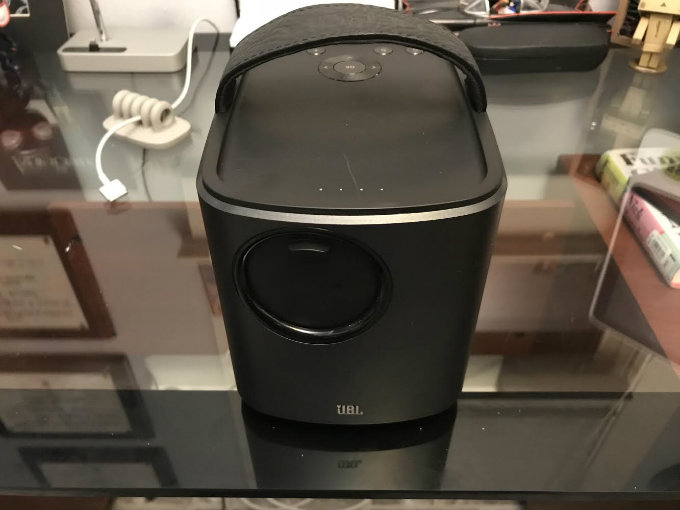 The Anker Nebula Mars Portable Cinema Home Theater features a solid, capable 3000 lumens lamp that puts off an 800, picture. The company claims clear daytime viewing, but like most projectors, you obviously want to use this thing in low light for best results. For a system at this price point, it's on the upper end of what you can expect, spec-wise.
The unit comes with a solid battery system built in, measuring at 19500 mAh, which is pretty impressive for a unit this size and price. The company claims three hours of non-stop video play, but in my experience testing the device it landed more around the two-and-a-half hour range. That's still not bad for an onboard battery, and still plenty strong enough to blast a movie while away from a power outlet. Unless you're trying to watch the extended cut of Batman v Superman: Dawn of Justice, or something, the battery should be ample for most viewing situations without a plug nearby.
Connectivity-wise, the Mars features built-in wifi, HDMi and USB all tied together with a tweaked version of Android KitKat keeping it all humming. You can pop in videos on a USB drive, stream it from a phone, or simply takes advantage of the H (it DMI port to pop in a Roku or Amazon Fire streaming stick. All three options work great, and thanks to the Android OS and wifi capabilities, you can also just fire up services like Netflix or YouTube natively. Yes, KitKat is getting a bit long in the tooth (it was first released in 2014), but it's still capable enough to serve as the underlying OS for the Mars.
The system also features a built-in JBL Audio sound system, and though it's not going to fill the room for a large-scale, outdoor movie night, it still puts out some strong and clear audio through the unit's 10W speakers. It also has a basic audio out port, which you can use to easily tie it into pretty much any larger speaker or sound system as needed. No muss, no fuss.
Picture and Sound Quality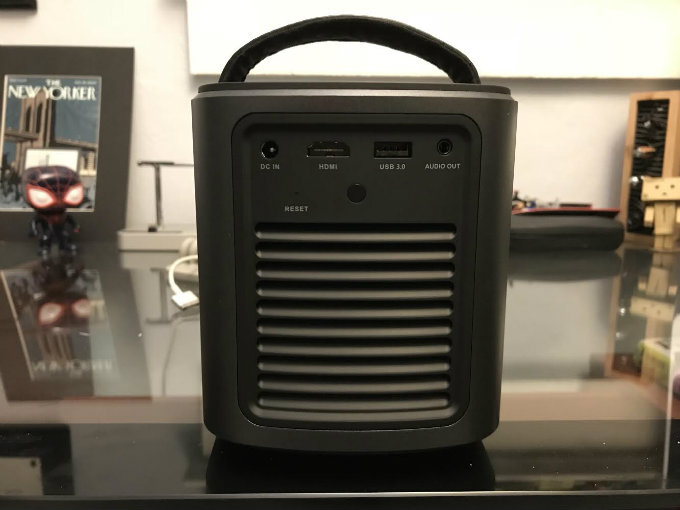 It looks pretty good, and really good for a system at this size and price point. Most portable projectors clock in at around half its lumens count, and the difference is clear. The Mars is bright, crisp and near-perfect up to around 70-80 inches in the right conditions (dark, good screen to project onto), and can extend all the way up to 150 inches with a solid level of quality. You obviously lose a bit when you reach the limits of the system, but the picture is still very good even at the top level. I fired up a streaming football game to test out the system, watched some Netflix and streamed some videos from a thumb drive — all while testing out in different locales, distances and projector surface. The Mars looks good on a white sheet, great on a projector, and pretty darn good on white walls. if you have the right set-up, there's no doubt this unit could easily replace your television.
The onboard audio is also more than capable of filling an average room, and so long as the space isn't huge, you should be find using that JBL system with no help required. For real, the sound is darn good to be thumping out of a package this small. If you want to go bigger, the sound carries great to a secondary speaker. Any mid-tier Bluetooth speaker with an audio port works fine, and can help the Mars make the jump from kicking back to binge Game of Thrones, to upgrading to a bigger space to throw the Super Bowl up 10-feet across on the wall in all its glory.
The "It" Factor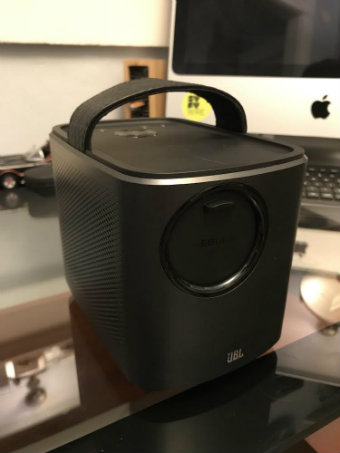 Unlike most portable projectors — or projectors in general — the Mars is slick. It's sexy. It's something you actually want to carry around. Instead of the typical wide and flat design, the Mars is a think, chunky cube with everything packed inside. To top it all off (literally) the unit literally has a handle on top so you can grab it and go. Unlike most any other "portable" projector, this one actually feels portable. It feels like the unit you'd actually grab when you're going camping and want to toss a movie on the wall of the tent, or carry to a friend's house for a video game marathon. The onboard battery makes it even more handy. No need to pack a bunch of cords and accessories. Just grab it and go.
If you're in the market for a projector and want to get the most bang for your buck, you can't do much better than the Mars. The portability means you'll actually use it, and even if you plan on leaving it in the same place in your entertainment center, it's powerful enough to replace a typical (non-portable) mid-tier system.
It's good enough to do pretty much whatever you need, and handy enough to carry around pretty much anywhere (no power cord required). Put simply: The Mars the everyman's projector.