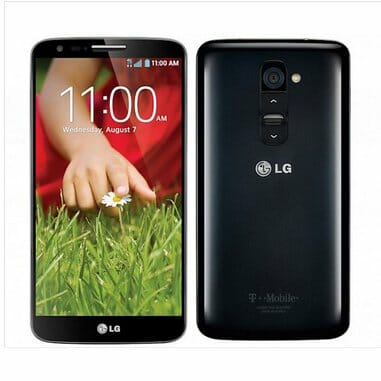 The G2 is the newest Android smartphone entry from the Korean manufacturer LG and it comes right on the heels of the worldwide commercial success of the Samsung Galaxy S4. Interestingly, the well-documented rivalry between these two Korean megacorporations has played out in the smartphone world perhaps more clearly than in any other industry. It's a neverending cycle of copycats features and similar-looking pieces of hardware—year after year. It really is impossible to talk about the LG G2 without talking about the Galaxy S4.
Samsung's Galaxy series of Android devices have quickly become a force to be reckoned with over the past few years—really the only Android device that has been able to compete with iPhones in terms of consumer sales. All along, LG has been putting out device after device, just wanting to get a piece of the pie. But is the G2 the phone that will LG back in front?
HARDWARE: A Galaxy S4 lookalike with an interesting button layout and an insane spec sheet
LG's release cycle has been interesting this year in that they released their Samsung Note killer this summer, hoping to win the battle over extremely large smartphones early on. Meanwhile, the Samsung Galaxy S4 has been dominating sales while LG built up anticipation for the G2. In every way, the G2 is LG's flagship device—a robust, full-featured, smartphone with a huge HD screen that goes toe-to-toe with the S4 in nearly every department.
Aside from the familiar features you'll find in LG's marketing the hell out of, the most truly standout feature of the G2 is its odd button layout. The unconventional positioning puts the power button and volume rocker not on the side or top of the device, but rather hidden on the back. Sitting just below the camera knob are the three squishy buttons: the volume up/down and the power button right between the two.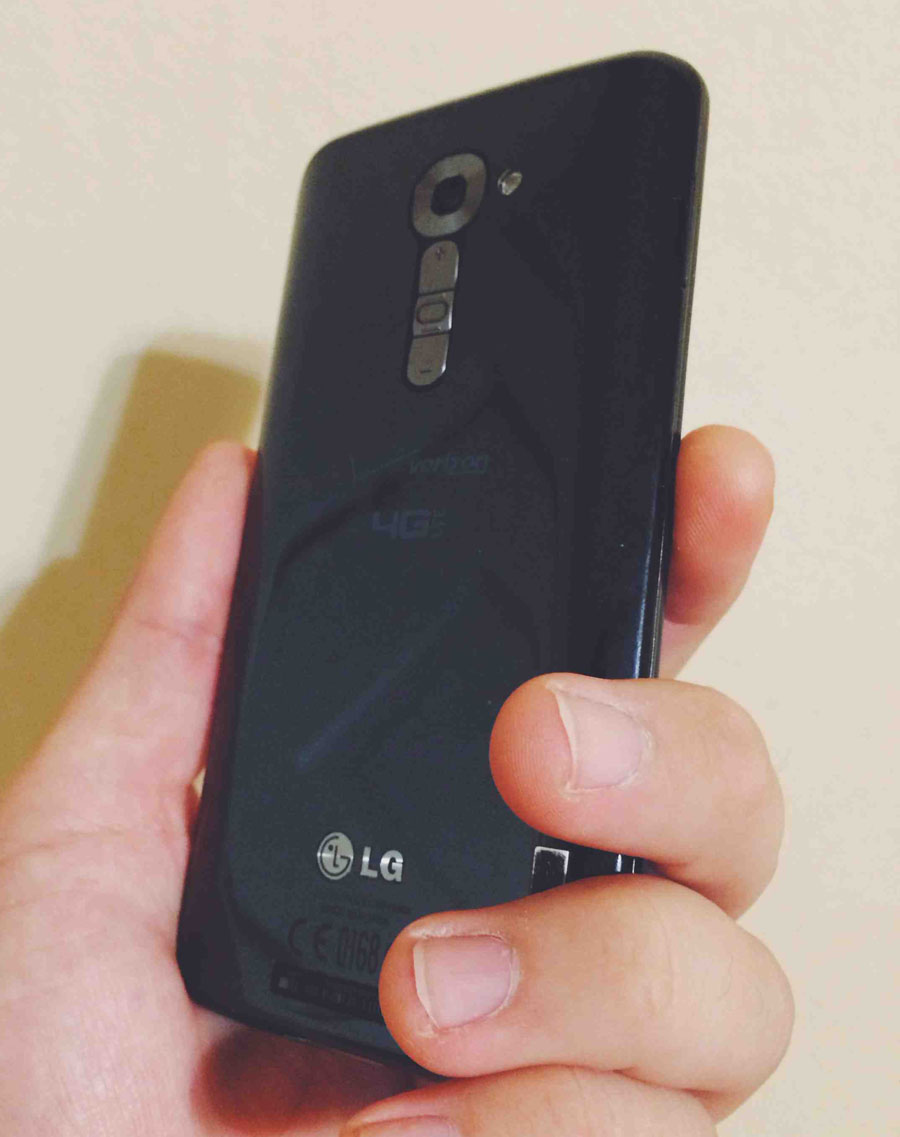 Some people are really going to like the button placement on the back—it's located in a fairly natural location for your index finger to reach (especially considering the other out-of-reach options for placement on a phone this large). What's more is that the bottom volume button can be assigned to a number if different tasks including pulling up your camera. Personally I found the placement to be easy enough to get used to—but the real problem was with the buttons themselves. Squishy, wobbly, and very unsatisfying to click, you'd think LG would have put more attention to detail with a feature this distinctive. Many times my finger would be searching for the power button, only to smudge up the lens of my camera or accidentally click one of the other buttons instead. Like many features on this phone, they are meant to catch your eye, not necessarily to function well in daily use.
In some ways, even the G2's display falls into this problem. It's a 5.5" panel with a resolution of 1920×1080. Although 1080p resolutions are commonplace these days, the G2's display really is sharp. It's an incredibly bright and vibrant display—and again, certainly one that will certainly catch your eye at the AT&T store. Part of that is due to the fact that many of the colors on the phone really "pop"—if even a bit too much. The oversaturation problem is similar to what you'll find with some AMOLED displays that companies like Samsung or Nokia use—so if you didn't notice there, you probably won't mind here. But if you're paying close attention, you'll notice that the color accuracy is pretty spotty, despite what LG would have you think in press releases and TV spots. Aside from that, you'll find a very pixel-dense panel that could give the iPhone 5s or HTC One a run for its money.
Unfortunately, the body of the G2 isn't an area where LG wanted to catch consumers' attention apparently. The G2 is once again made of a shiny, rounded plastic that is slippery and prone to picking up fingerprints. Although it feels durable enough, it lacks that premium feel that phones like the iPhone 5s, the Lumia 920, and the HTC One have. The front side of the phone fares a little better considering LG has removed the home button and every centimeter of side bezel possible. The result is phone that feels like nothing more than a giant screen—which is exactly what you want in a touch screen device.
One place where the G2 certainly doesn't skimp is in performance. This device uses the new Qualcomm Snapdragon 800 CPU and an Adreno 320 GPU—top of the line chips that only the highest of high end phones are getting. Like most flagship smartphones these days, the G2 has no problem running HD video, playing graphically-intense games, or even accomplishing some of the multitasking that LG offers. If performance is what matters to you at the end of the day, the G2 is dressed to impress.
The G2 also nails two other very important features of any modern flagship smartphone: a long-lasting battery and a decent camera. With its massive 3,000 mAh battery (non-removable), you'll never have problems getting through a day—or even two for light users. It truly is an impressive feat—especially compared to phones like the iPhone 5s or Galaxy S4. Meanwhile, the 13 megapixel rear shooter is one of the best you'll find on an Android device. It still struggles in low light environments and has a hard focusing on fast moving subjects, despite that the G2 has optical image stabilization. While that may not be saying much, there's no doubt that the G2 takes nice photos.
SOFTWARE: Making a jumbled, ugly, mess of Android
The first thing you'll notice about the LG G2 once you get passed the initial setup is the extremely over-the-top tutorial. Now I'm fine with a short introduction to some hidden elements in the homescreen or explaining some of the gestures and whatnot. But the G2 handholds you through every piece of the OS, forcing you to pause what you're doing to fade out the screen and give you its little pointers. Saying that these tutorials set a bad first impression would be an understatement. What's worse is that my experience with the LG software only went downhill from here.
The G2 is running LG's classic Optimus UI, which hasn't exactly caught up to speed to its competitors in terms of modern design. In fact, it feels pretty outdated next to nearly much every other OS out there—whether it's iOS 7, stock Android 4.3 (or now KitKat 4.4), Windows Phone 7, or even Sense 5. Unsurprisingly, LG's Android skin feels more like Samsung's TouchWiz than anything else—and unfortunately, that's not exactly a compliment. Animations are overly sensational, icons look straight out of the early 2000s, and just about every button, piece of text, or line has multiple layers of drop shadows, inner glows, halos, and gradients. For a phone this premium under the hood, it's an utter shame that LG hasn't sufficiently updated the aesthetics of its UI.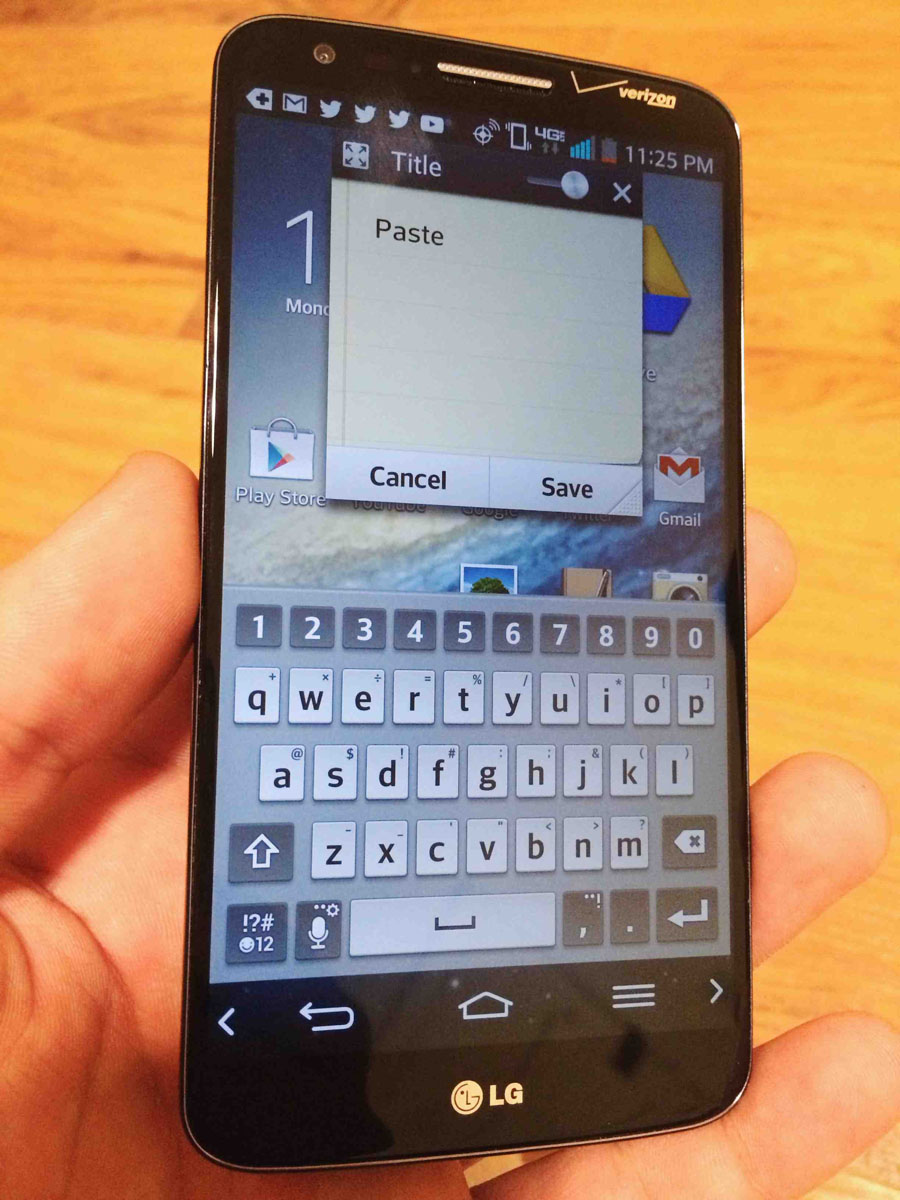 Like many LG phones, the G2 boasts a long list of features—many of which compete toe-to-toe with the Galaxy S4. They range from silly (AudioZoom) to redundant (Voice Mate) to fairly useful (QuickRemote) to a complete waste of time (KnockOn)—and I'm sure that's the way LG likes it. By overwhelming consumers with lists of features, they're just hoping that you think eye-tracking and an IR blaster are really cool, important features to have in your smartphone.
But it's not all bad, of course. As we noted in our review of the G2's big brother, the Optimus G Pro, LG does a fairly good job of doing something new with multitasking. They've made a host of mini-apps that can be opened on top of other apps, resized, and even be made translucent—some of which, like the calculator, can be pretty handy. They've also added a three-finger swipe from the left that saves the app you're using and slides over three others you've saved that you can quickly access.
But the real saving grace of the G2's software is how highly customizable it is. You can resize icons, swap out icon images, and even assign functions to the volume down button on the back—this ability to explore all the possibilities and options is most certainly this phone's strong suit. For some, getting a highly customizable Android device with the absolute highest specs will make the LG G2 a pretty good option. For everyone else looking to buy a flagship smartphone, there are plenty of other devices out there that make "the premium feel" a priority, not just an afterthought.
Luke Larsen is the tech editor at Paste Magazine. You can follow him on Twitter at @lalarsen11.