For the last decade, the music industry has been in a state of flux, with the industry as a whole trying to figure out how to adapt to the new online world. CD sales have been in a constant state of decline for over a decade now, and the industry has seemingly committed to a large scale transition towards subscription-based streaming services. Spotify, Google Play, Rhapsody, Rdio, Deezer, and Tidal are the major players in this game with Spotify as the unofficial leader as of now. But when Apple purchased Beats last year, it was clear that Apple was preparing its own entrant into this ongoing battle for streaming music supremacy.
Yesterday, Apple finally entered the ring with Apple Music. At the company's WWDC Keynote, they revealed the service's main features, while still holding back a few details that may have to wait until the service's launch on June 30.
At its heart, Apple Music is very similar to the multiple existing streaming services. For a monthly fee of $9.99, users can listen to unlimited music on their Mac or PC, iPod touch, iPhone, and iPad. Households can also purchase a family plan for up to six users for a discounted $14.99 per month. These prices are roughly in line with its competitors except for the discounted family plan (Spotify offers a family plan but at a smaller discount) and the lack of a free tier of usage. The only service to offer a free tier currently is Spotify, but with 45 million unpaid active users, they are dominating the free streaming market. Unlike the other services, Apple Music will offer a huge three-month free trial, aiming to get the company's millions of loyal users hooked on the system before they begin paying.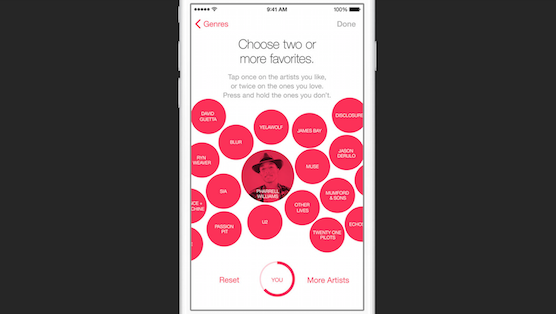 Aside from the normal music listening experience, there are three pillars of the Apple Music system, all with full Siri-integration. First, there is Discover. The service will include some hand-curated playlists based on genres and moods as well as Genius-like playlists that are created based on what you listen to and what songs you have in your iTunes library. As with most Apple products, the service learns from your listening history and adapts its recommendations for what you enjoy.
Apple Music also offers Radio. While this feature will eventually include multiple genre-based Pandora-like stations, the first to debut is the hand-curated Beats 1. The station will broadcast 24/7 from Apple's studios and will include interviews, live shows, and playlists curated by former BBC1 DJ Zane Lowe.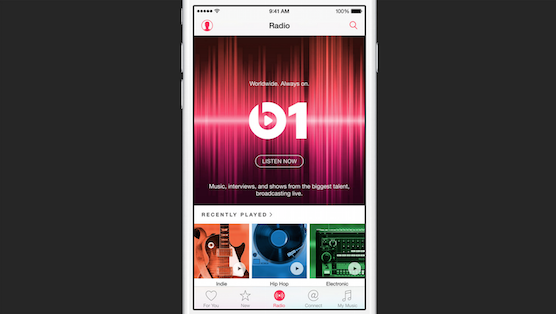 The third main feature of Apple Music is Connect, in some ways a rebirth of Ping, Apple's failed social network within iTunes. However, within the larger scope of Apple Music, Connect seems to add a great deal to the package. In Connect, users can see behind-the-scenes footage, pictures, and creative inspiration in a feed from their favorite artists, all of which can be commented on, liked, or shared. This is the first streaming service to incorporate social updates from artists, a feature that Apple has had trouble with in the past.
Along with the announcement, the company released a TV ad showing Apple Music as the next step in a long line of music innovations, and a video about the service's aspirations, narrated by Trent Reznor. According to Reznor, the company aims to "treat music less like digital bits and more like the art it is – with a sense of respect and discovery." Independent artists will be able to upload their own music to the service a la Soundcloud, so it looks like Apple Music will take some steps to make it easy for artists to get their music out there without a label.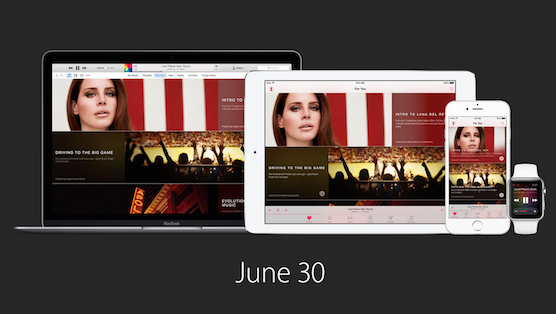 If Apple really wanted to stick a nail Spotify's coffin, there are a few ways they could have wowed us. They could have lowered the standard $9.99 price point, offered exclusive content, or offered a significant benefit for artists on the platform. Apple Music essentially combines features of Spotify, Pandora, and Soundcloud, yet does not offer much in the way of new features aside from Connect. While little can be confirmed before the official launch, Apple Music's future already looks a little murky.
The verdict is still out on whether the public will take a liking to Apple Music, or forget about it as quickly as Apple's failed social network Ping. In 2001, Apple revolutionized the music industry with the introduction of the first iPod. Can they do it again with Apple Music?