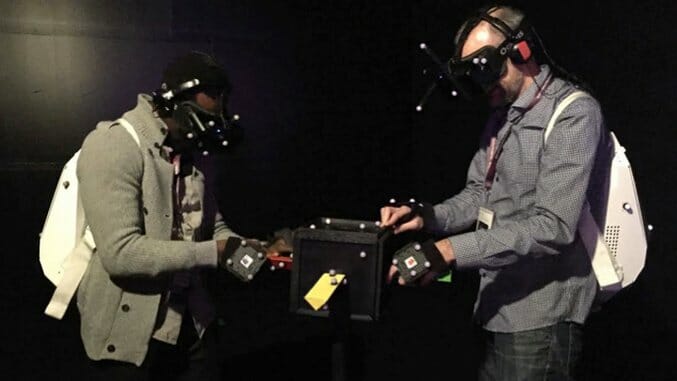 If film's greatest triumph is to help us see the world from a different perspective, then Virtual Reality might just be the next big leap forward in the world of movies. That at least seems to be the position of Sundance on the new technology. You couldn't walk down Park City's Main Street this week without the lure of virtual worlds calling out from every side.
The New Frontiers portion of the festival was heavy with VR film this year—some 30 projects were available to festival-goers, ranging from an encounter with Star Wars droids C-3P0 and BB-8 to a scientific laboratory inside a flying whale to a police shooting filmed from four different points of view. Perspective Ch. 2: The Misdemeanor is a follow-up to a popular VR short shown at Sundance last year. The four short films tell the same story of a suspected shoplifting that turns into tragedy—one from the perspective of the kid who's shot, one from the perspective of his brother and two from the perspectives of the officers involved. It's poignant, chaotic and puts you right in the middle of the unfolding events.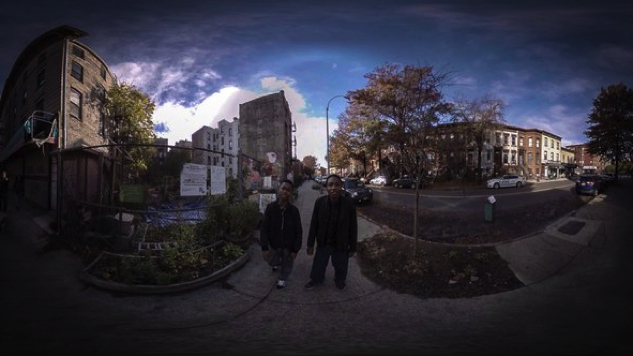 "I don't think there's anything that's more immersive than virtual reality," says Morris May, CEO of Specular Theory, the company behind Perspective. "You can watch someone shot on television and you're like, 'Ah, whatever.' But if you're in this piece with Sean and you see your brother get shot, that's a very powerful and impactful thing."
Plenty of the VR projects on display in Park City were mostly about the experience, such as the video-game like Irrational Exhuberence presented by WEVR and Seed&Spark, where you used controllers like hammers to manipulate floating meteors sending mesmerizing showers of pebbles around your environment. But Perspective, The Visitor and a 12-minute horror VR film Eye For An Eye showed what new technology could do for live-action narrative films.
"It's moving past the demo stage where you have these short films that are really about the technology and what the camera can do and the wonder of the 360 experience," says Perspective co-creator Rose Troche. "That has to move narratively forward to where it's really about the content. It's nice to have things that are experiential. It's fun to be in the ocean and swim—I love that one. But story is a big thing."
Ben Dickinson, who directed a trippy musical experience with Reggie Watts said that the structure of traditional film has already been set. He wasn't sure that VR was going to be the thing allowed the medium to grow in new directions—even after filming Waves with Watts—until coming to Sundance and seeing all the different ways that people were experimenting with technology. "The first great VR auteur is probably 15 right now," he said. "They're going to see what we're doing and come up with something completely new."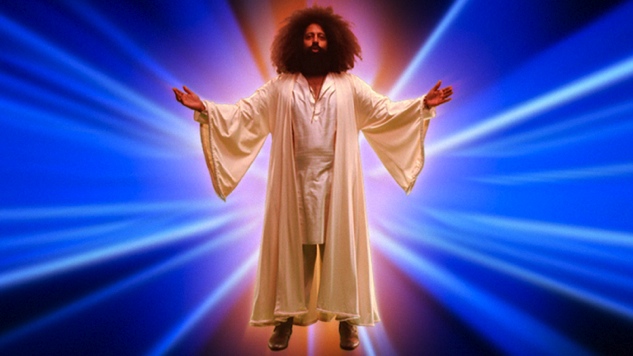 Waves is part live-action—with Reggie Watts appearing as host, as every member of his air-instrument band, and as a malevolent space-god who shoots a giant laser beam out of his mouth—and part psychedelic animation. Virtual reality is the perfect medium for his unique sense of surreality and humor.
Another VR film which mixes live-action with animation is Lynette Wallworth's Collision, a documentary about an aboriginal man whose first encounter with modern culture outside his remote village was a nuclear test in the 1950s. Jaunt's Patrick Meegan traveled with Wallworth into the outback to film Nyarri's story and saw how the new technology could translate across cultures.
"When we arrived and showed Nyarri and some of the other folks in the community the VR headset and the cameras, it immediately made sense to them," says Meegan. "Even Nyarri, this 85-year-old guy, is explaining to the kids, 'The camera has 16 eyes and four ears; that's why it can see everything.'"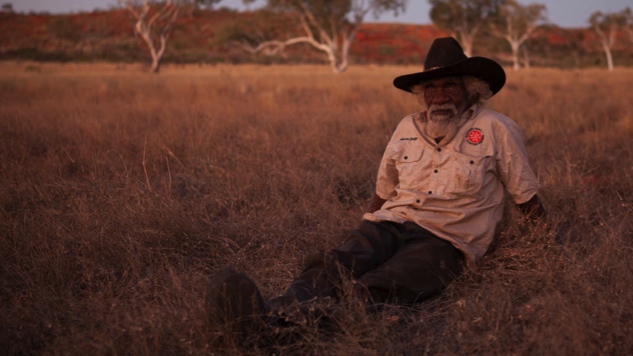 While Collisions was premiering at Sundance, Wallworth was in Davos, Switzerland, for the 2016 Wolrd Economic Forum, sharing Nyarri's experience with world leaders. Virtual reality had given voice to a man who thought an atomic blast was a gift from the gods, killing kangaroos for his village—until those who ate the irradiated meat became sick.
At Sundance, virtual reality took me to the surface of Mars in a companion experience to the film The Martian via Oculus. It took me underwater in Jake Rowell's theBlu: Encounter. But nothing quite blew my mind like Real Virtuality: Immersive Experience, a full motion-capture set-up where I joined an actor/filmmaker from the Ivory Coast on a spaceship with a teleporter. Wearing sensors on our hands and feet, along with headsets and backpacks, our minds were quickly convinced we were in a completely different place. This was the Holodeck come to life.
We could see each other's virtual selves and so could work as a team and hand objects to each other, like the crystals we had to locate on the ship (wooden batons in the real world). We simultaneously inserted them into a virtual/physical device to teleport to a futuristic city, which we toured by boat. Having the boundaries of the boat meant that there was no danger of walking into a wall or the watching crowd. We just wandered around our vessel, taking in the wonder of the architecture and lights all around us. The time to teleport away came too soon.
Our final stop was a cave system that would have thrilled Indiana Jones. Walking over an ancient bridge, ducking through small openings and nearly falling over as I tried to balance on floating steps, my surroundings were unimaginably real. Or at least more real than I could have imagined before first trying on a VR headset at Sundance.
While some of the static experiences left me a little motion sick, the immersive technology left me exhilarated. I want movies that not only put me in the center of the action, but that allow me to explore that action. The 360-experience is very cool and the ways filmmakers are using it to tell stories is fascinating. But the motion-capture experiences, where your avatar matches your actions, are truly game-changing.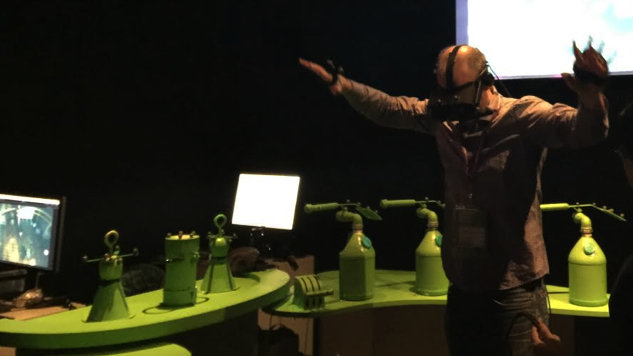 In my final VR experience, The Leviathan Project, I created a Huxley, a sort of flying jellyfish, by moving objects and manipulating levers. And then I flew around the lab from the perspective of my new creation by moving my hands in different directions. It was more video game than film, but the lines blur when it comes VR. The possibilities of what this technology can do are just starting to be tested. And somewhere, that 15-year-old is getting ready to blow all our minds.
You can watch the official Sundance VR selections via Samsung Gear VR or Google Cardboard.
Josh Jackson is co-founder/editor-in-chief of Paste Magazine.