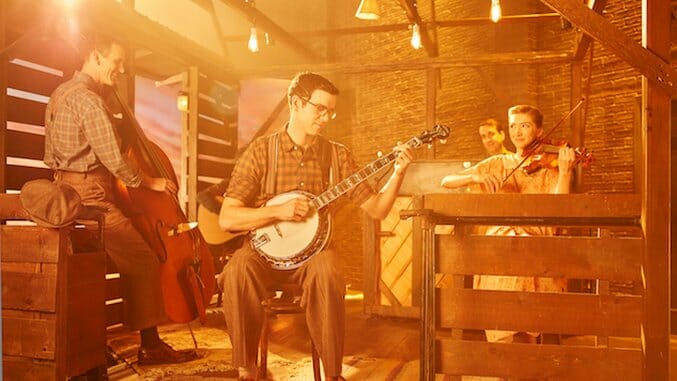 Since there's not much greenery in New York City, Broadway shows crop up instead of flowers once spring rolls around.
As producers scramble to get seen before the Tony nomination cutoff (April 28 this year), stages across Manhattan fill with larger-than-life sets, tap shoes, diverse casts, one-person companies, award-worthy performances, and of course, the cringe-worthy performances.
To help you navigate Times Square at this time (we can't help you literally navigate the area, that's impossible), we've narrowed the list down to the six shows premiering this spring we think Paste readers will enjoy.
Don't forget to turn off your phones and open your candy before the curtain opens.
Bright Star
He acts, he writes, he sings. What can't Steve Martin do? Disappoint, that's what. With novels and awards on his shelf, his latest accomplishment is a Broadway musical with partner (in music) Edie Brickell. Bright Star (pictured at top) premiered at the Kennedy Center in 2014 and was inspired by a true event. Soldier Billy Kane leaves his love at home and moves to the big city to write for respected journalist Alice Murphy. The two form a strong—nonromantic—bond for reasons beyond writing, which are revealed at the end of the show. The story—accompanied by bluegrass and a lot of banjo (Martin's instrument of choice)—follows the characters back and forth between the years of 1923 and 1945, and presents itself as a sweet Southern story, but is much darker than that. As is the cast with most musicals, Bright Star will give you chills, but not only because of the performances.
Blackbird
Blackbird premiered at Edinburgh's Fringe Festival in 2005 and has since then made the journey to Broadway. In it's second revival (it premiered in America in 2007), Joe Mantello directs film-favorites Jeff Daniels and Michelle Williams (the non-Destiny's Child one) in a play about the aftermath of a forbidden relationship—one that occurred when Una (Williams) was 12 years old and her neighbor Ray (Daniels) was 40. Of course, this brief love affair was defined as statutory rape by the law and Ray was sentenced to three years in prison. The play centers around the pair's reunion in a stark conference room of Ray's place of work to rehash the disturbing details that changed their lives. Tension is high in the first scene, as Ray (who now goes by Peter) comes face to face with his past in the form of a powerhouse who eventually crumbles into a mousey mess in a floral dress—a woman this man twice her size could not be more terrified of—and the power shifts back and forth from there, almost like a boxing match. Prepare to feel extremely awkward and uncomfortable, like you're spying on a conversation no one is supposed to see.
The Father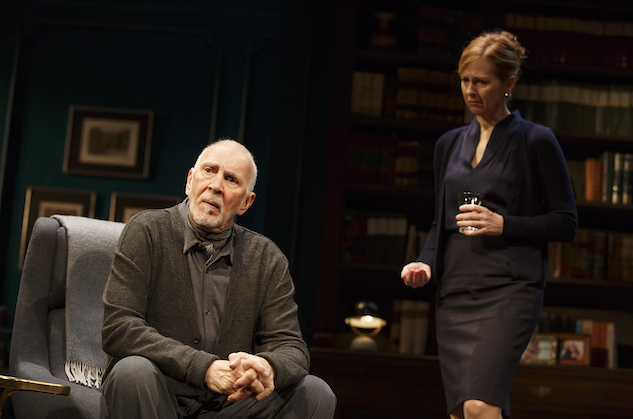 Photo by Joan Marcus
Frank Langella has won three Tony Awards. Those are three reasons you should rush to see him take the stage again this spring. Not convinced? Perhaps the sad but all-too-real story will woo you. In The Father, Langella plays a father grappling with dementia who can't remember who he's living with or what he did with his life. While difficult to watch, Langella's expertise in his cozy sweaters, confused looks and tender moments with his on-stage daughter, is worth the discomfort. Don't worry if you're confused at first; the play is performed from his point of view, so yes, the daughters are supposed to look different in almost every other scene. This production gives audience members a rare glimpse into the fading mind. The play was originally written in French and has been produced in Paris and London.
Fully Committed
OK, you've been hit with a lot of drama. Let's lighten it up with Modern Family's snarky Jesse Tyler Ferguson. This one-man show is about a one-man machine working at NYC's trendiest restaurant. Fully Committed's Sam must deal with desperate reservation-seekers, name-droppers, wannabe socialites, crazed waiters and a diva chef. The Emmy-award winning actor one-ups his character, however, by playing all 40 characters—from a Midwestern dad to the French chef. We're laughing just thinking about it.
Tuck Everlasting
Following in the footsteps of Matilda: The Musical and Newsies, Tuck Everlasting's lead is an extremely talented child. Meaning, you'll leave the theatre feeling really shitty about the fact that this pre-teen is a huge success and you're…well…not. But, you'll also leave feeling like a child again, yourself, thanks to a well-written musical based on a classic tale you read years ago. While the story is just as sappy as it's always been, the talent is undeniable and the modern dance sequence that closes the show and involves no singing is a moving, unique, and welcomed twist on the usually flashy musical theatre finale.
Maggie Parker is the assistant travel editor for Paste Magazine.