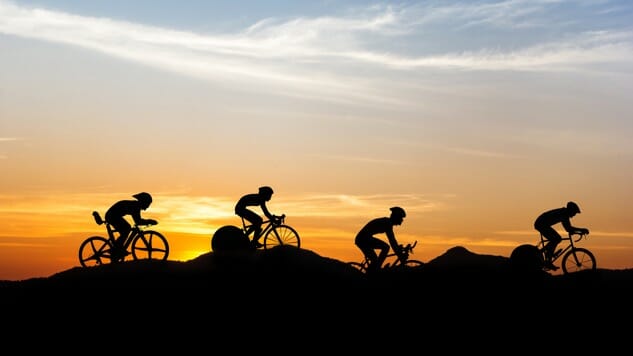 In Italy's northern reaches, the mountainous, lake-studded lands of Trentino offer mile after mile of epic single-track cycling paths and roadways. On any given stretch, it's common to spy more Cannondales and Pinarello cycles than Fiats or Fords. Routes climb peaks made famous by the country's most prestigious cycling event, Giro d'Italia, then descend river valleys through fields of grapes ripening on the vine.
While there are leisurely rides around the city hubs of Trento and Bolzano and lakes of Garda and Caldonazzo, the true bounty of offerings is geared toward avid riders. This is the place for serious cyclists to challenge their might amongst a tribe of like-minded enthusiasts.
Simply put, Trentino lives and breathes cycling. Drivers respect bicycles and are accustomed to sharing the road. Bike shops are as prevalent as pizzerias. Cycling-friendly hotels and restaurants cater to peddlers and world-class races populate spring and summer calendars. Plus, the classic Italian delights of pasta and wine are never far from reach—and in Trentino, both are produced with distinctive gusto.
This season promises to be more festive than ever with the 100th edition of Giro d'Italia. In honor of that milestone, Paste talked with two of Italy's most legendary cyclists, Giro champions Francesco Moser (1984) and Gilberto Simoni (2001, 2003) along with other experts, about Trentino, the place they proudly call home.
Climb Time
When cycling in the Dolomites, pain is a close companion of joy. Push your limits with over a half dozen Giro-famous climbs. "My favorites include the ascent to the 5,500-foot Monte Bondone from Aldeno-Garniga Terme because there is a wide range of gradients, beautiful views, and little traffic on the road," says Moser.
"I climbed Bondone in 1973 during my first Giro, that stage was won by Eddy Merckx. The road from Farmiga to the top was still a dirt road," continues the champion cyclist-turned-winemaker. A close second is the monster climb of Passo Manghen. "From Borgo Valsugana, it crosses the Lagorai mountain range and is a very long climb of 24 km (15 miles) with about 1600 meters elevation gain," he warns. In addition, he says cyclists can't go wrong with the popular Sella Ronda circuit which includes the passes of Campolongo, Pordoi, Sella, and Gardena in Alta Badia in the heart of the Dolomites.
Cycling specialist Andrea Tomazzoni with Visit Trentino says the organization's "Legendary Climbs of Trentino" project shines a light on features that few mountain regions can match due to the mix of long, steady ascents and staggering, UNESCO-protected mountain scenery. The project spotlights 23 climbs, with helpful onsite signage including altitude gain and distance stats.
Cruising
For cyclists who prefer distance over climbs, Valle del Adige Cycle Track, a relatively flat, yet never-dull path, (known as pista ciclabile) runs along Adige River for nearly 37 miles connecting the Roman capital of Trento with German-infused Bolzano.
Moser suggests a jaw-dropping circuit to Lake Garda, starting from Trento passing through charming towns and villages including Rovereto, Riva del Garda, and Valle dei Laghi. "When I was a professional cyclist, this was one of my favorite routes," he says.
The region's cycling infrastructure shines on these mostly traffic-free circuits. Bike-friendly trains make it possible to cycle out long distances, then secure your bike in the train car for return to home base. In summer, there is even a cyclists' bus, known as Bici Bus, that returns to Trento from points along Lake Garda, loaded with sweaty, yet happy riders and precious gear.
Join the Peloton
Planning a vacation around an event is a great way to experience the region's cycling culture on a deeper level. Cycling guide Matt Simpson recommends Maratona dles Dolomites, an early July event he has participated in four times, as one of the world's most competitive races for amateurs. "The Maratona offers three distances, making it ideal for riders of all skill levels," he says. "Riders get to experience some of the world's best climbs, moving with the energy of almost 10,000 other cycling fanatics, on roads closed to traffic. It's spectacular."
Later in the month, organizers smartly stack two distinctive events into one weekend for maximum pedaling pleasure: celebrating the Moser family's contribution to cycling is La Moserissima, a non-competitive vintage bike rally, July 8. The UCI-qualifying Legendary Charly Gaul Grandfondo takes place the next day, attracting over 3,000 riders from around the world and tackling Mt. Bondone a breathtaking two times.
For visitors looking to catch pros in action, two events fit the bill. Tour of the Alps begins in Austria and culminates in Trentino in April. Next up in May is Giro d'Italia which Simpson says is the pinnacle for cycling fans. Simoni agrees, describing the event as a colorful tromp through the streets. "It is quite difficult to explain all the emotions you can feel participating in this event that has one hundred years of history," he says, enthusiastically.
Stages 17 – 19 race the roads of Trentino beginning May 24. Along the route, villages proudly host outdoor celebrations and fans of all ages and backgrounds cheer and show support.
The Full Kit
Cyclists may find comfort in bringing their bike from home, but thanks to the region's cycling focus, bike shops are equipped with an impressive array of options. Car rental agencies cater to cycling groups with a heavy stock of transport and cargo vans. Politeness and patience go far when scheduling rentals, as does Google Translate.
Along the pista ciclabile paths, bici grills serve as an ideal spot for a pit stop and refueling. Hotels throughout the region welcome cyclists with bike storage options and route information. Trento even boasts a themed Fly Bike Hotel where reservations come with a Trentino Guest Card for unlimited use of local public transit.
Ample Rewards
A bike isn't the only vehicle for experiencing Trentino's unique offerings. Simoni says the magic of Trentino is that attractions are as abundant as orchards and vineyards. "Every corner has its own peculiarity and appeal," he says. From visionary outdoor installations of Arte Sella to Rovereto's MART, modern art lovers will find inspiration and foodies should make reservations for Castle Pergine, where a multi-course feast is served with medieval history, as well as one of the region's six Michelin star restaurants.
Wine lovers can discover the native hearty Teroldego red and elegant Müller Thurgau white. Visit Cantina Moser hilltop tasting room for a sample of the popular 51,151 spumante, named after his 1984 one-hour distance world record. While there, get a peek into cycling history and enjoy bikes showcased as art in Moser Museum.
Outdoor adventurers have the world at their feet from kite-surfing on windy Garda to sky diving from atop a choice of peaks. And, don't leave without a day of hiking or mountain biking. Over 3,000 miles of well maintained trails showcase historic sites, dense woodlands, and epic vistas.
Perhaps the biggest reward comes with the region's obsession with spa therapy. Many towns have long claimed healing mineral waters with world-class facilitates catering to rejuvenation. Check out the trio of saunas at ultra-modern Hotel Alpenrose Wellness Center and for more, see Checklist: Trentino.
Jess Simpson puts the brakes on full-time digital nomad life to spend every summer basking in Trentino's mountain sun. She is grateful for bylines for Paste, Mental Floss, Fodor's, Bustle, and UAB magazine, among others. Follow her travel secrets at Paste as well as on Facebook, Twitter, and Instagram.