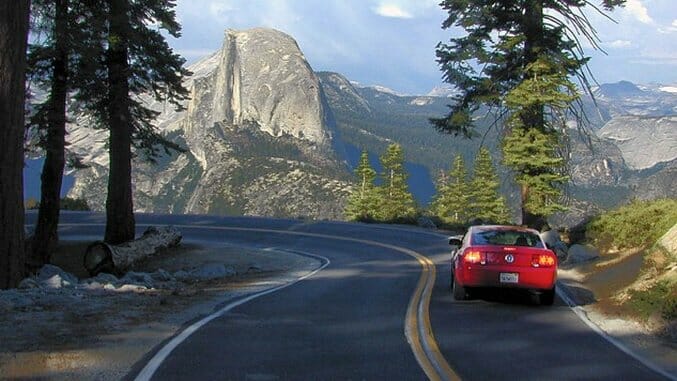 The United States is the only industrialized country that doesn't have a national tourism office. There's a semi-official one. But it's not a taxpayer-funded agency, nor is it as well organized or as publicized as other more legitimate tourism bureaus.
This is largely because America doesn't need extra help promoting itself. As the cultural, commercial, celebrity, national park, and convenience capital of the world, around 80 million people visit it each year, second only to France.
Why do they come in such high numbers? After researching dozens of reports from mostly satisfied foreign visitors, here is the consensus reasoning:
Supersized Life
There are a lot of big countries in the world. But when ranked by inhabitable, arable and navigable land, America is by far the biggest. Because of this, the country is sprawling. To cover all that ground, we built 4 million miles of paved, mostly wide, and fast interstate roads—a combined network that dwarfs all others. To fill those roads, we have the greatest number, variety, and size of cars. In between those big roads, we live in big houses with big TVs and big garages. We park in big parking lots. We watch sports in big stadiums. We attend big festivals. We eat big portions of food. We don't think big is always better and know it comes with its own challenges. But we've accordingly filled our allotted space with big everything, a unique and sometimes indulgent behavior that isn't lost on visitors.
Inspiring People
Having visited a dozen countries on five different continents, I know first-hand that there are good, inspiring people the world over. But according to visiting foreigners, several things set Americans apart. "They smile and say hello to complete strangers," is one popular compliment. "They wish people well and are noticeably generous," is another. While Americans are rightfully knocked for being insincere at times, most agree that this superficial behavior is better than the alternative that's sometimes felt abroad. Furthermore, Americans' optimism, hard work ethic, experimentation, and even overconfidence, have been cited as infectious.
Great Outdoors
In 1872, America invented the National Park. Signed into law by President Ulysses S. Grant, Yellowstone (still one of our top five parks) was the first of its kind anywhere in the world. Since then, we've immortalized 59 more natural wonders across half of our states. That, in and of itself, is arguably the best collection of preserved outdoors ever assembled. But then we have 123 more National Monuments, which can sometimes be larger than many of the lands with "park" status. Take Grand Staircase-Escalante National Monument in Utah, for example. Sucker is stop-you-in-your-tracks gorgeous and bigger than the state's other mighty five National Parks combined.
There are also nearly 7,000 state parks, some of which (such as Custer State Park in South Dakota) that are more majestic than the sometimes politicized National Parks. On top of that, there are countless other national forests, coastlines and wilderness areas in America. Nearly a third of the entire country is preserved, in fact. More than just quantity, these combined lands are spectacular quality, according to visitors.
Freedom of Choice
America didn't invent freedom. Nor is she the most libertarian nation when it comes to avoiding legal red tape, doing things without permission, or having a perfect human rights record. But she sure as hell popularized the idea while protecting some key, inalienable rights. Freedom of speech including for haters. Freedom of religion including for non-believers. Free refills. Freedom to buy 18 different kinds of peanut butter. Freedom from strict cuisine or cultural conventions which is reflected in the innovative and derivative variety of food.
Freedom from caste systems, class immobility, or aristocratic non-sense. Freedom to buys things 24 hours a day or without ever leaving your car. Freedom to buy so many things for so little money (fun fact: our tips and consumer economy subsidize this). Whatever your thoughts on the levels of freedom here, foreigners undeniably remark on it often after visiting.
See also: Why Americans don't travel abroad
Photo: Dawn Endico, CC-BY

Off the Grid columnist Blake Snow writes epic stories for fancy publications and Fortune 500 companies. Follow him on Twitter.