Nassau: Bahamian Bites Beyond The Beach
Photo below courtesy of Nassau Paradise Island Promotion Board
Travel
Lists
Bahamas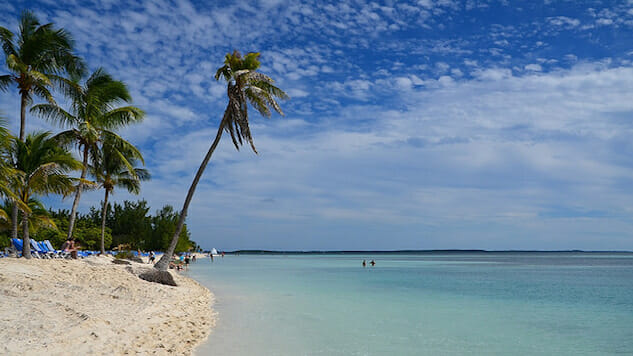 You've come to the Bahamas for white sand and turquoise water. The swimming pools and beaches are a winter-weary traveler's sun-starved dream, but steal away beyond your hotel's palm-fringed coastline and you will reap mouth-watering rewards. Culinary influences left behind by centuries of invaders and explorers combine with local ingredients to present a dining scene that mingles with diverse cultures in a delicious way.
The surrounding sea provides a bounty of bivalves and a smorgasbord of shellfish. An unbeatable variety of tropical fruits grow here and local cooks fully exploit the fresh-picked plenitude. It's a jackpot for your taste buds yet it's balanced, with no one flavor taking precedent. Even in traditionally spicy dishes, the heat joins forces with the other ingredients rather than muscling in. Capital city Nassau is a slice of epicurean heaven that somehow flies under the food lover's radar. Its manageable size makes getting around a breeze and friendly locals sweeten the deal.
Here's where to find high-quality dishes in Nassau.
The Fish Fry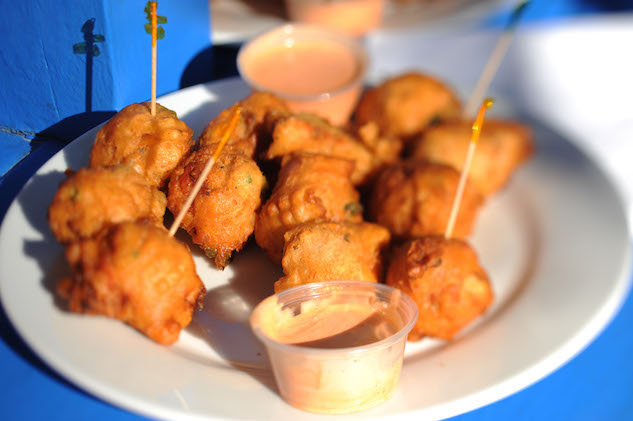 Photo courtesy of Nassau Paradise Island Promotion Board
At The Fish Fry, dozens of hand-painted, candy-colored wooden shacks sit side-by-side, serving up just-caught fish simply prepared to accentuate freshness. Twin Brother's
is a no-frills local hangout that won't disappoint. Fill-up on Nassau's favorite chewy crustacean, conch, prepared in a multitude of ways including citrusy raw conch salad, simple scorched conch and celestial conch fritters. Pair with an ice-cold Kalik, a thirst-quenching local lager with a zesty kick. If you're in the mood for a boozier beverage, the devoted Daiquiri menu features judicious amounts of rum enhanced with fresh guava, coconut and mango.
Guava Duff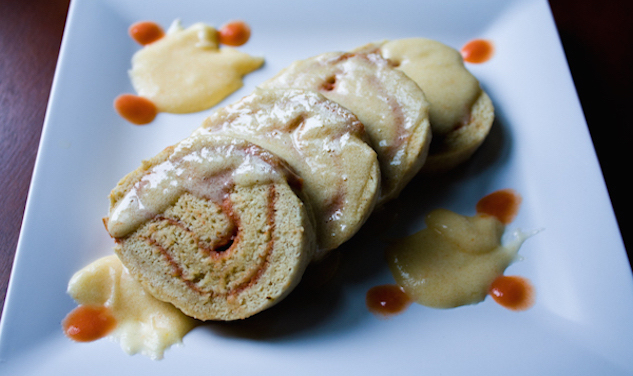 Photo courtesy of Cooked Earth
The Bahamas was part of the United Kingdom until 1973, and nowhere is the Queen's influence more palpable than in the dessert realm. The guava duff is a Swiss-roll style confection that wouldn't look out of place served for teatime at Buckingham Palace. Fresh guava is folded into silky dough beautifully balanced with butter and eggs. The batter is steamed in the British pudding tradition before being sliced pinwheel-style and served with additional tangy guava sauce. The Swiss Pastry Shop makes a luscious, pastel-hued guava duff that is elegant yet homespun, using an enduring recipe and top quality ingredients. Each bite blends the tropics and the Crown in perfect proportions. 
Rum

Photo courtesy of John Watling's Distillery
Though the Bahamas doesn't have a homegrown sugar industry, the history of rum making runs deep. John Watling's Distillery invites visitors to enjoy their handcrafted rum made from freshly pressed sugar cane sourced from around the Caribbean and distilled on-premise. The distillery is located on the hallowed grounds of the 1789 Buena Vista Estate and employs traditional English rum-making methods. Watch the production and meander the baronial estate before you head to their Red Turtle Tavern. Venerable bartender Uncle Will mixes a stiff Rum Dum, the signature cocktail made with pale and amber rums and fresh lemon juice topped with a cloud of frothy egg whites, guaranteed to knock your flip-flops off.
Chocolate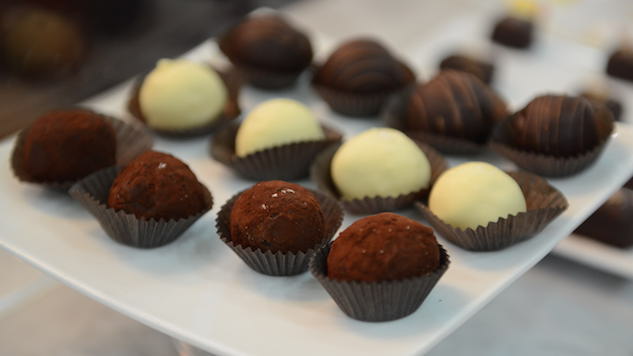 Photo courtesy of Tru Bahamian Food Tours
Graycliff is an opulent boutique hotel in downtown Nassau that has hosted iconic guests from the Beatles to Beyoncé. The entrepreneurial owners have recently opened a gourmet chocolate shop, Graycliff Chocolatier, infusing Bahamian flavors into handcrafted confections. These bonbons look fancy, but take one bite and what strikes you is the elegant simplicity and clean flavors. Sample tempting treats infused with indigenous ingredients such as guava, goat pepper and mango. Devour a velvety Key lime cream drenched in white chocolate or a chewy coconut covered in shiny dark chocolate. The chocolate's intensity is enhanced rather than upstaged by the aromatic denseness of the fillings.
Do-it-yourselfers may book an interactive workshop and learn the bean-to-bar chocolate making process before creating their own irresistible treats. For an alcohol-charged indulgence, book the chocolate and spirits pairing. Titillate your taste buds as you learn to precisely pair chocolates with high-octane beverages. You'll dabble in whiskey, rum and port from the hotel's extensive collection.
Food Tour
Book a three-hour guided food tour with Tru Bahamian Food Tours and you'll get an informative history lesson along with an in-depth look at Nassau's food scene. Your savvy guide will escort you to at least six tastings where you'll sample everything from curried mutton to rum cake, all while soaking in local lore. You'll have the opportunity to chat with restaurant owners as you nosh and nibble. There's no hard sell, just genuine joy in spreading the appreciation of Bahamian food.
The highlight is a copious sample plate at Bahamian Cookin', family-owned and operated by three generations of women. You'll devour straightforward recipes learned at Grandma's apron strings. The simple steamed chicken, crispy fried fish, rich baked macaroni and cheese and sweet plantains taste of gestures timeworn. It's honest cooking that demonstrates what a handful of ingredients can do when a spoonful of love is added to the pot.
Allison is a travel and food writer based in NYC. Her work has been published in The New York Times, Time Out, off Metro, Dave's Travel Corner and Family Travel Forum.