Festival Outsider: Bonnaroo Music and Arts Festival, Manchester, Tennessee
What to do in Manchester and Nashville in between festival sets.
Photo below courtesy of Tom Tomkinson for Bonnaroo Music & Arts Festival
Travel
Features
Bonnaroo
The return of Pearl Jam, an LCD Soundsystem reunion, AND permanent bathrooms?! It's sure to be a banner year at the 2016 Bonnaroo Music and Arts Festival. So while you're practicing your best high-five in anticipation for this year's edition of what many say is the best festival in the States, we'll give you a hand in filling in any time off the farm. Since most of those who fly in land in Nashville, we'll cover ground from there to Manchester (Roo town), including a couple places in between. 
The Main Event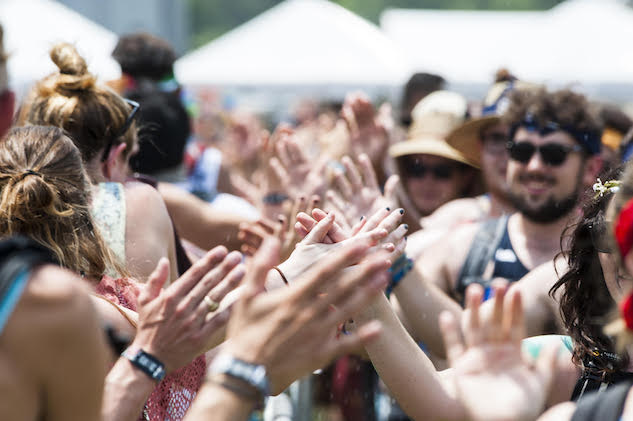 Photo courtesy of Adam Macchia
Known for its eclectic line-up, the four-day fest—which runs from June 9-12 this year—has been drawing more than 80-thousand people from around the world to a 700-acre farm in the middle of Tennessee since 2002. And if you ever wondered what a Bonnaroo was, it's Creole slang for "a really good time."  
Tickets may still be available, and while on-site camping is the most popular way to fully experience the Bonnaroovian atmosphere, there are shuttles from Nashville on a daily basis and nearby-ish hotels available.
Setting the Stage
The city of Manchester is located halfway between Nashville and Chattanooga. Its history dates back more than 2,000 years when the area was inhabited by Native American tribes. But it was officially named in 1836, after the town in England. Fun fact: the onslaught of Bonnaroo visitors each year makes Manchester the seventh largest city in Tennessee, if only for a weekend.
Eat It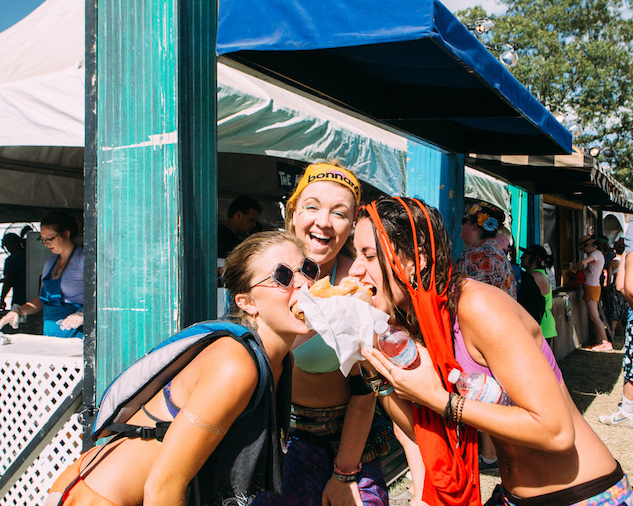 Photo courtesy of Tom Tomkinson for Bonnaroo Music & Arts Festival
Nashville is known for its hot chicken, and Prince's and Hattie B's are arguably the best places to start if you're looking for a spicy sandwich to really kick off your weekend.
Barbecue is also a big deal here in the Volunteer State, with several midstate options giving Memphis a run for its meaty money. In Nashville, Peg Leg Porker and Martin's BBQ Joint are crowd favorites for dry-rubbed and straight-from-the-pit pork. Closer to the fest, you'll find award-winning Barrel House BBQ in Lynchburg and Prater's, which is also available on the farm.
Another staple of southern restaurant cuisine is the "meat & 3," wherein you choose a meat and three sides. You can find this dish at Arnold's Country Kitchen, where people line up for good reason; it's home-cooked goodness that you don't have to make yourself. 
If you're looking for a quick breakfast, either on your way down to the farm or on your way out of town, Five Daughters Bakery will satisfy your sweet tooth (with doughnuts!) and Proper Bagel will give you all the savory sustenance to keep energy levels high.
If you have a little more time for what may or may not be the most important meal of the day, check out Pancake Pantry, Fido's (especially when the Pantry line is too long), Marché or Mad Donna's (Four words: Cap'n Crunch French toast).
Vegetarians, if you're wondering, what about me?! Have no fear. Many of the places mentioned above will have options. But if you're looking for an "I can eat anything on this menu!" experience, The Wild Cow (don't let the name fool you) will be your jam.
Poison and Wine
Nashville's "It City" status has led to a new skyline of cranes and condos, but it also has produced several new restaurants and bars. Read as: a lot has changed since you were here last year. But the favorites remain. The pools and bowling lanes at Pinewood Social are lying in wait, and the mixologists at The Patterson House are ready as ever to make your prohibition-era favorites. 
On the East Side, The Crying Wolf and The Hop Stop offer more casual atmospheres for beer-lovers. And Duke's, which was brand new last year, has found its groove with late hours and live nightly DJs. 
This year's fresh crop of honorable mentions include Bastion, a spot which mixes shots of liquor and cans of beer with vinyl in a way that makes everything go down smooth. Also new this year are Old Glory, a speakeasy/craft cocktail spot from the same owners as Bar 308, and the lovely Bar Luca, which features a great wine list, and of course, tasty cocktails.
Speaking of spirits, Tennessee Whiskey isn't just a song you'll hear Chris Stapleton sing up onstage. There are distilleries not too far from Manchester, and they offer tours. And tastes. Perhaps you've heard of our friends George Dickel and Jack Daniels.
Forget the Fest
If your goal is to explore a little bit of Tennessee while you're in town, set aside plenty of time. Old Stone Fort State Archaeological Park offers hikes featuring waterfalls and history lessons about the Native American tribes who used to gather here. If you don't believe what TLC said, continue chasing waterfalls in nearby Tullahoma and Short Springs State Natural Area.
Unique-to-Nashville things to check out (besides the live music and honky tonks downtown) include Hatch Show Print. Hatch produces all of the show posters for concerts at the Ryman (among other things), and they do it the same way now as they did it in the late 1800s. Best of all, you can watch them work their magic. During the United Record Press tour Friday morning, you can learn the history of vinyl and witness the birth of LPs. 
You Can Take it With You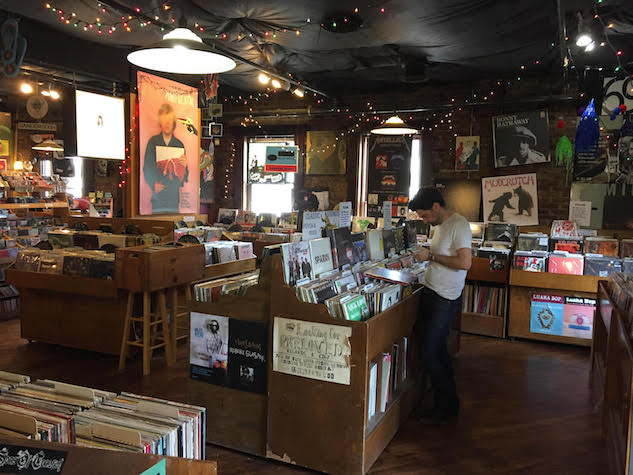 Photo courtesy of Grimey's New & Preloved Music
Now that you've seen how records are made, you might want to take a few home. You are here for the music, after all. Grimey's (pictured above) has you covered for new and "preloved" albums, while Phonoluxe Records is another good spot to dig for hidden used gems. And music fans would be remiss to skip Jack White's Third Man Records.
Singer Holly Williams has a couple of shops, including White Mercantile, which has a little bit of something for everyone. That area of town (12 South) has quite a few boutiques including custom denim depot Imogene & Willie and Reese Witherspoon's store Draper James.
For vintage threads, check out Outlaw country singer-songwriter Nikki Lane's High Class Hillbilly or Old Made Good. The nearby Hey Rooster General Store features local (and not so local) handmade goods. And Pangaea in Hillsboro Village (another good area for shopping) offers a variety of things—from clothes to jewelry to random gifts—you didn't know you needed.
But Leave Something Behind
It's too late to sign up for the Bonnaroo Volunteer C'roo, but keep that in mind for next year. In the meantime, there are opportunities to help out on other local farms through Second Harvest's farm to families program. If you'd prefer a smaller scale, Bell Garden could use extra hands helping their gardens grow.
If you like your meaningful work indoors, you could wrap presents and prep gift boxes for A Soldier's Child, an organization that serves the children of fallen active duty military personnel. Other area volunteer opportunities can be found through Hands on Nashville.
Mary Anne Bargen is a freelance writer based in Nashville. She likes to choose her own adventure.