Christmas markets (or Christkindlmarkets) have marked the Advent season in the German-speaking region of Europe since the Middle Ages. Today you can find these open air street fairs across the globe and in places from South Africa to Chicago. Christkindlemarkets get their name from the deliverer of Christmas gifts in German-speaking countries: the christkind or christkindl (meaning Christ child). Kris Kringle is an Americanization of the term christkindl, but the traditional christkind is typically depicted as a sprite-like child with blonde hair and angel wings.
Usually held in pedestrian-friendly town squares, Christmas markets let shoppers purchase gift while enjoying carols and sampling seasonal food and drinks—like mulled wine and lebkuchen, German biscuits that taste similar to gingerbread. Visiting any of these Christmas markets from across the globe is sure to put you in the holiday spirit.
1. Viennese Christmas Market
This traditional Christmas market dates back to the 13th century in Vienna. Now it takes place each year in front of the city hall in Austria's capital.
Visitors can browse booths for artisan gifts from 10 a.m. to 10 p.m. each day through December 26 and warm up with roasted chestnuts and "Christkindlmarkt Punsch." Made with a secret recipe including red wine, oranges, spices, rum and raspberry brandy, this hot punch is a signature beverage of the Vienna market.
Special attractions during the market's run include free weekend performances on Vienna's Rathausplatz from a variety of choirs and Christmas story readings from celebrities. The Viennese Christkindl also appears at the market on Thursday through Sunday evenings. You can find her to take a photo or hear the poems and stories she reads to the children.
2. Chicago Christkindlemarkt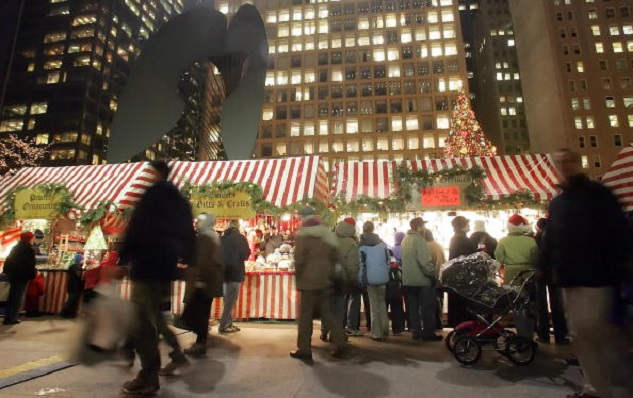 Photo by Paul Ellis/Getty
The Chicago Christmas market has been a staple of the holiday season in the Windy City since the late 1990s. Inspired by the Nuremberg, Germany, Christmas market, the German American Services organized the inaugural Christkindlemarkt to bring the European tradition to Chicago in 1996.
The magical village pops up in Daley Plaza each year in mid-November and remains open through Christmas Eve. The stalls include an array of whimsical handmade items, such as a variety of ornaments, wood-carved figurines and cuckoo clocks, jewelry and toys. Beer steins with lids are also a popular item.
The market boasts authentic German eats including bratwurst, stollen (a type of fruit cake), schnitzel, strudel and plenty of beer. Chicago's own christkind, who first appeared 2013, can be found wandering the booths. The market is open seven days a week and entry is free.
3. Advent in Zagreb
The christmas market in Zagreb, Croatia, spans across several squares in the city. Each location offers different holiday events to keep Zagreb buzzing with Christmas magic throughout the Advent season.
Start in Ban Jela?i? Square, which hosts evening concerts and performances on its open air stage and is home to the annual Christmas fair. Visit the live nativity scene displayed in Kaptol through the first of January. Enjoy live Christmas music and waltzes from the pavilion in centrally located Zrinjevac, the oldest planned park in the city, while you shop and eat. The stalls of artisan gifts and food are open in the park through January 10, 2016. Sample traditional dishes such as sarma (cabbage rolls), pecenka (roasted pig on a spit) and kobasice (sausage). For dessert try the fried apples or baked štrukle and warm up with hot chocolate or mulled wine.
4. Edgemead Market
This indoor South African Christmas market located in Cape Town in Edgemead Community Hall features over 200 crafters from around the country each year. Established in 2003, the Edgemead market aims to bring the best handmade goods in South Africa to one location. People in Cape Town celebrate Christmas in the warm weather with barbeques and gifts from their Santa Claus figure, known as Sinterklaas or Kersaveder.
At Edgemead, holiday shoppers can purchase food, handcrafted leatherwork, metalwork, glassware, mosaic art and toys. There are also organized raffles each year with a variety of prize packages. A portion of the proceeds from the Christmas market are donated to charity. Last year the funds helped a local hospital buy new wheelchairs and equipment. Entry is free and Edgemead is open seven days a week 10 a.m. to 8 p.m. until December 20.
5. Manchester Christmas Market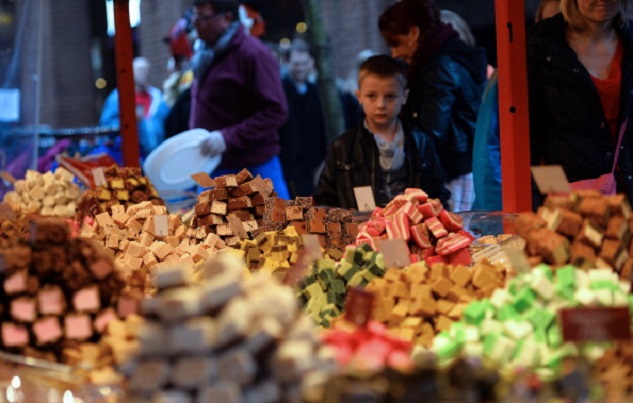 Photo by Bloomberg/Getty
The Christmas markets in Manchester are spread across 10 squares in the center of the city. The international markets first opened in Manchester in 1999 with a German Market from Frankfurt in St. Ann's Square. Today, more than 300 stalls sell Yuletide goods from all over the world, from fine amber jewelry, handcrafted leather bags and top-quality bonsai trees, to handmade Belgian kitchenware, framed photo prints and French soaps. The food stalls also feature international flavors: you can choose from dishes like traditional bratwurst, Hungarian goulash, Spanish paella and old-fashioned hog roast.
Be sure to visit Albert Square, located in the center of the festivities and overlooked by Town Hall Santa. Sip on some mulled wine or specialty coffees and cocktails as you soak in the sights and smells of the season. The Manchester markets are open daily through December 21.
Grace Donnelly is a freelance writer based in Athens, Georgia.