Detroit is a canvas for budding artists. With abandoned objects and blank walls dotting every other block, there is plenty space for young creatives to express themselves. The low housing costs attract starving artists from all over the world, creating a diverse community, artistically and culturally.
A combination of its past struggles, current revitalization projects, and future aspirations, Detroit's art scene is unique in its own right: it's gritty, inspirational, and real. These five art institutions will round out your Detroit Art journey.
1. Heidelberg Project
Located on Detroit's East Side, the Heidelberg Project (pictured above) transformed one of Detroit's most economically depressed neighborhoods into a massive art installation. This block's vacant lots, houses, sidewalks decorated with paint, and abandoned objects have brought travelers to the area regardless of East Detroit's rumored dangers. From the towers of baby dolls to the polka-dot-pained houses, The Heidelberg Project represents Detroit's juxtapositions and unpredictability. You can draw your hand on the Heidelberg fence with hundreds of others, or simply revel in the Heidelberg Project's message: Detroit versus Everyone.
2. Lincoln Street Art Park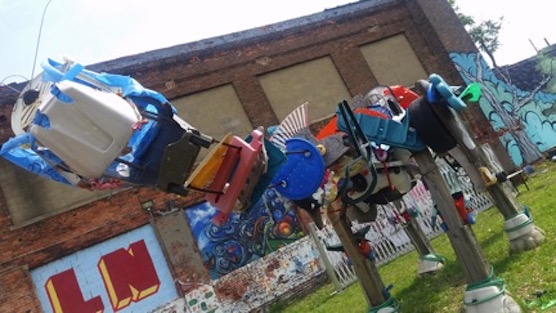 Photo by Eni Mihilli
The Lincoln Street Art Park is an evolving endeavor. Based on the premise of urban renewal, the park features a 40-foot dinosaur, as well as many smaller sculptures and art projects that are constantly changing along with its community. Stop by to enjoy the ever-evolving art projects, join in a bonfire, or even enroll in a summer art camp. At the self-proclaimed Ghetto Louvre the motto is, "share your candy," and in this creative palace, there is more than enough candy to share.
3. Museum of Contemporary Art Detroit
As a non-collecting institution, the MOCAD is responsive to shifts in contemporary culture, and is constantly reinventing its galleries to present the most modern art at that moment. Located in a former auto dealership, the museum's large, open rooms are well suited for the exhibition of contemporary art. Aside from the gallery, the museum also features public programs, which include lectures, musical performances, films, and literary readings.
4. MDAB's African Bead Museum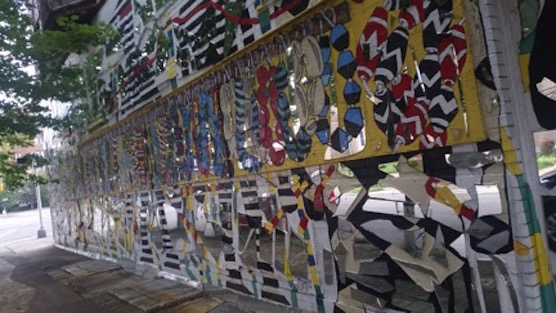 Photo: Eni Mihilli
With thousands of beads, as well as 13 open-space escalations, MBAD's African Bead Museum offers an interesting exhibition of African art. Walk through the mirrored gallery, admire the baubles (some of which you can purchase), or join in on one of the events that the museum hosts to celebrate African culture. One of the most popular events is the drum circle, at which you can play your own or sway along with the musicians.
5. Grand River Creative Corridor
With over 100 murals on 15 buildings, the GRCC is an art corridor and neighborhood revitalization project on Grand River Avenue. Take a drive through to appreciate the volunteer work of over 45 artists from Detroit, Ohio, California, Germany, France and New Zealand in creating the ever-changing murals. As far as public art space goes, the Grand River Creative Corridor is on the top of the list to discover.
Eni Mihilli is a freelance writer studying English and Political Science at the University of Michigan.