Hey, Disney fans: don't be ashamed of visiting Disneyland Paris when you're in France. Yeah, if you live in America it's probably easier to swing by Anaheim or Orlando (and, if you're a Disney fan, you probably already do that every so often as it is), but between the two theme parks at Disneyland Paris Resort there are more than enough unique attractions to enjoy that can't be found in America. And with the resort's 25th anniversary celebration beginning on March 26, this might be the best time in recent memory to go.
Paste recently visited both parks, and although we're not necessarily trying to convince anybody to go check out these 479 acres in Marne-la-Vallée, we do want to assist any Disney or theme park fans who might be on the fence about it. Disneyland Paris captures that potent combination of fun, entrancing architecture, elaborate theming and pure nostalgia that Disney is known for, perhaps with more charm and beauty than any other Disney park, and if you have a weakness for any of that, you might find it worthwhile.
We're breaking our look at the unique attractions from both parks into two articles, one for each park, and first up we have Disney's original French excursion, Parc Disneyland.
Parc Disneyland (Disneyland Park)
Remember all those Euro Disney jokes from the '90s? This is the place. The first of two theme parks at Disneyland Paris opened in 1992 alongside several hotels and a shopping district, all under the name Euro Disney Resort. The park itself was known as Euro Disneyland, and after a couple of years of falling far short of expectations on both attendance and profit, the entire Euro Disney concept became a punchline in American pop culture. The whole complex was renamed to Disneyland Paris in order to escape that tarnished Euro brand. Its financial woes were largely resolved by the mid '90s, after a few high profile attractions were added to the line-up, including a beautiful, one-of-a-kind redesign of Disney's iconic Space Mountain roller coaster. The Euro Disney name might still stick out in the minds of Americans who haven't thought about the park since it was derided as a sign of corporate hubris and cultural imperialism, but that was over 20 years ago, so it's well past time to lay all that rest. Indeed, this spring the park celebrates its 25th anniversary, and among diehard Disney parks fans, it's developed the reputation as perhaps the most beautiful of the so-called "castle parks." (That's a blanket term describing all the theme parks based on the original Disneyland concept with a central castle from a classic animated feature as a centerpiece, such as Orlando's Magic Kingdom, Tokyo Disneyland, etc.) After a rolling refurbishment that has hit almost every part of the park over the last several months, what's now known as Disneyland Park will face its birthday with reinvigorated youth and beauty.
If you're an American visiting for the first time, here are all the unique attractions you need to prioritize. Some of these are similar to things you'll find at other Disney parks, but they're all one-of-a-kind in some way, with novel twists on theme, ride layout or both. And although we're not ranking them, per se (they're all worth enjoying), we can safely say the first entry on the list is the one you should beeline for first.
---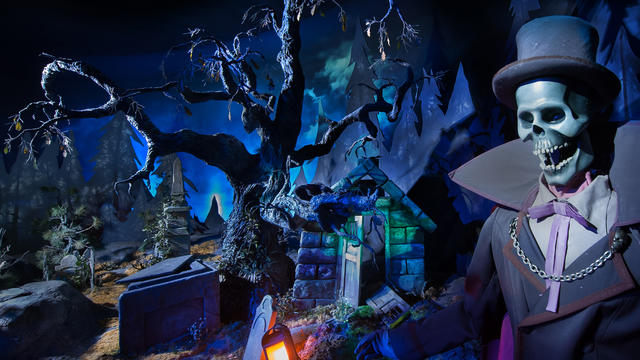 Phantom Manor
If you've ridden the Haunted Mansion before, you'll recognize parts of Phantom Manor. Paris's take on the Disney classic has a more defined storyline, detailing the tragic downfall of a young bride-to-be whose wedding is broken up by a skeletal phantom. It's a little bit darker than the standard Haunted Mansion, with a somber orchestral score, and a genuinely villainous central ghoul instead of the more playful ghosts you're familiar with. Instead of the graveyard finale, it ends with a ride through a hellish perversion of Thunder Mesa itself, where all of its stock Western types are replaced by sinister demons and monsters. The story of the bride and the phantom is part of a larger narrative running through this park's version of Frontierland, based around a fictional 19th century mining town called Thunder Mesa. Beyond the attention to detail expected from Disney's best works, there's a thematic unity running through the entire land that makes it one of the best examples of Imagineering found at any Disney park. Phantom Manor is the crowning achievement of this version of Frontierland, and also the best ride at Disneyland Park.
---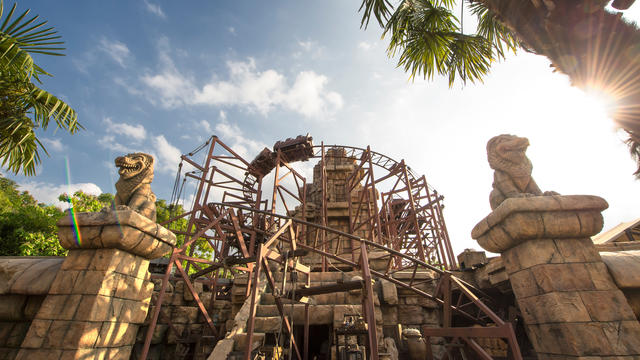 Indiana Jones et le Temple du Peril (Indiana Jones and the Temple of Peril)
This isn't the Indiana Jones ride you might be familiar with from Disneyland or Tokyo DisneySea. This is a relatively straight-forward roller coaster with a loop, themed as an out-of-control mine cart barreling through an abandoned temple. If you've been to Tokyo DisneySea, you might have ridden Raging Spirits, which is essentially the same ride with a slightly different theme. The design of the ride itself and the expedition camp that makes up the queue looks impressively ramshackle, but it feels a bit slight and undercooked for what is clearly supposed to be a major Disney attraction. It's a fine coaster, but it can't compare to the other two at the park, Big Thunder Mountain Railroad and Space Mountain.
---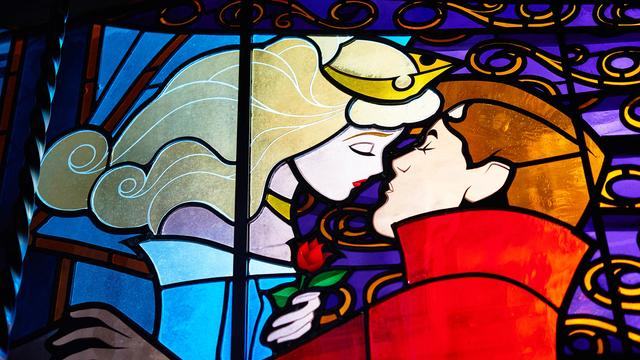 Le Château de la Belle au Bois Dormant (The Castle of the Sleeping Beauty)
Disneyland Paris has the most beautiful castle of any Disney park. It fits perfectly at the park's heart, seemingly growing out of the earth thanks to rock and grass work that slopes up to its left side. Similar to the walk-through exhibit in Anaheim, a series of stained glass windows and tapestries tell the story of Sleeping Beauty, and underneath are a few shops built into the ground floor. And beneath all of that you'll find…
---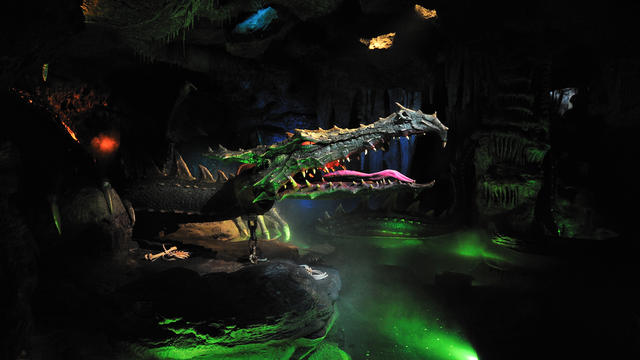 La Tanière du Dragon (The Dragon's Lair)
The dragon that lives beneath the castle was the largest audio-animatronic figure Disney had ever created when Disneyland Paris first opened. Sadly this attraction was temporarily closed for refurbishment during my visit, but YouTube videos reveal a charming walk-through exhibit highlighted by a slumbering, lifelike dragon. He's not as fearsome as dragon's reputations might lead you to expect, but it's the kind of world-building detail that adds a lot to a theme park.
---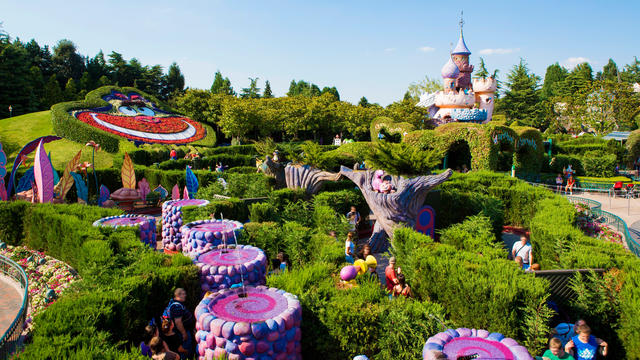 Alice's Curious Labyrinth
Like (almost) all of Disney's so-called "castle" parks, Disneyland Park features the iconic Mad Tea Party spinning tea cup ride. It also has a second attraction themed around Alice in Wonderland, though, and it's not the dark ride you can find in Anaheim. Alice's Curious Labyrinth is a whimsical hedge maze that can be explored at your pace. You don't have to worry about getting lost—it's not a particularly elaborate hedge maze—but you will run into a number of animatronics and statues of various characters from the movie. You'll turn a corner and see the Cheshire Cat up in a tree, grinning maniacally at you, or be walking past a hedge when Queen of Hearts jumps out at you, screaming for your head. At the center is the Queen's Castle, where you can walk to an observation deck and view the entire maze and the rest of Fantasyland stretching out before you. For American Disney fans, this is a novel and unique way to interact with a beloved classic, and the maze's design and layout lead to multiple moments that both charm and surprise.
---
The Old Mill
(Pictured: A still from "The Old Mill" cartoon, not the building from Disneyland Park.)
Okay, this rickety old mill isn't much. It's just a snack stand, and it probably has the most obscure origin of any building in Disneyland Park. It's based on the 1937 Silly Symphony cartoon "The Old Mill," which isn't exactly Frozen, but if you're an animation fan it's hardly unknown—it's one of the most celebrated shorts Disney ever released, winning an Oscar in 1937 and popping up on various Disney cartoon collections over the years. Studio Ghibli mastermind Hayao Miyazaki even calls it his favorite Disney film of all time. Closely resembling the building from the cartoon, the Dutch-style mill enhances the park's European flavor, while also serving up some flavorful dishes. History and nostalgia are major factors in Disney's enduring appeal, and although "The Old Mill" isn't nearly as well known as anything else in this Disneyland's Fantasyland, it's good to see the company acknowledge an important bit of history that might not be that well-remembered today. If you're the kind of Disney fan who would travel to Europe to go to a different theme park, or even just take a day away from your French vacation to drop by, you're probably familiar with "The Old Mill," and will probably enjoy seeing it in the real world. Maybe you'll even get some ice cream there. There used to be a Ferris wheel-style ride behind The Old Mill, but apparently it shut down at some point in the 1990s.
---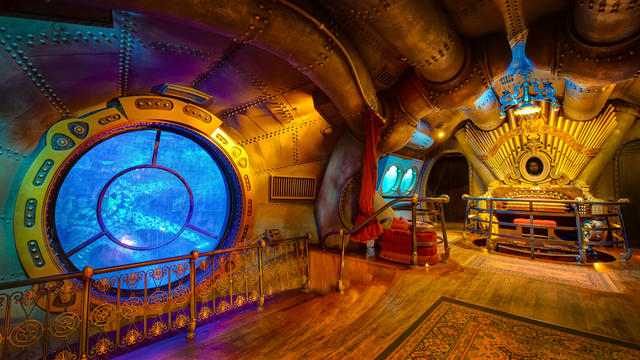 Les Mystères du Nautilus (The Mysteries of the Nautilus)
There's a long, rich history of attractions based on 20,000 Leagues Under the Sea at Disney parks, although you'd be hard pressed to find any trace of them at the American parks these days. You have to travel overseas to find that Jules Verne goodness today, either to Tokyo DisneySea or to Disneyland Park in Paris. Instead of the traditional Tomorrowland area themed to sci-fi and outer space, Disneyland Park has a retrofuturistic region called Discoveryland that bears a strong steampunk influence. Inside a lagoon near Discoveryland's version of Space Mountain lies a recreation of Captain Nemo's iconic submarine, the Nautilus. This walkthrough exhibit includes six rooms, including the captain's own chambers, and the main salon, where a replica of the organ that Nemo plays in the film can be seen. That room also gives guests a glimpse of a giant squid attack. This is a modernized update on a similar exhibition that was found at the original Disneyland during its earliest years. Sadly this was also closed for refurbishment when I was there, but it sounds exactly like the kind of old school, smoke-and-mirrors Imagineering feat that appeals to me more and more as I grow older. There's a tendency to immediately dismiss walkthrough exhibits as being less interesting than rides—see how many people react to the Swiss Family Treehouse or the current diminished state of Tom Sawyer's Island—but when done well, as with DisneySea's Fortress Explorations, they can be a major highlight of any theme park. During a long, full day at Disneyland Park, slowly walking through Nemo's underwater world must be a nice, relaxing respite from the lines and tumult of rides.
---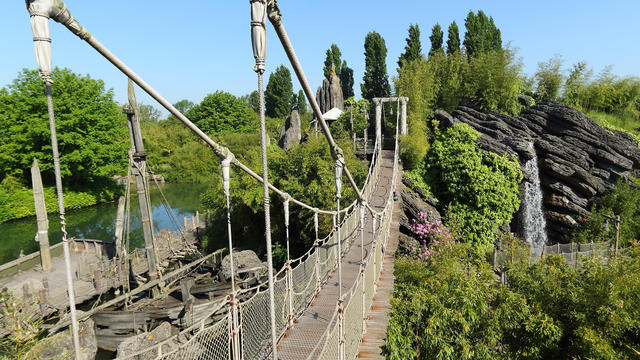 Adventure Isle
There's no Tom Sawyer Island in Paris. (There's barely a Tom Sawyer Island in America anymore, either.) Instead Disneyland Parc visitors can explore Adventure Isle, an elaborate walkthrough exhibit beneath (and around) the park's version of the Swiss Family Treehouse. You can get lost in the winding network of caves at the tree's base that includes the family's cellar, and sproing your way across the Floating Bridge. Elsewhere Captain Hook's Pirate Ship is docked on the island, right beneath the stony visage of Skull Rock, in what is both a reference to Peter Pan and a reference to classic attractions from Disneyland's original Fantasyland that were removed in the early 1980s.
---
Senior editor Garrett Martin writes about videogames, comedy, travel, theme parks, wrestling, and anything else that gets in his way. He shares stories and photos from his Disney journeys on Instagram at @garrett_goes_to_disney. He's also on Twitter @grmartin.