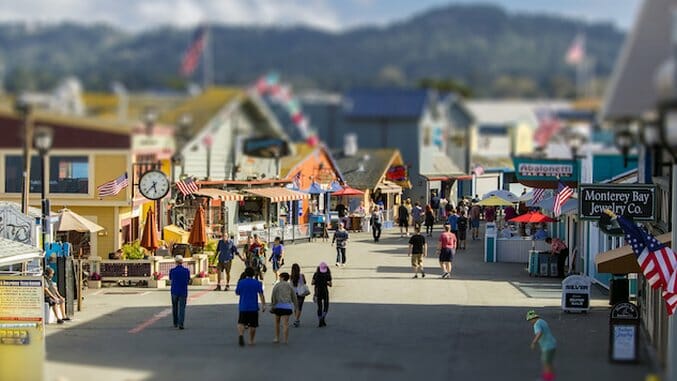 Located on the southern end of the pristine Monterey Bay, the town of Monterey is a favorite destination for those traveling along the coast of California. Historic buildings with thick adobe walls dot downtown, while the formerly squalid sardine canneries on Cannery Row have long ago been replaced by shiny shops, restaurants, bars, and the world famous Monterey Bay Aquarium, which was the inspiration for the aquarium in the new Pixar film Finding Dory. Meanwhile, bountiful kelp forests teeming with sea life create rust colored patches on the cerulean blue bay that begs for exploration by scuba divers, snorkelers, kayakers, and stand-up paddleboarders.
This Monterey County city of the same name has a history as rich and deep as its popular seafood stews, known locally as cioppino. Way back in 1770, the Spanish founded a mission and a presidio in Monterey. The city was an important outpost for the Spanish and then the Mexican government within the sprawling territory of Alta California before Monterey and the rest of the region was claimed by the U.S. in 1846.
Though Monterey's political importance eroded in the state after the Gold Rush, the seaside city has occupied an important place in California's consciousness due in part to the novels of John Steinbeck, the 1967 Monterey Pop Festival, and its popularity with travelers.
Day 1
Morning
Start your day in downtown Monterey like a group of longtime Monterey fishermen would, with an espresso or cup of local favorite Acme coffee at Cafe Lumiere. The coffee shop also has freshly made pastries, breakfast sandwiches, and other hot items that pair well with the caffeinated drink of your choice.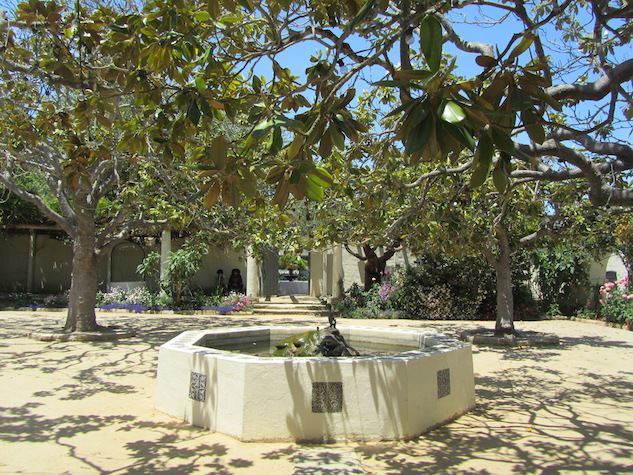 Photo by Stuart Thornton
The Monterey State Historic Park is a collection of old adobes, former government buildings, and residences of early prominent Monterey citizens that are scattered about the city's downtown. Begin by getting a primer on Monterey's history at the free museum within the Pacific House—a few blocks from Café Lumiere toward the water—a structure that dates back to 1847. Another fine introduction to the state historic park is available through the guided walking tours, which are available Thursday through Sunday at 10:30 a.m., 12:30 p.m., and 2 p.m. for $5 a person. Whether or not you opt for a tour, be sure to take in the last of Monterey's whalebone sidewalks in front of the Old Whaling Station and the tranquil Memory Garden (pictured above), a flower-filled oasis behind the Pacific House that was designed by Frederick Olmstead Jr., son of the landscape architect who designed New York City's Central Park.
Afternoon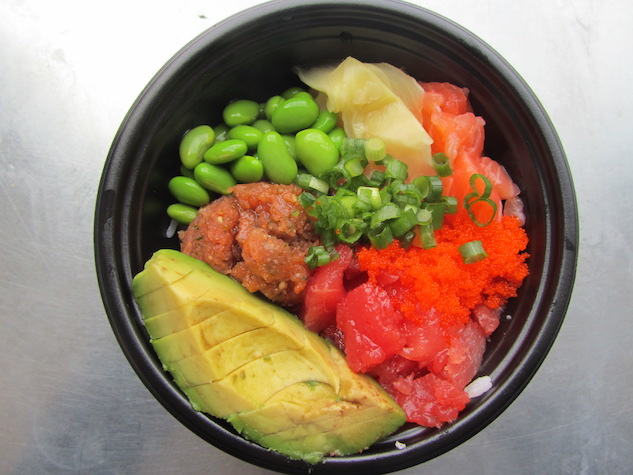 Photo by Stuart Thornton
Having opened in January of this year in the center of downtown, The Poke Lab frequently has a line outside its door during lunch and dinner. It's worth the wait for the casual eatery's raw fish salads (pictured above) that are made to order. The signature bowl (spicy tuna, ahi tuna, salmon, and avocado on a bed of sushi rice, brown rice, or salad) is a rainbow of colors and flavors.
Walk off lunch with a stroll along the Monterey Bay Coastal Recreation Trail, known locally as the "Rec Trail." This paved path goes along the Monterey Peninsula's shoreline and offers fine views of the region's marine life. Make sure to detour off the trail to the Coast Guard Pier located at the southwest end of the harbor to view a colony of harbor seals up close.
Evening
Almost exactly in the middle of the trail and up a few blocks is the Alvarado Street Brewery & Grill, relaxing and casual enough for a post-hike pint, whether or not you stop at your hotel first. Reflect on Monterey's past and toast to its present at the Alvarado Street Brewery & Grill, which refashioned a former movie theater into a spacious, modern brewpub with a newly opened beer garden. An adventurous order is a five-ounce of one of their spicy pepper beers with a pint of their Minesweeper IPA as a chaser.
Walk a matter of feet away to the long-running Montrio Bistro. Within a brick, former firehouse, chef Tony Baker does a wide array of appetizers along with some meat heavy entrees like the "Baker's Delight," a 40-ounce rib eye. Also in a brick building (and a few blocks from the brewery), the Melville Tavern is a newcomer that goes for a comfy, unassuming beer and burger joint feel. The green chile cheeseburger is a winner, while the weekly $3 beer and wine specials will make your Monterey money last a bit longer.
Following dinner, opt for a concert at the Golden State Theatre, an almost 100 year-old venue with Moorish castle flourishes, or an independent film at the Osio Theater, where you can purchase a craft beer or a boozy slushy made with soju to sip on during the feature. Then enjoy a nightcap at The Crown & Anchor, a British pub where Jon Hamm was seen celebrating after the filming of Mad Men's last episodes in nearby Big Sur. All of these spots are within blocks of each other.
Photo by Stuart Thornton
Day 2
Morning
Fuel up for a morning on the water at Papa Chevo's, a taqueria on Monterey's Cannery Row that makes stellar breakfast burritos. Then rent a kayak or stand-up paddleboard from Monterey Bay Kayaks or Adventures by the Sea. The usually calm waters off Cannery Row from San Carlos Beach to the Monterey Aquarium make for a great paddle and a terrific opportunity to see harbor seals and sea otters up-close. It's always best to head out on the water before the afternoon winds come up.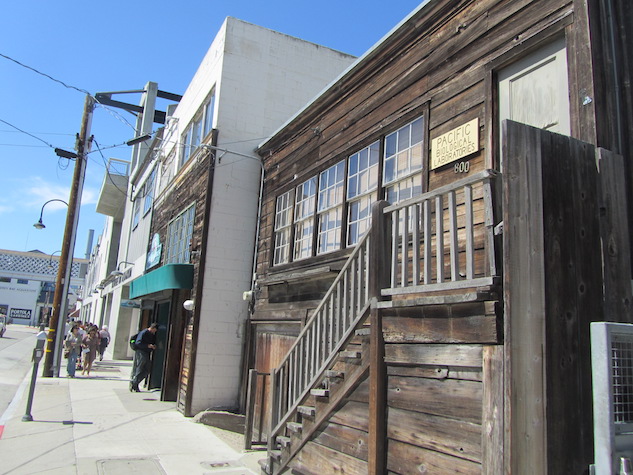 Photo by Stuart Thornton
Returning to land, stroll past the touristy shops on Cannery Row, a section of Monterey that was once the site of many foul smelling sardine canneries. Be sure to note the Pacific Biological Laboratories, a weathered, wooden building located between a Sunglass Hut and a shop selling goofy sea otter themed T-shirts. It was the home and lab of marine biologist Ed Ricketts, who was immortalized in John Steinbeck's novel Cannery Row as the basis for its protagonist, "Doc." If you are lucky, the building will be open for one of its infrequent tours.
Afternoon
Also on Cannery Row, the Lalla Oceanside Grill has a wall of windows perched right over Monterey Bay. This new restaurant's fine cocktails and varied menu (salads, pasta, seafood dishes, Mexican street tacos, flatbreads, etc.) make it a great spot for a filling post paddling meal.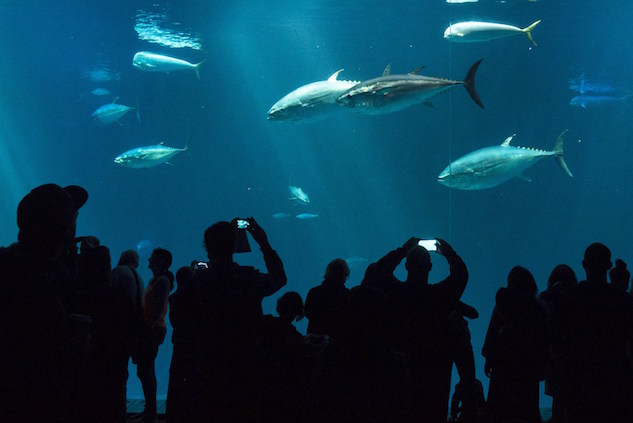 Photo by Saul Loeb/Getty
Following lunch, head a block and a half away to the Monterey Bay Aquarium, Monterey's most popular attraction and an AZA-accredited institution. While the sharks and sea otters are worth your time, make sure to see the artfully presented jellyfish exhibit. Also find out when your favorite sea creature is being fed by consulting the aquarium's daily feeding schedule.
Evening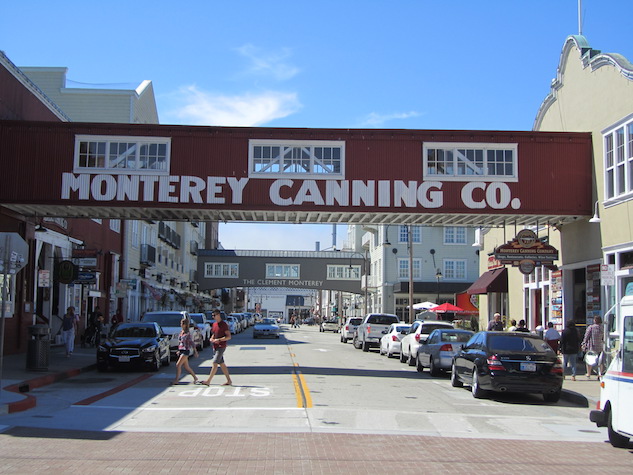 Photo by Stuart Thornton
There's no need to move your car after an aquarium visit if you want a beer. Walk up a block to the Cannery Row Brewing Company, which is not a brewery but a craft beer bar and restaurant. Choose from over 70 beers on tap or sip on one of the small batch bourbons they carry.
Then, walk (or stumble) over to the Sardine Factory for dinner. See, Monterey is in itself a statement against drunken driving. There's no place quite like The Sardine Factory, an upscale, old school seafood restaurant that was featured in Clint Eastwood's directorial debut, Play Misty for Me. Whether or not you are in the mood for their abalone bisque or Rachel Ray-approved calamari puffs, be sure to take in the restaurant's lounge with its piano player, its glass domed conservatory, and its cave-like Wine Cellar. Other recommended dining options in the area include The Whaling Station Steakhouse next door and Hula's Island Grill, a casual restaurant a few blocks away that pleases with its tasty tiki drinks and seafood items.
For post dinner entertainment, walk a few blocks to the Pierce Ranch Vineyard Tasting Room, located in a building that resembles a small home. This tasting room frequently hosts touring indie rock acts and local bands in a very intimate setting.
Getting There
The Monterey Regional Airport is a few miles east of downtown Monterey and has flights that come in from San Francisco, Los Angeles, Las Vegas, Phoenix, and San Diego. The Monterey Airbus is a shuttle service that can take visitors to downtown Monterey from the San Francisco International Airport and Mineta San Jose International Airport.
To Stay
The HI-Monterey Hostel boasts a great location just a few blocks from Cannery Row, the Monterey Bay Aquarium, and bars and restaurants. Dorm beds are $32-40 a night, while private rooms range from $59-199 depending on the time of year.
The Monterey Bay Inn hangs over the bay at the start of Cannery Row. Its amenities include a rooftop hot tub that allows guests to take in the bay and the lights of the nearby Monterey Harbor at night. Rooms usually start at $250 during the summer months.
Stuart Thornton lives in coastal California and is the author of the Moon Coastal California Handbook, the Moon Santa Barbara & The Central Coast Handbook, Moon California Road Trip, and the recently released Moon Monterey & Carmel Handbook.