Noma may be closing its doors in Copenhagen at the end of the year, but that in no way means the forest to table trend is dead. Twelve years ago the restaurant credited with reinventing Scandinavian cuisine put the concept of foraging on the forefront of the fine dining scene, no longer reserved for resourceful campers. After earning the title of world's best restaurant more than a few times, Chef René Redzepi's institution inspired a slew of new chefs to embrace foraged finds for a back-to-basics spin on gourmet cuisine. As Noma launches a pop-up in January in another emerging food destination—Australia—with reservations for the 10-week stint in Sydney selling out in less than 90 seconds (didn't get there in time? Neither did we), we've put together our own foodie bucket list of some of the movers and shakers of the foraging scene who not only are creating new national cuisines, they're also making everything from ants to larvae look appetizing.

After cutting their teeth at Noma, a number of chefs set out to start their own ventures in Copenhagen, placing even more global attention on the Danish capital. Working with the nonprofit Nordic Food Lab, started by Redzepi in 2008, researchers and chefs have come together to take foraging to a scientific level, working with fermentation, insects, larvae, tree bark and mold.
A proponent of the food lab and a Noma alum, chef Christian Puglisi's Relae may fall under the Noma spin-off category, but the Michelin-starred restaurant does more than put foraged finds on a pretty plate. The vegetable-heavy menu is almost all organic and it's always a surprise, so you only have to decide how many courses you're up for—four or seven? Relae may have a Michelin star, but the no-frills eatery is not fine dining in the traditional sense and its location on Jaegersborggade is the first giveaway. The street was once known for drugs and gangs but it's cleaned up its act and is now dotted with organic shops and vintage boutiques. Stepping into Relae, the idea is to feel at home, so guests set their own table pulling utensils from the drawers and fill their own water glasses, making the concept seem much more approachable than the usual stuffy white tablecloths and dishes you can't pronounce. Menus start at just 450 Swedish Krona (or $53), so you're getting a pretty good deal (especially in Scandinavia) on local, sustainable cuisine that includes everything from ice cream with dried kelp to risotto-style sunflower seeds with pine shoots.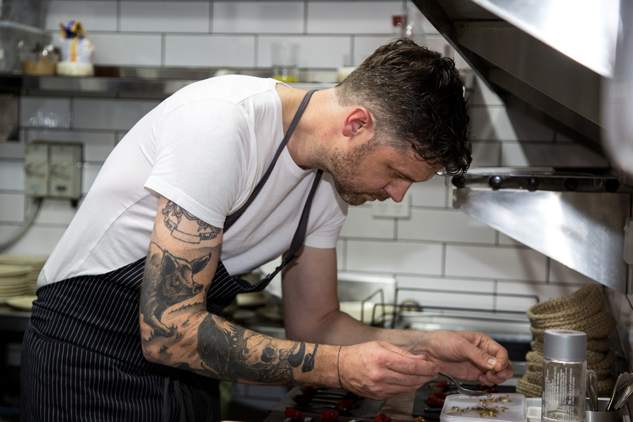 Photo courtesy of Tourism Australia
Scottish chef Jock Zonfrillo also did a brief cooking stint at Noma in 2012 before opening Orana in Adelaide, where he's created an Australian cuisine by setting out to all corners of the country to work with local farmers and fishermen to see how they've been cooking for generations. In his own way, he's pay homage giving back to aboriginal people through his menu. You'll find some familiar Australian dishes like potato damper, a traditional bush bread cooked over campfires, but here it's served with lamb butter. Kangaroo is another favorite on the menu, but Zonfrillo chars and pairs it with wild garlic, beetroot and clover flower. Adelaide is already home to the most restaurants per capita than anywhere else in Australia, but Zonfrillo is blending ingredients and traditions from around the country to craft his version of nouveau Australian cuisine that includes toppings like green ants (which he claims add zest), Tasmanian mountain pepper and saltbush foraged from West Beach served on lamb's bone utensils handpicked just as perfectly as the ingredients he uses.

Using plants for medicinal purposes is an age-old remedy, so it's fitting that La Botica Matapozuelos in Valladolid, Spain, is set in an 19th century farmhouse that was also a one-time pharmacy. The dining room stills holds the pharmacy's original furniture but the elixir of choice these days comes from the surrounding Rueda region in the form of white wine. The father and son de la Cruz duo behind the one Michelin star restaurant are known for bringing elements of the encompassing pine forests onto the plate, with dishes like white pine nut soup, deer sausage topped with grated green pine cone, and rooster ravioli with toasted pine nuts, redefining the notion of Spanish tapas, adding a foraged, country-chic feel.
Friends of mine are pros at distinguishing which wild flowers on the side of the road are edible and know all the secrets to preparing them without poisoning yourself. While I'd love to share these Girl Scout-like skills, when it comes to foraging I'd rather leave it to the pros. In South Africa, Table Bay Hotel's Chef Jocelyn Myers-Adams is an avid campaigner for Cape Town's "natural outdoor market," throwing wild rocket and garlic into gnocchi or adding dune spinach from Sea Point to a linefish dish. With spots prime for picking right near the V&A Waterfront, the chef is willing to share her secrets with a cooking course that starts in the field with an expert urban hunter-gatherer as your guide, ending with a hands-on course in the kitchen where you can learn just the right way to incorporate these finds into your meals once you get back home.

Lane Nieset is Paste's Jet-Set Bohemian columnist and a freelance writer covering all things travel from her home base in Nice, France.