Celebrate the Architectural History of Las Vegas at Duck Duck Shed
Las Vegas skyline photo from Unsplash
Travel
News
Las Vegas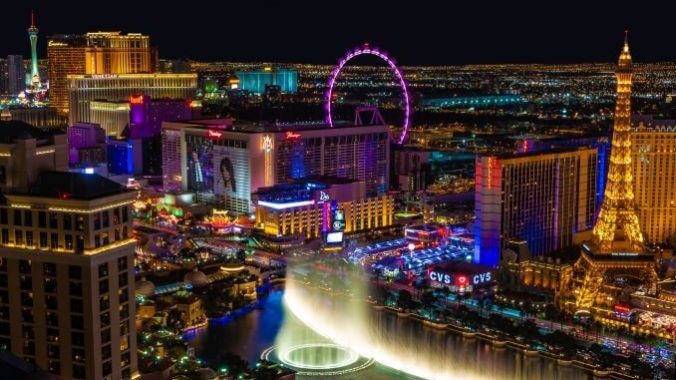 If you love neon, mid-century architecture, or the kind of over-the-top signage Las Vegas is known for, you need to visit The Neon Museum. We've been raving about this place for years; it preserves the glitz and glamor of classic Vegas while contextualizing the many architectural shifts the city has seen over the last several decades, while also just looking really damn cool, especially at night. If you've never been, there's an upcoming event that might be the perfect time to check it out.
The museum's Duck Duck Shed event celebrates the city's one-of-a-kind design and architecture history through a variety of exhibits and tours, in the tradition of Palm Springs' Modernism Week. The second annual edition of Duck Duck Shed will be held from October 4 to 7, and will host a number of events throughout the city. Highlights include an exhibit focusing on Debbie Reynolds' 50-year Las Vegas history, curated by The Neon Museum in collaboration with her son Todd Fisher; a celebration of the 25th century of Cirque du Soleil's show O, which will take guests behind the scenes and even on stage; and the launch of Darren Aronofsky's short film Postcard from Earth, which was made specifically and exclusively for the Sphere at the Venetian. (Yes, that futuristic-looking, heavily-memed bubble that has loomed ominously on the periphery of the Strip will host both a U2 residency and a new film by the guy who gave us Requiem for a Dream and Mother!) Other events include tours with prominent architects, historians, and scholars, as well as a meal with former mayor Oscar Goodman and a historic tour of iconic Vegas cocktails and food. For more information, here's a full list of this year's Duck Duck Shed events.
Tickets for Duck Duck Shed's events are a la carte and available for purchase now. If you're fascinated by the history and distinctive architecture of Las Vegas, this seems like a fantastic opportunity to learn about the city from the people who know more about it than anybody else. And if you do make it out next month, try to find time to hit up some of the cool things to do in Las Vegas off the Strip or the beautiful FlyOver Las Vegas attraction. There's so much more to Vegas than gaming and drinking, and Duck Duck Shed sounds like a great way to explore that history.