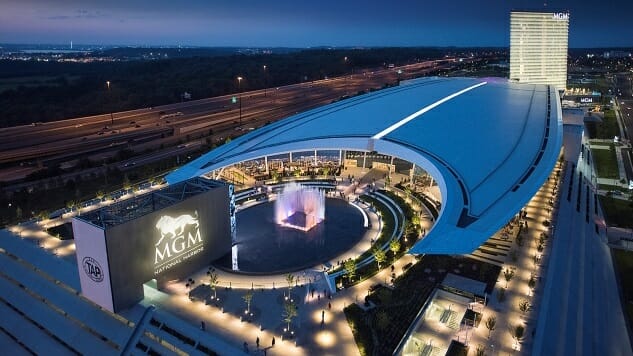 When you think of a D.C. vacation you probably don't think of sidling up to a blackjack table or testing the high limit room. You expect the classic planes at the National Air and Space Museum, the cherry blossoms surrounding the Tidal Basin, the warm marble visage of Abraham Lincoln, and the Washington Monument lurking solemnly above it all. You don't expect a world class casino and resort, and yet that's exactly what MGM National Harbor in Oxon Hill, Maryland, offers.
I mean no disrespect to casinos when I say that one of the best things about MGM National Harbor is that it's incredibly easy to forget you're at a casino. MGM's attempt to bring Vegas-style gaming and entertainment to the D.C. area doesn't skimp on any of the gambling, but the casino isn't the central focus of the floorplan, an all-encompassing mood you always have to wade through like it would be in Vegas. Minors aren't allowed on the gaming floor in Maryland, and yes, they do card. So the casino is set off to one side of the resort's central chamber, one more option amid the concert theater, the spa, and the various shops and restaurants. You could spend a relaxing week at National Harbor and never once set foot in the casino.
What fun would that be, though? The $15 blackjack tables weren't especially hopping on a recent Thursday night, but once the weekend officially hit the action picked up considerably. The dealers might not have been as helpful or personable as the best Vegas has to offer, but they knew how to manage a table and keep a game flowing. And there's more than just blackjack or a half-dozen variations of poker, with baccarat, craps and roulette available for anybody who's interested. Of course there are also modern-day slots everywhere, those absurdly confusing and elaborate machines that are decorated with either beloved childhood movies and TV shows from the '70s and '80s or else weird knockoffs of videogame characters. (Seriously, when and where did slots go wrong?)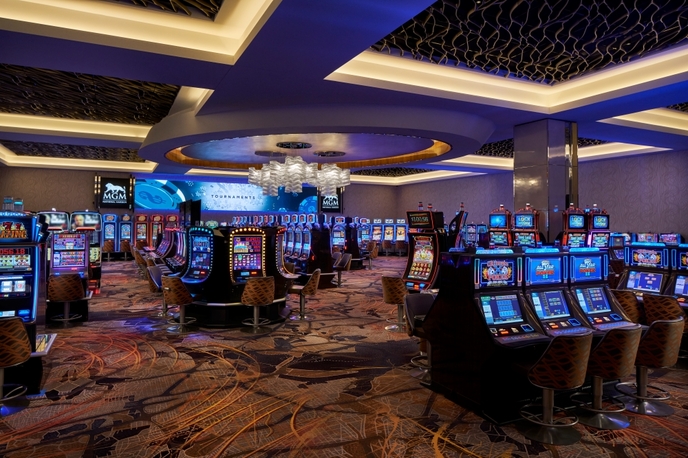 I'm not much of a gambler. My wife is. When the weekend was in full swing, she found that MGM National Harbor's casino captured enough of the spark and adventure of a Vegas operation to scratch her itch. Her stacks of chips kept changing in size and number throughout the weekend, an analogue EQ level that measured not just her success at the tables but how much they kept her entertained.
I enjoy blackjack well enough, but when I lay my money down I want to know exactly what I'm getting. Usually that means a drink or a meal, and hey, this hotel has both.
The best meal I had during my stay at MGM National Harbor came at a restaurant named Fish. That prosaic name can't hide the fact that this is a José Andrés joint, even if it doesn't highlight the type of molecular gastronomy experiments he's known for. It's a delicious Chesapeake-style seafood restaurant with an undulating bar and decorative nets invoking the spirit of the sea. This feast included a seafood tower of shrimp and oysters, an appetizer of jasper roasted bone marrow with sour cherry chutney, lobster jambalaya and roasted grouper, and a whole roasted striped bass, whose rictus grin of existential terror couldn't distract from its sheer deliciousness.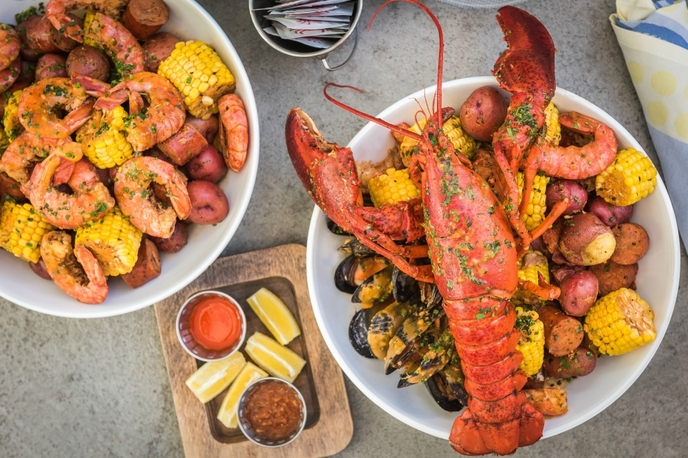 Down a hallway from Fish sits the Voltaggio Brothers Steakhouse. These Top Chef competing brothers (Michael beat Bryan in the finals, in a win for all the younger brothers of the world) are Maryland natives, and have conspired to bring their hometown casino the world class steakhouse it deserves. Obviously the Wagyu flank steak is the star attraction, but as a bread man and a verified breadfan I have to mention the aged cheddar biscuits with apple butter. I could've had an entire meal of just them—with a basket of the sea salt-crusted Parker House rolls on the side.
If you're in a rush, or on a budget, MGM National Harbor has a market full of local and unique walk-up counters. Pappas's crab cakes are a Baltimore institution (and one of Oprah's Favorite Things), and on my first night at the resort I got to taste why. Elsewhere in the market you can find an original pizza joint, Honey's Fried Chicken and Donuts (they serve fried chicken and donuts, and I dug both), salads for those who diet even on vacation, and a variety of other options. There's even a Shake Shack, for those with the Shake Shack Shakes.
Speaking of the shakes: I'm pretty sure I had a drink in my hand the entire time I was at National Harbor. They kept appearing, as if by magic. There are a couple of bars within the casino proper, and they're really big on fire at the moment. The bartenders—sorry, mixologists—looked for any reason to whip out a blowtorch, and the results weren't just dramatic but also delicious. At some point a few friends and I also split the largest Moscow mule I've ever seen in my life. It wasn't the size of a mule, but if you got a couple of them in me I'd probably think it was.
MGM resorts are known for their entertainment, and National Harbor is no different. The Theater is a flexible space that can be whatever MGM needs it to be. One night while I was there it was a standing-room-only nightclub hosting the National Cherry Blossom Festival's annual Cherry Blast show, with DJs, lights, elaborately dressed dancers with cherry blossom-themed outfits, a cherry blossom-themed signature cocktail, and more. Cee-Lo Green was the main event, performing a variety of his hits and DJing some other songs, too. If you didn't know better you'd think you were a nightclub.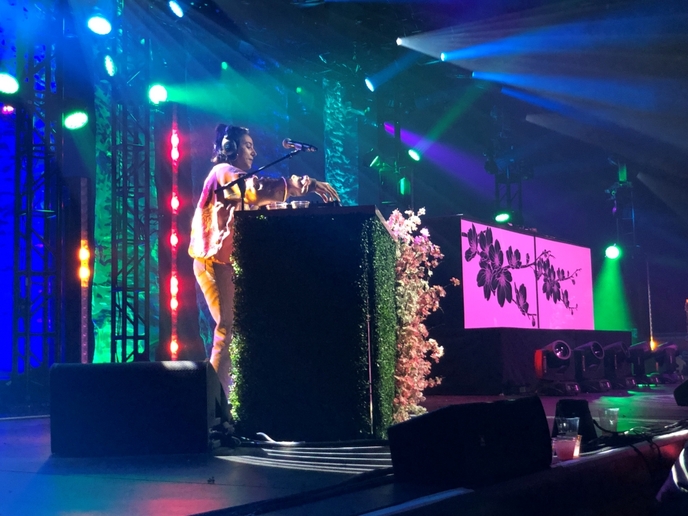 It was almost unrecognizable the next night. The house lights were up, the dancers and bars were gone, and the 3000 seats were all set up for a sold-out stop of Mariah Carey's Caution tour. The Theater went from a wide-open hangar to an intimate seated venue in a day, showing the kind of versatility that was in mind when it was built. It was an ideal setting for Carey's show, just sizable enough to get that big show feel, but small enough where we still felt that personal connection that's crucial to a concert but can often be lost at huge arena shows. And if you dig Carey's legendary career, you'd probably love the Caution tour—it's a great collection of hits, a smattering of deep cuts, and a number of songs off the new album. Also her kids came out at one point, at least at this show. Good times.
MGM National Harbor is definitely a different take on the District. When I was in the hotel, I pretty much forgot I was in Maryland—I just felt like I was in Las Vegas, on one of those trips where the only goal is to treat myself, and where the stresses and expectations of real life are momentarily forgotten. And then I could hop in a car and be at the Smithsonian or the Washington Monument in like 20 minutes. I was able to cram both the culture and history of our nation's capital and the sheer hedonism of a casino trip into a single weekend, which makes the MGM National Harbor stand out as one of the most memorable places I've ever stayed at.
Oh, and I got a pretty good massage, too, at the same time as one of Mariah's backup singers and her husband. That's not really important, but it's something I strongly believe had to be mentioned here. And geez, that husband was tall. Impressively so. Honestly, I wanted to be his friend. I think that's just part of the good vibes the whole place gives off.
If you're looking to do D.C. in a way that doesn't remind you of your middle school field trip, MGM National Harbor might be what you need.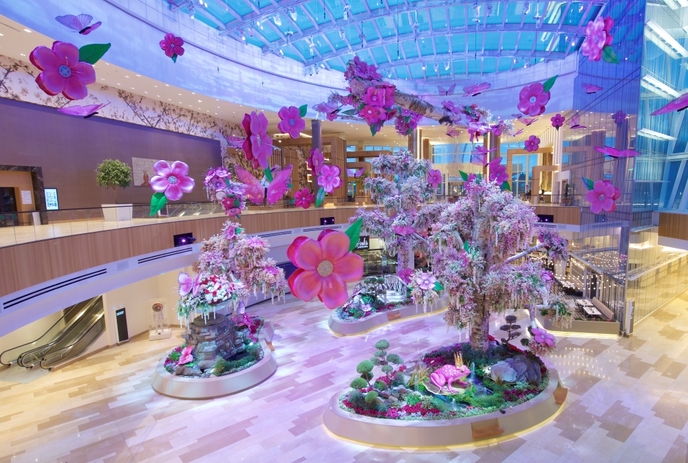 ---
Garrett Martin edits Paste's comedy and games sections. He's on Twitter @grmartin.