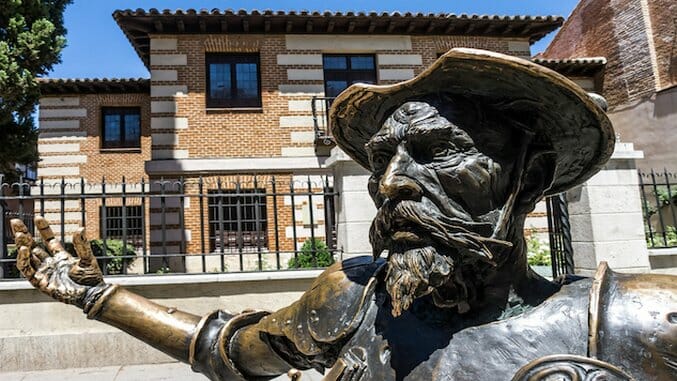 European cities with their cobblestone streets, cozy cafes, and rich history of arts have been attracting writers from around the world for years. Which one of us with a gravitation toward a pen and notebook (or laptop, let's be real) hasn't dreamed of penning our debut novel while sipping coffee—or something a bit stronger—in Paris, London, or Rome? While those three definitely have their appeal, they are not the only cities on the European map to park your typewriter (because you're more likely to be a hipster and use a bulky typewriter than a pen and paper).
The capital of Spain since the latter part of the 16th century, Madrid can offer an aspiring writer both the atmosphere to create the next best-seller and the chance to enjoy life while at it—all at a very reasonable cost. With its almost-year around sunshine, good food and wine, and a propensity for la buena vida, the good life, Madrid is known throughout Europe for its beauty, friendliness to strangers, and passion. Its architecture runs the gamut from medieval mansions to baroque to belle époque; its restaurants serve both innovative and traditional takes on Spanish cuisine from all over the Iberian peninsula; and its nightlife is full of locals and visitors alike, all happy to partake in what seems like a nonstop party. Put simply, Madrid invokes creativity, but if you need any more convincing, read on.
1. Cheap Liquid Courage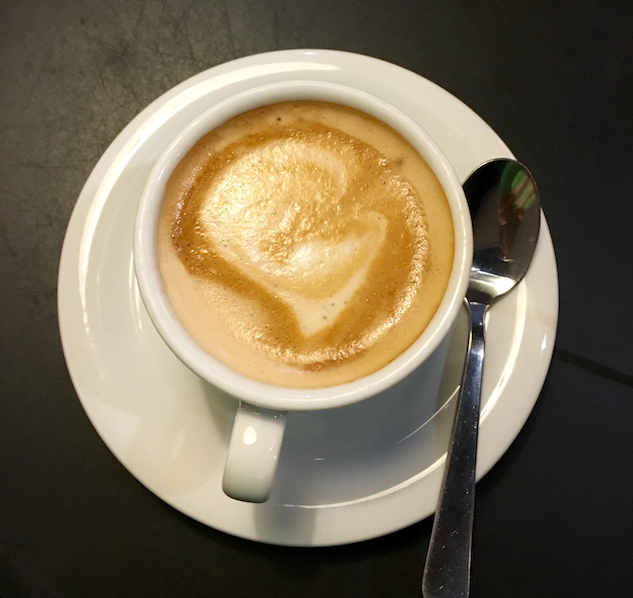 Photo by Rebecca Strong
If you need a hot beverage as you type, a cup of coffee (or tea) in Madrid will not cause you to default on your student loans. Café con leche, latte's humble cousin, goes for 1.30 euros-2 euros per cup and sometimes even comes with a piece of chocolate or a ginger cookie. Since a table at a cafe is usually yours for as long as you want, writing is the only reasonable thing to do. Unless, of course, you like to procrastinate by watching the locals in their natural habitat. In that case you can always file it under "character research."
If your beverage of choice isn't coffee and you prefer to test Spain's wide assortment of vintages, fear not. A glass of wine in Madrid could cost you less than or the same as a bottle of mineral water. Plus it'll always arrive accompanied by algo para picar, something to snack on. In some places it'll be a full-fledged tapa, in others a bowl of olives or potato chips. Either way, it'll be yours to enjoy absolutely free. The same goes for beer; a caña, a small glass of draft beer, will cost about the same as café con leche and will include a bite of food.
2. Cultural Inspiration
Madrid is full of inspirational art. Many of its major museums—Museo Nacional del Prado and Museo Nacional Centro de Arte Reina Sofia among them—offer free entry during portions of the day. Set usually between the hours of 6 and 9 p.m., they fall right after your siesta and before your evening out. If large museums are too overwhelming to get your creative juices flowing, you'll be better suited at Museo Sorolla and Museo Lázaro Galliano. In addition to beautiful collections of art and historical artifacts, they feature gardens where you could write outside should an idea suddenly come to you by way of painting. For a museum with a more literary focus, forget Hemingway and head to the Cervantes Museo Casa Natal (pictured at top), the museum at the birthplace of Miguel de Cervantes Saavedra, who wrote Don Quixote. Talk about inspiration; maybe take a seat and try to channel some of his energy … you never know when creativity will strike.
3. Outdoor Options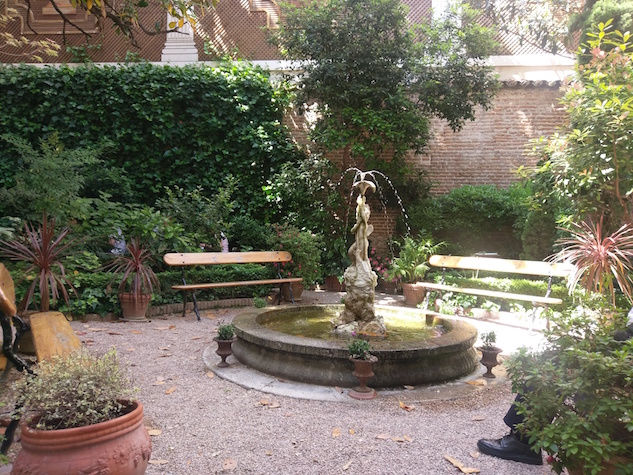 Photo by Rachel Williams
Speaking of gardens, Madrid is a city where writing outdoors can happen almost all year around. The winters are short and mild, the cold is dry, and the sun is omnipresent. If writing in nature inspires you then Parque del Retiro, the garden of the Museo Sorolla, the small park in front of Museo Arqueológico Nacional, or the beautiful interior courtyard of Museo del Romanticismo (pictured above) will become your home away from home. The best part is all of these gardens are free to access.
4. Late Nights
Being a disciplined writer should have its rewards and once again Madrid doesn't disappoint. In a culture where dinner begins at 9 p.m. at the earliest, you can guarantee yourself a late night, which is perfect for those writers who seem to only be productive while everyone else is sleeping. If letting loose and party people feed your creative genius, you'll fit right in. Fueled by reasonably priced wine, cañas, and tapas, you can get together with fellow writers and stay late into the night conversing on all things literary (and not). The next morning, when you are ready to face the sunlight, you can saunter over to your favorite cafe, order a breakfast of café con leche and pan con tomate for as little as 2.50 euros and see how the events of last night look on paper.
5. A Wealth of Writing Space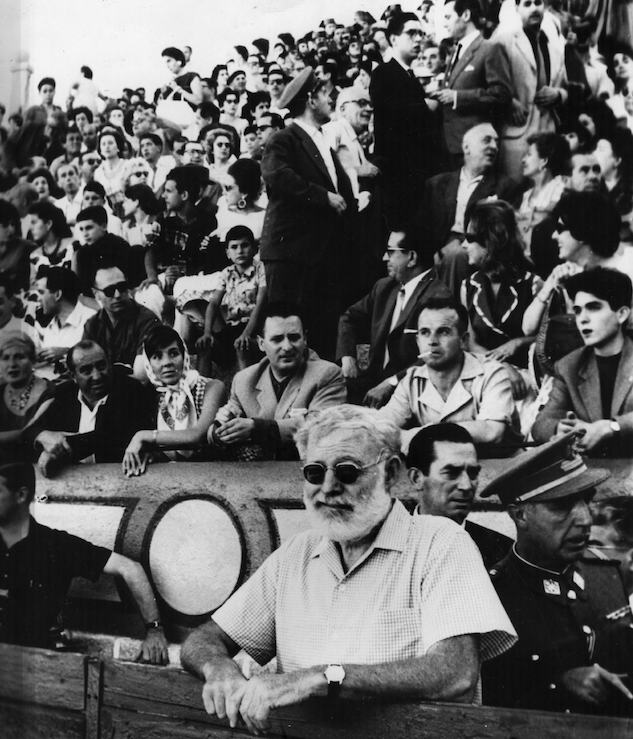 Photo by Central Press / Stringer
Whichever neighborhood you decide to call home will have several places to park your laptop and enjoy the above-mentioned drinks but if literary spots are your thing, you'll feel more comfortable at Café Gijon, which hosts literary tertulias (meetings) or Cervecería Alemana, one of Hemingway's favorites. In fact, if Hemingway's old haunts inspire you, bring your writing equipment to any of Madrid's old tavernas. More likely than not you'll hear that Hemingway (pictured above at Madrid's bull fights) drank there.
6. The Writing Community
A writer without a writing community is like a glass of Rioja without a tapa. Luckily there are so many English-speakers—many of them aspiring writers—in Madrid that you'll never feel alone. Groups like Madrid Writers' Club and Scribble: Madrid Poetry Writing Meetup welcome anyone writing in English. Madrid Open Mic will give you a stage to read your work. And if meeting Spanish-language writers is of interest, try the literary tertulias at Café Gijon. You can practice your Spanish, get to know the local writing community, and network with local editoriales (publishers), because you never know who might be interested in buying the Spanish language rights to that novel you've been writing.
Rebecca Strong is a writer living in Madrid. Her debut novel Who Is Mr. Plutin? came out in 2015 with the Curiosity Quills Press.